How to Combat Anxiety with CBD Gummies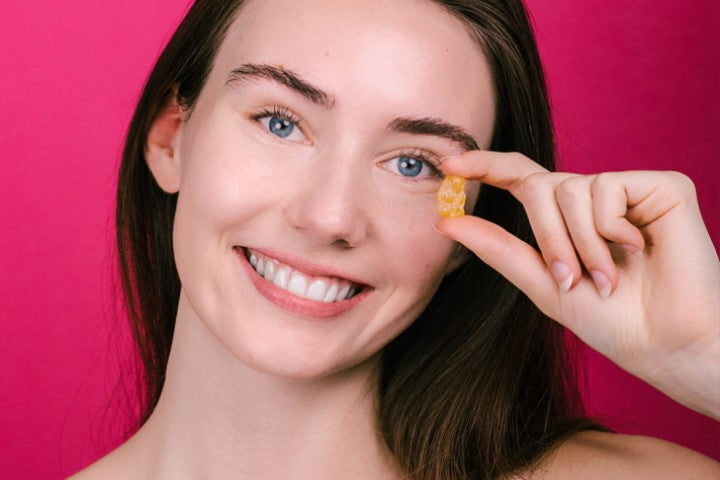 Recently, CBD has become quite the craze in terms of its health and beauty benefits. You'll find the stuff virtually everywhere – in serums, bath bombs, oils, and even in an edible gummy form.
If you're interested in trying CBD for yourself, CBD gummies are an excellent option for boosting your mood, relaxing your mind, and eliminating pain.
However, we do advise users to take a little time to learn more about CBD gummies and how they work before taking them. Luckily, we've got all the information you'll need about these mood-boosting sweets. And the best vegan CBD gummies to buy!
WHAT EXACTLY ARE CBD GUMMIES?
CBD gummies are edible candies made of cannabidiol, the scientific name for CBD. You'll find them in a range of colors, flavors, and shapes, as well as in different concentrations of CBD.
In recent years, CBD – the chemical compound found in cannabis plants – has been appraised for its slew of health benefits, including regulating mood, reducing pain, and improving sleep.
When you ingest CBD, it works with the cannabinoid receptors that are naturally found within the body to positive effect numerous bodily functions.
Currently, CBD gummies are not FDA approved. Thus, you need to be extra careful when buying these products, as the strength and purity of CBD gummies are inconsistent on the market. Always buy CBD gummies from a professional and reputable company.
BENEFITS OF CBD GUMMIES
There is a myriad of reasons why you should give CBD gummies a try. Besides being great for your mental health, they can improve your physical appearance too. Let's take a look at the main benefits of CBD sweets.
Anti-aging
CBD is packed with antioxidants, which helps to reduce oxidative stress in the body to keep us healthy. What's more, CBD consumption can also boost elastin and collagen in the skin, reducing the appearance of fine lines and wrinkles.
Anti-inflammatory
Research shows that CBD offers powerful anti-inflammatory effects, which can counteract a number of discomforts, including eczema, osteoarthritis, and diabetes.
Focus and Clarity
According to scientific studies, CBD is able to interact with the body's dopamine receptors and as a result, regulate our behavior. In fact, CBD can affect everything from memory to focus to motivation.
Pain Relief
CBD is a natural, less addictive option for pain relief than prescription pain relievers. In a recent study, researchers found that CBD may also interact with serotonin receptors, resulting in effective pain management.
Improved Mood
Stress hormones are responsible for switching on the body's fight or flight response – also known as the stress response. However, studies show that CBD can have a positive effect on stress, improving one's overall mood.
Enhanced Sleep
A 2019 study published in The Permanente Journal found that 66.7% of patients who took 25mg of CBD each day for just one month reported better sleep. This just goes to show that CBD gummies could be an excellent treatment for sleeplessness and even, perhaps, insomnia.
Epilepsy
There's strong scientific evidence that shows CBD as an effective epilepsy treatment. Currently, Epidiolex is the only FDA-approved CBD drug which can be prescribed to patients with pediatric seizure disorder. Hopefully, soon, it will be widely available to help people suffering with epilepsy.
BEST CBD GUMMIES
Truly's Daily CBD Bears
Improve your mood, increase your energy, and sleep like a baby with these tasty vegan CBD gummies that leave you feeling your best within as little as half an hour. Truly's Daily CBD Bears are the best for a number of reasons. Let's take a look at the benefits of these yummy CBD gummy bears.
100% Vegan
Like everything from Truly, these CBD gummies are 100% vegan. They contain zero animal products and have been produced sustainably. So if you're currently following a plant-based lifestyle, you'll be happy to know that these gummies are completely vegan.
High-performing ingredients
These vegan chews contain 15mg of phytocannabinoid hemp extract blended with organic grapes, apple, carrot, and vitamin C to deliver maximum absorption. There are actually three different hemp extracts available in CBD gummies, including full-spectrum CBD extract, broad-spectrum CBD, and CBD isolate. Ours is made of broad-spectrum CBD extract and 0% THC – the psychoactive chemical that makes you "high." It is always best to look for THC-free CBD extracts, as these are highly unlikely to affect a drug test.
Results within 30 Minutes
Do you regularly struggle with bouts of anxiety or sleeplessness? Truly's plant-based CBD gummies can help with that. Best of all, the results can show in as little as 30 minutes. Within 30-60 minutes of swallowing one of these bears, you'll feel a soothing and calming sensation throughout your body. So if you have a nerve-racking event coming up, these bears don't need long to work their magic.
They're Delicious
Not everyone favors the nutty, earthy taste of hemp. Even flavored CBD products don't always mask the flavor. Luckily for you, Truly's does. Thanks to its blend of carrot, grape, and apple, you can enjoy the taste of fruitiness without a hint of hemp in there. It really does taste just like a sweet treat.
Made in the USA
Made from 100% American grown hemp, Truly's CBD gummies are as authentic as it gets. We also advise people to purchase CBD products – especially oral products – from the United States with proof that it was grown in a US lab. This way, you're familiar with the health regulations and know you'll be getting something that's safe to consume without any potentially dangerous side effects.
Easy to Use
Start by taking just 1 CBD gummy per day – either in the morning or evening. Gradually increase your CBD intake until you experience your desired results. On average, people feel the benefits of 1-3 gummies (15mg-45mg) per day.
Do you want to ease those anxiety sweats? Those sleepless nights? Those low days? CBD gummies are a convenient and cost-effective way to combat both your mental and physical discomforts. We urge you to give them a try – but only if you need them, of course.
Share
---