One Product Five Ways: How To Get The Most Out Of Your Skincare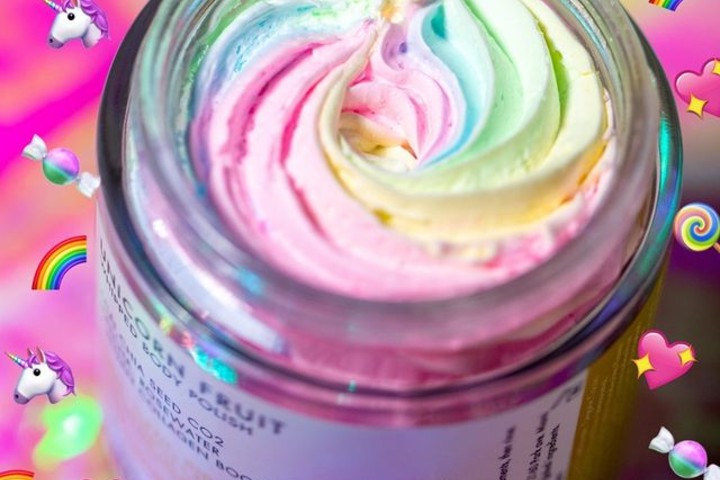 Are you the girl who abides by a 20-step skincare routine? Your bathroom cabinet is full to the brim with lotions, serums, and scrubs, all claiming to deliver a flawless, ageless complexion. In spite of your huge investment, you're still not satisfied with the results.
If this sounds like you, it might be time to streamline your skincare routine by incorporating a single product with multiple uses.
Not sure what multi-use skincare is? We're here to explain: multi-use skincare implies a singular product that offers the benefits of many other products. So you can basically buy one thing and use it for many other things. Think a body cream, fragrance, and lip balm all wrapped into one.
Even the experts say multipurpose skincare is the future.
"As more information becomes available to people, it's become clear that more isn't better," says Tina Craig, founder of U-Beauty. "For a long time, we were convinced that the more individual products we used, with each of them serving a different purpose, the better our skin would be. But now, the veil has been lifted. People, myself included, are interested in clean multitasking products that are both time- and cost-effective. Think more sustainability and less waste."
The multipurpose product we're going to be focusing on in this article is Truly's Unicorn Fruit Butter. Take a look at its myriad of purposes that go far beyond its product title.
UNICORN FRUIT BUTTER, 5 WAYS
What it is: a deeply conditioning, yummy-smelling, multi-colored body lotion loaded with a combination of skin-soothing ingredients, such as acai, vegan collagen, matcha, and rose.
With a base of shea butter, this formula is high in fatty acids and vitamin E to create a protective, hydrating barrier on the skin.
Thanks to its vegetable collagen content, this body moisturizer restores suppleness via flavonoids, which help to smooth and plump the top layer of skin.
Besides being an effective body cream, it also takes on many more beauty roles, which include:
Hair Mask
Rich in hair-repairing nutrients like shea butter and coconut oil, Unicorn Fruit can be used on the ends of hair to fight brittleness and seal split ends. Plus, it smells like candy, so you'll definitely love having this stuff in your hair.
Using a small amount, apply the butter directly to the ends of your strands. You can do this before showering like you would with an ordinary hair mask, or you can apply it afterwards like a leave-in treatment. Either way, make sure you coat the ends of your strands in the formula, but avoid going OTT, as your hair may end up looking greasy. Alternatively, apply it to damp hair, comb it through, cover your head with a shower cap, and leave it in overnight. Then wash it out the next morning.
Body Balm
While Unicorn Fruit is a body butter, it can also double up as a body balm. So what exactly is the difference between a butter and balm? It turns out, they're pretty much the same thing. The main differentiator is that body butters have a thicker, richer texture and body balms tend to be waxier. Both are good for moisturizing the skin.
According to the experts, body butters are better if you have very dry, sensitive skin. Balms are more suited to oily skin types.
Thankfully, Unicorn Fruit can function as either. It's lightweight yet rich at the same time. So you can enjoy its hydrating properties without worrying about breaking out.
Lip Balm
You really don't need a separate lip balm when you have Unicorn Fruit Butter in your bathroom cabinet. This product works just as effectively at moisturizing your pout as it does the rest of your body. You can also use it under lipstick as a hydrating primer to ensure your hue lasts for hours.
Using your index finger, dab a pea-sized amount onto your lips and massage in until absorbed. You can re-apply throughout the day whenever you feel dryness coming on. Although this nutrient-packed-formula should deliver enough hydration in one application to last the whole day.
Cuticle Softener
According to Mavala nail expert Lynn Gray, "If you do have really dry skin around the base of the nail then you should be using a cuticle oil or cream, preferably in the evening before bed so it can work overnight while your body regenerates- plus you won't be washing your hands as you would during the day, giving the product a chance to sink in."
If you don't fancy splurging on an additional beauty product, use Unicorn Fruit Butter instead – it works just as well! Plus, using it frequently can even help to speed up nail growth.
"The massage movement will also help stimulate blood flow, bringing vital nutrients and oxygen to the area, thus helping to speed up nail growth and improve health," adds Gray.
Fragrance
For a natural, sweet-smelling fragrance that lasts all day long, dab Unicorn Fruit onto your body. With its candy-like scent, you won't be able to get enough of this body butter!
For best results, use in conjunction with Aquaphor upon application for a body cream turned perfume. You don't need to apply copious amounts. A small amount should be enough to sweeten your scent for the next 24 hours. Re-apply daily to maintain your dreamy natural fragrance.
It's also really convenient if you're a traveler, as it means not having to carry your expensive bottle of Marc Jacobs or Dior around with you and risk it leaking into your luggage. Unicorn Fruit is well-sealed and perfectly travel-friendly.
We don't know about you, but multipurpose products are our favorite! Budget-friendly, eco-friendly, and travel-friendly, what's not to love about a product that serves more than one purpose?
And if you really can't get enough of this product and its heavenly scent, add a Unicorn Blast Bundle to your shopping mask for fairytale-ready skincare in three steps.
Share
---