The Benefits of Vegan Collagen in Skincare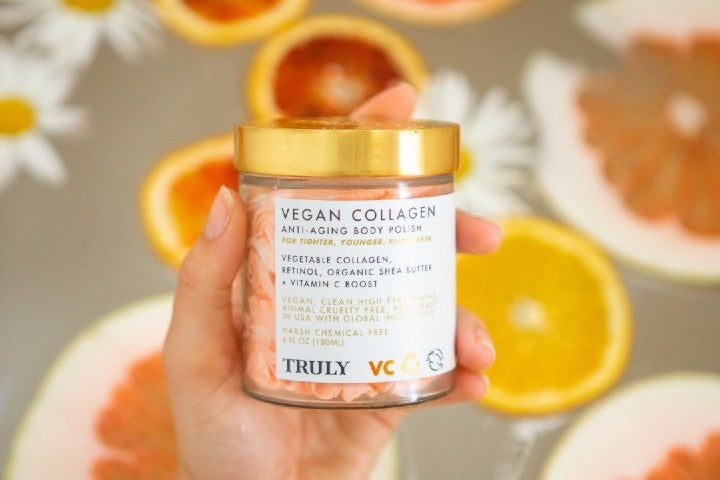 If you've been alive recently (and you love skincare), chances are you've at least heard of collagen skincare and how it can help you reclaim your natural glow. Hydration, wrinkle repair, acne remedy - the benefits are endless.
We know what you're thinking - What is collagen skincare… really?
In a nutshell, collagen is a protein made up of amino acids that is proven to keep your skin, hair, and nails looking healthy, strong, and youthful - according to recent studies. Your body does produce collagen all on its own, but levels decrease dramatically as you get older.
"Collagen gives our skin its plumpness," explains skincare expert Dr. Amy Wechsler. "We start to lose collagen probably around age 18, actually—it starts to slowly diminish." 
That's where vegan collagen skincare steps in to save the day.
WHAT YOU NEED TO KNOW ABOUT VEGAN SKINCARE
If you do a quick google search, you'll quickly find that there are several types of collagen out there - but vegan collagen is basically the Beyoncé of this industry. In other words, the queen of the beauty ingredients!
"Collagen used topically is primarily for cosmetic benefits such as improving the texture of the skin and temporarily filling in fine lines and wrinkles," says skincare pro Kat Burki.
Vegan collagen contains strictly plant-based ingredients (Vitamin C, amino acids, zinc, etc) that are far more effective in building, hydrating, and protecting collagen because they seamlessly ramp up your body's natural functions.
Still not convinced? Here are the top benefits you'll see when you add vegan collagen skincare into your beauty routine - according to the experts.
Your skin will be insanely hydrated
Vegan collagen is known for having intense moisturizing benefits when applied topically (AKA - using oils, creams, and serums!) If you're incorporating vegan collagen into your daily routine, you're bound to notice a huge difference in the health and overall texture of your skin.
Vegan collagen is a must if your skin is on the dryer side. Serious dry skin can sometimes lead to cracking, inflammation, and redness - gasp! Luckily, using this product regularly can seriously increase your natural moisture levels - leaving your skin soft, dewy, and glowy - all year long.
According to Marie Hayag, MD, the founder of 5th Avenue Aesthetics - adding vegan collagen to your skincare routine can "make the skin feel much softer and smoother" compared to other types of collagen products.
Say hello to an effortless, dewy glow with Truly's Vegan Collagen Bundle. Inside you'll find four vegan collagen-formulated products, a cleanser, serum, cream, and mask, all designed to deliver gorgeous, glowing skin.
You'll fight aging and increase skin elasticity
There are several products out there that claim to reverse signs of aging to give you that perfect JLo-Glow - but, have you tried something more natural… like collagen?
Vegan collagen works absolute wonders in reducing the appearance of wrinkles and fine lines. According to research, collagen is proven to increase skin's elasticity (your skin's ability to stretch and recover). If your skin has increased elasticity, it also has the ability to face daily stressors. This means that even after the most exhausting day of work, you'll still wake up the next morning looking healthy and refreshed.
The plant-based protein chains and amino acids found in vegan collagen bind together to form a whole collagen molecule that mimics your skin's natural production. Your body's ability to produce collagen decreases as you age, so incorporating a vegan collagen product into your anti-aging beauty routine will ensure that you are keeping your levels up and keeping wrinkles away!
Boost your skin elasticity and fight aging with Truly's Vegan Collagen Body Polish, designed to smooth, soften, and brighten skin all over.
Your dark marks and acne scars will dramatically fade
Acne is frustrating enough on its own - but then you have to deal with the aftermath… scars and dark marks - seriously? Stubborn facial scars can remain visible for years. Luckily, vegan collagen is the remedy you need to let your natural beauty shine through.
The damaged skin that acne leaves behind needs a little TLC in order to completely heal and collagen is a critical component in healing any type of wound. Supplementing with a vegan collagen product boosts the levels of collagen in your body and speeds up the recovery process. Essentially, your immune system uses the collagen to form 'new' skin on top of the scar - significantly fading the dark mark. Hallelujah!
We all love a good concealer, but vegan collagen skincare helps your body heal from the inside - getting rid of those pesky scars for good.
Slather on Truly's Blueberry Kush CBD Face Oil, made with vegan collagen and blueberries to plump, smooth, and even out discolored skin. It's the perfect formula for treating dark marks and acne scars.
You'll have an extra layer of protection against UV rays
Summer is just around the corner - which means, warmer weather and sunny pool days - finally!
While this is exciting, it also means that you'll need to consider how to protect your healthy skin from the sun's damaging UV rays. So, go ahead and stock up on SPF… and vegan collagen.
In addition to all the plant-based nutrients already mentioned, most vegan collagen products also contain a magical micronutrient called Polyphenol. Polyphenols are packed with antioxidants and naturally protect plants from strong UV rays - and they work the exact same for you!
According to Suzana Saric, a research scientist at the National Institute of Health, polyphenols significantly decrease the damaging effects of sun rays - specifically, ultraviolet A (UVA) and ultraviolet B (UVB).
Go ahead and plan that tropical vacation this summer - you totally deserve it. Just be sure to throw vegan collagen in your suitcase! It really is a winner in the skincare department and well worth stocking up on.
With regular use of vegan collagen, you'll soon notice a huge improvement in the shape of your skin. Let us know how you get on and be sure to stock up on Truly's vegan collagen skincare staples!
Share
---