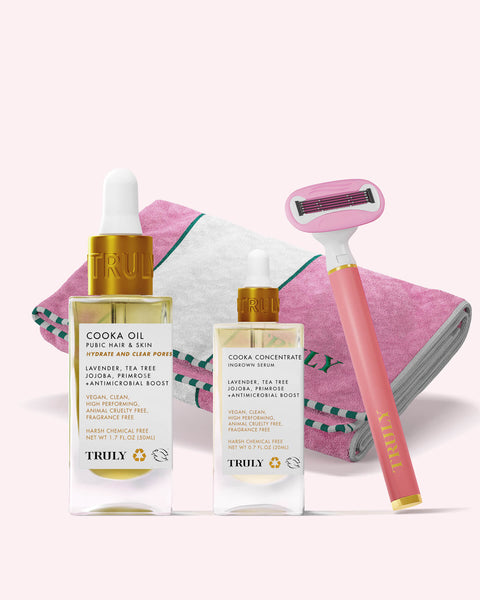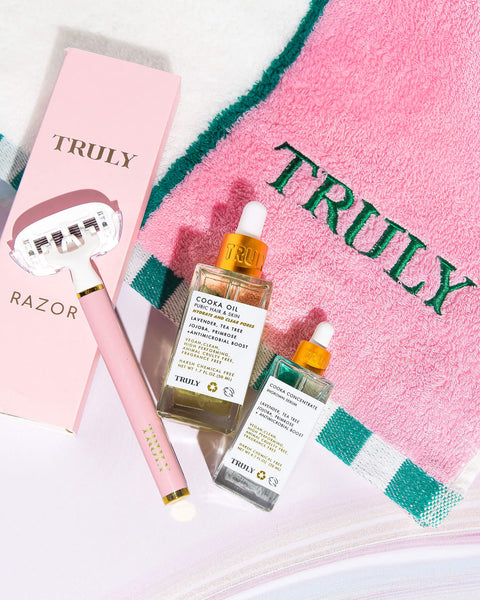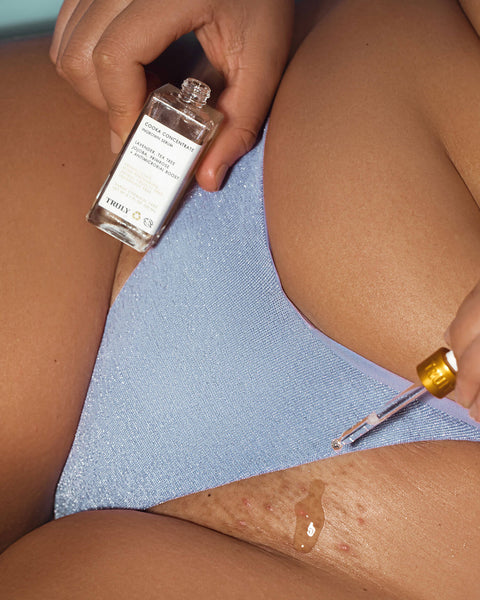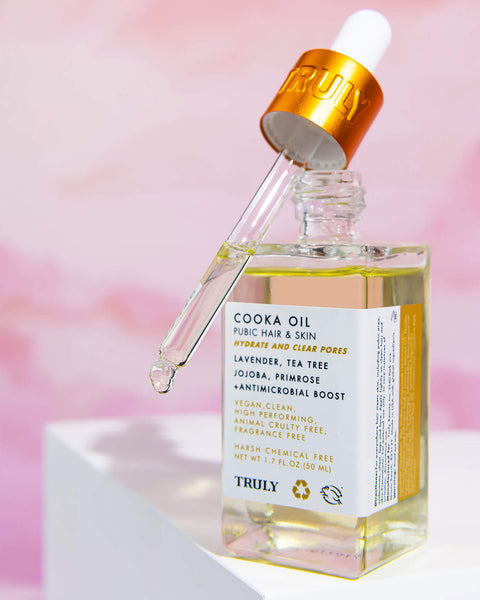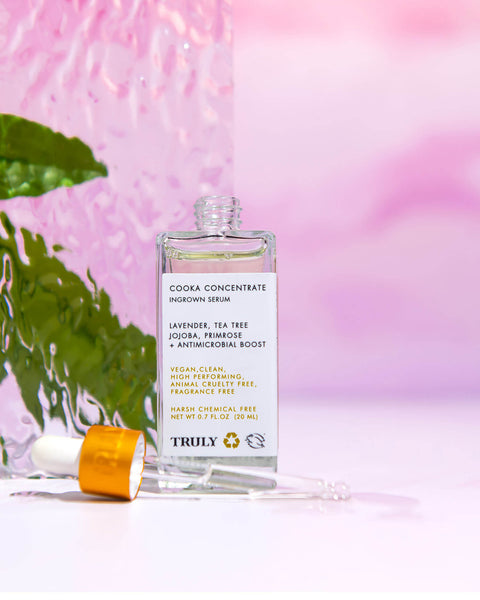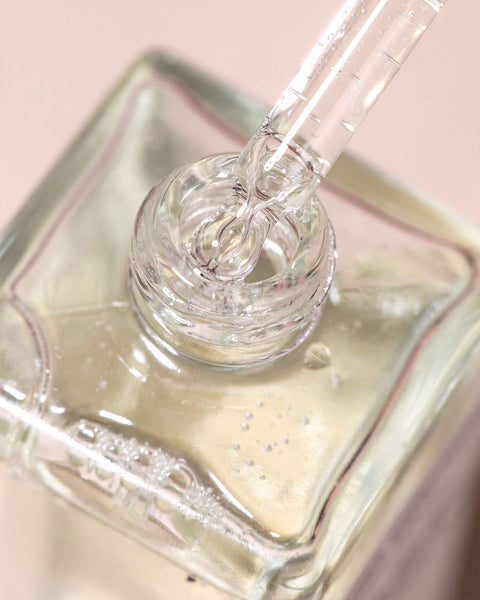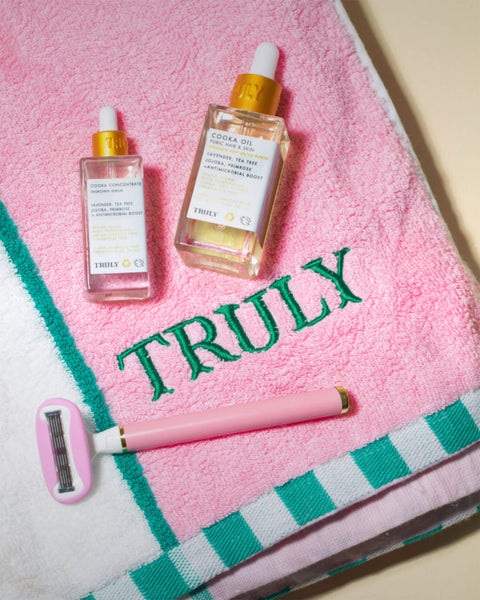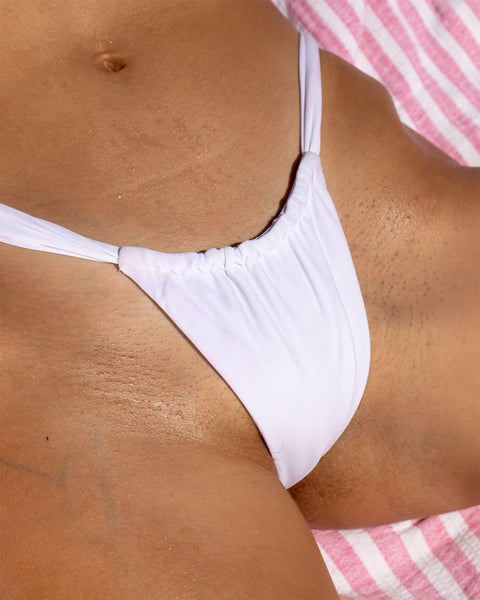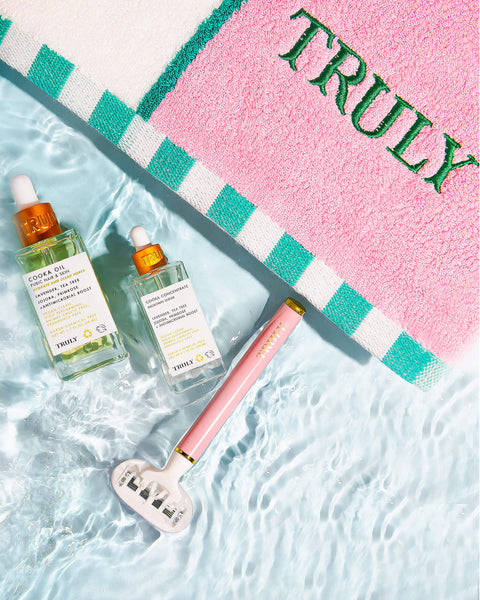 Ultimate Cooka Treatment
>Good to Know:
Soothing
Hydrating
Antimicrobial
Vegan
Cruelty-Free
Everything you need for a smooth, ingrown-free bikini line this summer! Our long-beloved Cooka Oil + Cooka Concentrate bundled with our aloe-infused razor + fluffy pink bath towel makes shaving down there a breeze.
What You'll Get:
Cooka Oil ✨ 1.7 Oz / 50 Ml
Cooka Concentrate 💦 0.7 Fl. Oz / 20 Ml
Full Size Pink/White Bath Towel 💗
Life Shaver Starter Razor (Razor color may vary)
WHY IT'S SPECIAL
Buy more, save more - bundle our Cooka Duo + shaving accessories together instead of purchasing separately for the greatest value on your smooth shave.
What Makes this Bundle SO Good?
Our Cooka Pube Oil and Concentrate blend several soothing antiseptic and antimicrobial ingredients such as lavender, jojoba, and tea tree oil, which help keep your bikini area smooth while preventing razor bumps and ingrown hairs. Both formulas step in as a bikini bump treatment and pubic hair oil to relieve post-shave irritation and soften coarse hair. Paired with our 5-bladed razor and super soft bath towel, you've got yourself a clean and bump-free bikini line.
Essential Ingredients:
Tea Tree Oil 🌿
Primrose 🌸
How to Use:
Cooka Concentrate: Apply a few drops of serum on irritation-prone areas after shaving to prevent and alleviate razor burn, bumps, and hyperpigmentation.
Cooka Oil: Apply a few drops of oil to the bikini area, or anywhere hair meets skin to quickly relieve redness, irritation, and ingrown hairs. You can also use it as a pubic hair oil to soften coarse hair.
Truly Blue Razor: After lathering up with shaving butter, glide the razor across the skin in the direction of hair growth for an ultra-close, smooth shave. Rinse the blades after each razor swipe.
What it Targets:
Hydrates
Combats dryness via moisturizing jojoba oil.
Removes Hair
Our 5-bladed, aloe-infused razor secures a close, long-lasting shave.
Soothes Irritation
The Cooka duo both treat + prevent ingrowns, razor bumps, and redness.
Subscribe, and Save 10%
Get all your bikini shaving essentials delivered straight to your door each month!
When you subscribe, you'll receive a 10% discount on every order, along with priority response time from our Priority Customer Experience Team. Pause or cancel anytime!
Stay updated on our HOTTEST deals, captivating content, and more!