How To Build the Right Shave Routine For Your Skin Type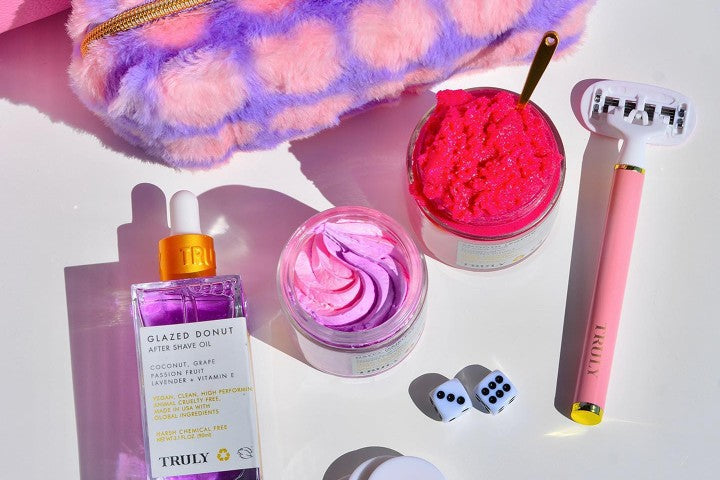 For a smooth, soft to the touch shave, it's a good idea to ensure that your shaving techniques and the skincare products you use match your skin type. 
In this article, we're going to show you how to build a shaving routine based on your skin type. Whether you're oily, dry, or sensitive, we've got the best techniques and shaving products to match. 
Tailoring your shave routine to your skin type prevents skin irritation, dryness, and ingrown hairs. It also guarantees an ultra-close, clean shave every time. 
Dry Skin
For a dry skin complexion, opt for a high quality razor with super sharp blades to prevent razor bumps and burns from appearing. 
Because dry skin essentially needs hydration, choose products formulated with nourishing ingredients like coconut, argan oil, and shea butter. It's also worth selecting a shave butter rather than shaving cream, as these tend to be richer and more moisturizing. 
We recommend Truly Silky Smooth Shave Set which features a hydrating shave butter, scrub, and body butter. They use ingredients like coconut milk, argan oil, and jojoba oil for hydration and aloe vera and rosewater for soothing effects. 
After completion, avoid aftershaves and opt for products that will help you hydrate, like the body butter featured above. The added moisture will calm down your skin and make sure you don't end up with razor burn or bumps. 
Maintain a skincare routine made up of hydrating products between shaves to provide the moisture your skin needs and ward off dryness and itchiness. 
Oily Skin
Those with oily skin have an interesting advantage when it comes to shaving. Because they have more natural oil than other skin types, they are far less likely to experience nicks, bumps, and dryness when shaving. You can pretty much use any razor type because your skin is less likely to collect cuts. 
It's nevertheless still important to maintain an effective shave routine comprised of an exfoliating cleanser, shave foam, and lightweight lotion to achieve your best shave. Exfoliating is important to remove dead skin cells and excess oil, which may accumulate in your razor and make it less effective. While your skin is naturally lubricated with its naturally high sebum levels, it's still a good idea to moisturize after shaving to keep skin soft and smooth. 
You can also follow this shave routine if you have combination skin -- it's just as effective. 
Sensitive Skin 
Sensitive skin is often prone to breakouts, bumps, razor burns, and cuts. Your best defence is to look for hydrating, soothing skincare products pre-shave, mid-shave, and post-shave. 
Start by using a gentle body scrub to exfoliate away dead skin, dirt, and oil. Then lather up with a nourishing shave butter to protect your skin from irritation. To finish, slather on a moisturizing, soothing body lotion to seal in moisture for lasting hydration. Alternatively, consider using a healing oil to help reduce any irritation or blemishes post shave. 
To improve your skin before and after shaving, you must limit the number of skincare products you use daily. We recommend sticking to a three-step shaving routine like Truly Smooth Legend Shave Kit. Inside you'll find a scrub, shave butter, and post-shave oil all formulated with moisturizing, calming ingredients like coconut, grape, lavender, and vitamin E. 
Avoid using hot water when shaving, as it dries out the skin and leaves it vulnerable to inflammation. And make sure you only use alcohol-free products to avoid any unpleasant reactions.
All skin types should follow up with a broad spectrum sunscreen after shaving and moisturizing the skin. Your skin is particularly sensitive after shaving, which is why it's even more important to slather on the SPF.
YOUR HAIR TYPE MATTERS TOO
While considering your skin type is an important step in the shaving process, it's also worth taking your hair type into account. Fine hair? Thick, coarse hair? Make sure you're using the right products to do the best job possible.
Shaving Tips for Thick Hair
If you've got thick, coarse body hair, choose a razor with four or five blades with a pivoting head. Multiple blades get through coarse hair more easily, while a pivoting head helps target hard-to-reach areas like the ankles and knees. Change your razor blades regularly to ensure smooth, burn-free results.
Start by showering or bathing in warm water to soften the hair follicles and prep them for shaving. Always use a softening shaving cream, butter, or gel to lather up the skin with. Never use soap -- it's way too drying. Using a moisture-filled cream can help soften coarse hair, making it easier to attack. Rub the cream against the hair growth to hold up the stubble for an extra-close shave.
Shaving Tips for Fine Hair
If you've got fine hair, you won't need such a hardcore razor to get rid of body hair. You can definitely get away with a two blade razor. Fine hair usually appears on the thighs, toes, and fingers. It's easy to remove and shouldn't ever cause ingrowns or razor burn. You'll also find fine hair (aka peach fuzz) on your face. If you make a habit of removing your facial hair, be sure to use a special facial razor or eyebrow razor. These are much safer, far more accurate, and generally pretty easy to use.
After washing your face with a gentle facial cleanser, foam up your face with a shave foam or cream, then start shaving away those fine hairs. Complete by applying a moisturizing face cream.
It turns out, shaving isn't as straightforward as picking any universal shaving products and getting started. By choosing products and techniques that best match your skin type and hair type, you'll be able to enjoy far better results. 
Speak to your dermatologist if you have chronic skin conditions like eczema, rosacea, dermatitis, or cystic acne. You may need to use certain products to prevent worsening your condition. 
Share
---