Pit Perfecting Kit: The Complete Underarm Care Routine Your Pits Will Appreciate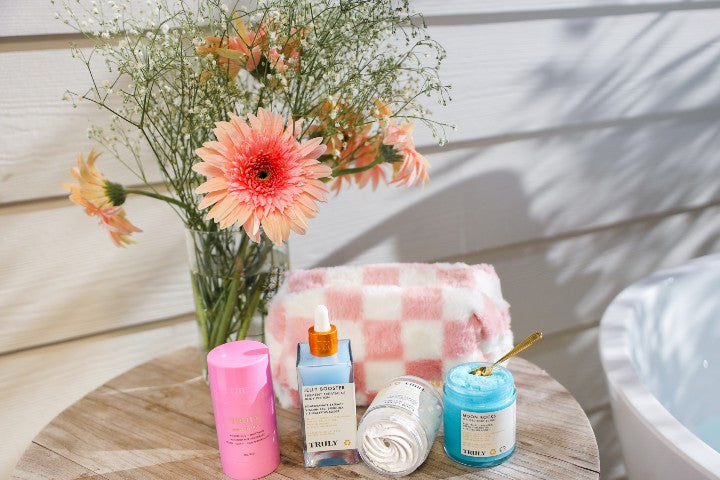 If you've been neglecting your underarms for too long, it's time to start an underarm care routine. Think about it. You invest so much in cleansers, toners, and serums for the face, but your pits deserve your attention, too.
Just like your face and other areas of your body, your armpits are susceptible to a slew of skin complaints such as dullness, dryness, and discoloration. Then there's also body odor to bear in mind.
With our NEW Pit Perfecting Kit, you have all the skincare products you need to treat your pits to some well-deserved TLC. Here's everything you should know about this new kit, and why you need it in your personal care routine.
WHAT IS THE PIT PERFECTING KIT?
The Pit Perfecting Kit is a complete underarm skincare routine featuring our NEW aluminum-free Unicorn Fruit Deodorant, Coco Cloud Shave Butter, Moon Rocks Body Scrub, Jelly Booster Pigment Treatment, our award-winning PPG Razor + a cute checkered fuzzy bag.
With high-performing vegan ingredients like pomegranate, coconut, and mango, the formulas in Pit Perfecting Kit work together to brighten skin, fade hyperpigmentation, remove underarm hair, eliminate ingrown hairs, and banish underarm odors for your smoothest, brightest, and freshest pits!
All skin types can benefit from this underarm care routine.
HOW DOES IT WORK?
Here are all the things the Pit Perfecting Kit can do for your underarms.
Brightens
Moon Rocks Scrub is a sugar-based body exfoliator formulated with a hydrating base of 100% organic coconut oil, brightening lavender, and nourishing vitamin E to buff away the buildup of dirt and dead skin cells, and brighten up the underarm area. Frequent exfoliation also helps to combat odor-causing bacteria and allows products to penetrate deeper — maximizing their benefits! If you're not exfoliating your pits already, now's the time to start.
Hydrates
All the products in this kit offer moisturizing benefits thanks to ingredients like coconut milk, jojoba oil, and mango butter. If you've got dry skin, you don't have to worry about any of these formulas leaving you dry and itchy. The opposite! These nourishing formulas work in harmony to keep your pits feeling soft — all day long.
Diminishes Discoloration
Jelly Booster Pigment Treatment is a discoloration correcting potion to get rid of underarm darkness and discoloration. Pomegranate extract and vitamin B12 work in tandem to boost collagen production, stimulate cell regeneration, and improve the appearance of underarm hyperpigmentation.
Other products to be credited: Coco Cloud Shave Butter — it provides perfect slip for your razor, reducing your risk of razor burn, ingrown hairs, and hyperpigmentation. And Unicorn Fruit Skin Smoothing and Brightening Deodorant, which brightens underarm skin and evens out skin tone.
Provides Irritation-Free Hair Removal
Coco Cloud Whipped Shave Cream makes shaving so much smoother. This fluffy formula of coconut milk, argan oil, and vitamin E softens skin and hair while providing moisture to the skin and securing a smooth, ingrown-free shave. If you have sensitive skin and shaving always leaves you bumpy, you're gonna LOVE how Coco Cloud makes you feel. It's like shaving on CLOUD 9. No, really.
With our award-winning PPG razor on hand, you can guarantee a seamless shave every time. Because this five-bladed flex-grip razor NEVER disappoints.
Combats Body Odor
We just released our new natural deodorant that smells just like our iconic Unicorn Fruit products — and yup, we bundled it! Unicorn Fruit Skin Brightening and Smoothing Deodorant is an aluminum-free, cotton candy scented deo that'll leave you smelling fresh all day — without those pesky pit stains.
This fresh-on-shelves formula removes odors and dead skin cells without irritating skin. Bacuri butter, papaya enzymes + symwhite 377 leave your underarms smoother, brighter, and smelling sweet as a candy shop. So, if excessive sweating is your issue, let the newest member of our UF fam keep you fresh for as long as possible. And unlike antiperspirants, it doesn't have any unpleasant long-term side effects.
WHY YOU NEED THE PIT PERFECTING KIT
An underarm care routine shouldn't stop at a body wash and deodorant. After all, your pits deal with almost as many issues as the rest of your body. Start showing your pitties some love and treat them to this made for your pits routine that'll leave your underarms sparkling.
Whether your issue is dullness, dryness, discoloration, or body odor, this pit kit cures all! Used together as a complete routine, the Pit Perfecting Kit smooths, detoxes, brightens, and freshens in only 5 steps.
It also features our BRAND NEW Unicorn Fruit Deodorant that'll put a stop to sweat gland related odors. While you can make your own DIY deodorant using kitchen staples like apple cider vinegar and baking soda, it won't smell nearly as good as UF deo does. Plus, it features our new fuzzy pink checkered cosmetic bag to sweeten the deal and help you keep everything organized and in one place.
WHERE TO BUY PIT PERFECTING KIT
Truly's Pit Perfecting Kit is available on our official website. It only just arrived today, so grab your kit, and get started with your underarm care routine.
To get the most from this kit, stay consistent. We recommend using the deodorant + pigment potion daily — morning and night — for long-lasting freshness and to treat discoloration. The scrub is best used twice a week to keep the underarm area clean and smooth. As for the shaving products, use them whenever you feel like shaving.
Once you're done with the Pit Perfecting essentials, stash them in your pink checkered bag until next time!
Please bear in mind: excessive sweating and chronic body odor might point to an underlying skin or health condition. Whenever you experience unusual symptoms or products don't work, it's best to seek help from a health care provider or board-certified dermatologist. Don't hesitate to get help if you have any concerns.
Share
---