Pucker Up! The Best Lip Care Products for a Kissable Pout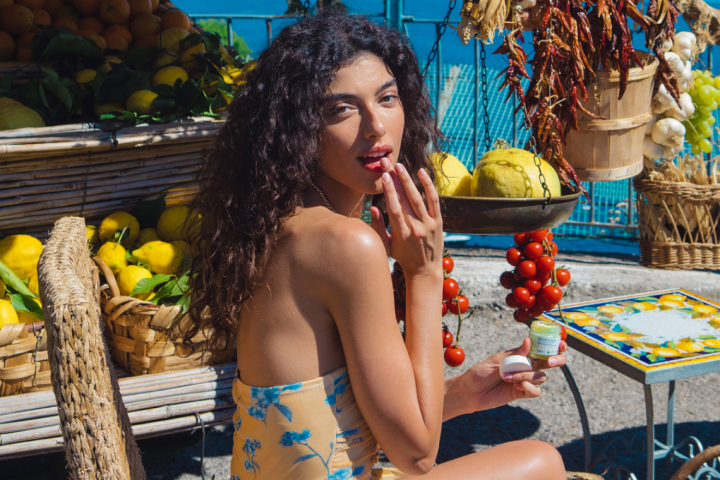 'Tis the season to be kissing! 
This Valentine's Day, get your lips looking and feeling luscious so that when you finally pucker up with you know who, it'll be the best darn kiss he or she ever knew!
The only thing that stands in the way of that? Dry, flaky lips. Yup, they suck, but do you know what? You can easily resolve that issue by investing in a gentle lip scrub, hydrating lip balm, and nourishing lip mask.
Here are the best lip care products to try for a kissable pout this Valentine's Day -- and beyond!
Pineapple Haze CBD Lip Smoothing Polish
Enjoy smooth, kissable lips with Pineapple Smoothing Lip Polish. Formulated with exfoliating sugar crystals and antioxidant-rich hemp oil, this lip scrub will buff away dead, dull skin while smoothing out lip lines to give you your smoothest, most youthful pout. 
It also contains hydrating coconut oil, mango, and vitamin E to diminish dry lips and create the perfect base for lipstick. You're bound to fall in love with this pineapple-scented sugar lip scrub. Just remember that while it smells soooo good, you actually can't eat it.
GLOAT Sexy Soft Lip Scrub
Sexy Soft Lip Scrub exfoliates, plumps, and preps lips for a perfect pre-balm application. It's made with a base of sugar and nourishing blend of hyaluronic acid, coconut, neem seed oil, and peppermint to exfoliate dry, flaky lips and protect lips from future drying. This formula melts into lips and creates the perfect surface for lip serums and makeup. Plus, thanks to stimulating peppermint, you can look forward to a plumper pair of kissers.
This lip product will buff away dead, dry skin while enabling other beauty products to absorb better. It's a go-to product for maintaining smooth, sexy lips all year round.
GLOAT Lip Plumping Serum
Diminish dryness with Truly's Lip Plumping Serum. This luxe lip serum has anti-aging benefits as well as hydrating, softening, and plumping effects for your smoothest, largest pout. 
Formulated with coconut, aloe, and hyaluronic acid, this formula will help to replenish your lips' moisture levels while reducing any irritation, keeping them juicy, hydrated, and extremely kissable all day long! It's the best natural lip treatment for a juicier set of kissers. 
Unicorn Lip Plumping Balm
Unicorn Lip was inspired by our cult-favorite Unicorn Body Butter. It's hydrating, plumping, and applies like silk. Make it part of your daily skincare routine for super soft lips.
Key ingredients include shea butter to deeply hydrate, peppermint oil to encourage blood flow, and cocoa butter to nourish. Together, these ingredients work to smooth, moisturize, and volumize so your lips can look and feel amazing.
Wear alone, as a primer for lipstick, or under your favorite lip gloss! Alternatively, make your own little DIY tinted lip balm by mixing a little pigment together with the butter. Oh, and did we mention your lips will smell like cake frosting? Yum!
GLOAT Big Juicy Lip Oil
Lip oils are great for sealing in moisture for long-lasting hydration. If you're looking for a lip oil that soothes, smooths, and hydrates sans stickiness, go for our GLOAT Big Juicy Lip Oil. 
Formulated with a nourishing blend of coconut oil and hyaluronic acid, lips are instantly prepped and juicy! Best of all, you don't want to worry about your lips feeling sticky and icky. This formulation simply melts onto lips, creating the perfect base for lipstick. Thanks to hyaluronic acid's collagen-boosting abilities, it is also capable of plumping out fine lines on and around the lips.
Pineapple Haze CBD Glossy Lip Butter
Drench your lips in lasting moisture with this nourishing formulation of hemp, jojoba oil, and vitamin E. 
Pineapple Haze Lip Butter is a deeply soothing, deeply hydrating formula designed to condition your lips while protecting them against environmental aggressors like the sun, dry weather, and pollution. 
It's a perfect daily lip balm that adds shine to your lips while locking in moisture all day long! Plus, it will zap away any chapness! And while it feels somewhat similar to a beeswax formula thanks to its incredible richness, you'll be happy to hear that this lip butter is 100% vegan and cruelty-free! Like all of our other Truly products!
Heartbreaker Lip Plumping Mask
This glitter lip plumping mask offers major TLC to your pout. Forget lip fillers and procedures. Our lip plumping mask is a safe, clean, and super effective at-home treatment for achieving pillowy lips without the pain. Plus, it feels wonderful on the skin. With its moisturizing jelly texture, this formula will soothe any irritation and dryness so your lips can feel nice and nourished. 
The star ingredient? That would have to be ceramides. Aloe and vitamin E also lend their soothing and moisture-retaining abilities. 
Starkisser Lip Plumping Mask
A truly memorable kiss starts with crazy soft, juicy lips. And the way to get those? With this glittery lip plumping mask. Pain-free, effective, and temporary, you can perk up your pout in minutes with this fabulous formula. 
Made with hyaluronic acid, aloe, and peppermint, these ingredients join forces to hydrate, diminish dryness and flaking, soothe irritation, and stimulate blood flow to add a little oomph to your pout.
Besides leaving your lips super smooth, soft, and juicy, this mask is so much fun to use. And it looks so pretty on your lips. Selfie, anyone?
With Valentine's Day just around the corner, there's no better time than now to start taking better care of your pout. Take your pick from the lip products above, and you can expect to see (and feel!) a smoother, plumper, softer pout in a matter of minutes. 
For best results, use one or more of these products on a daily or weekly basis to maintain soft, silky lips. Always apply a thin layer of SPF 15 if you plan on going outside to provide your lips with protection and prevent them from drying out. And get ready for gorgeous, pucker-ready lips! 
Share
---