Sugar, Spice, and Everything Nice...Powerpuff Girls Beauty Collection is Here!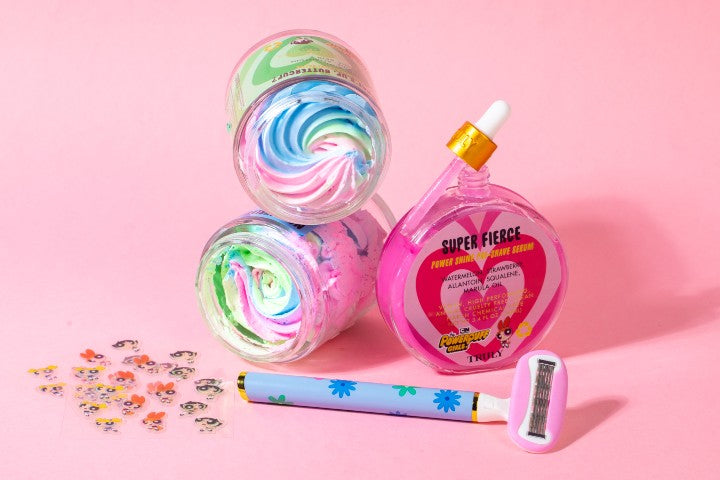 It's official! The Powerpuff Girl X Truly collab just happened!
Since we love Cartoon Network's crime fighting cuties just as much as you do, we decided to create a beauty line inspired by Blossom, Bubbles n' Buttercup themselves. When they're not saving the world, they're saving your skin!
Truly's just-dropped Powerpuff Girls collection features five limited edition shaving essentials to leave your skin feeling super soft and smooth. Grab them now --- or never!
INTRODUCING OUR LTD EDITION POWERPUFF GIRL PRODUCTS...
No Troubles Bubbles
Super Smooth Shave Cream 
No Troubles Bubbles is a superhero shave cream capable of fighting off skincare code reds: ingrowns, irritation, and razor burn! You name it, she's here to save the day!
Formulated with antioxidant-packed blueberry, soothing blue tansy, and hydrating hyaluronic acid, this Bubbles-inspired shave cream is designed to give you the silkiest shave of your life. It also contains moisturizing marula oil and skin-healing allantoin. This formula would certainly give Mojo JoJo a run for his money!
What's Up, Buttercup?
Super Soft After-Shave Butter
Any 90s kid is bound to adore this super cute avocado and kiwi swirled after-shave butter. It smells just as good as it feels! But don't undermine What's Up, Buttercup?'s sweet exterior -- this skincare product can ward off everything from dryness to body breakouts and skin irritation.  
It's made with a blend of acne-fighting, deep conditioning active ingredients, including avocado, niacinamide, kiwi, allantoin, and hyaluronic acid. While avocado's anti-inflammatory properties help soothe post-shave irritation, niacinamide regulates oil and strengthens the skin barrier. And allantoin? That soothes, protects, and spurs the skin's natural healing process.
Pst...it goes on after shaving to treat and hydrate skin.
Super Fierce
Power Shine Pre-Shave Serum
Townsville isn't the only place home to sweethearts with superpowers. So is Truly! Our Super Fierce Pre-Shave Serum is made with a nourishing blend of marula oil, watermelon, strawberry, and squalene to help soothe, hydrate, and boost glow in skin. 
Watermelon is rich in vitamin C, amino acids, and lycopene, making it a high-performing skincare ingredient for reviving healthy, glowing skin. Strawberry also contains high amounts of vitamin C, helping to protect skin against UV damage while fading dark spots and discoloration.
Squalene is a naturally occurring oil in the epidermis that can help control overly oily skin while still moisturizing. This superstar ingredient visibly improves skin texture, reduces fine lines, and promotes a radiant glow. 
Powerpuff Girls Razor
Super Shaver Razor
Instead of giving you Powerpuff Girls blushes, hair clips, lip glosses, lip masks, and eyeshadow palettes, we're giving you a Powerpuff Girls-inspired razor. And it really will save the day! Just like the TV show's badass trio!
This five-bladed flex-grip razor is perfect for a super fast shave, anytime any place. It also guaranteed a silky shave and smooth glide every time -- when used in conjunction to the line's other shaving products.
And don't worry if blades get dull. Simply pop off the razor head and replace it with Truly's Razor Cartridges for an ultra eco-friendly (and wallet-friendly!) shave. 
Pimple Power Pack
Super Pimple Patches
Dislike those pesky pimples as much as the Powerpuff Girls dislike Princess Morbucks? Zap them away with our limited edition PowerPuff Girl acne patches. 
They're super-charged with hydrocolloid to drain zits of gunk while protecting you from picking and outside stressors. It also treats active blemishes and speeds up healing. Take your pick of Bubbles, Blossom, or Buttercup acne patches! 
Thanks to their extra large size, these patches are perfect for tackling body blemishes and shaving nicks. It's possible that one of these babies can zap away your pimple in a matter of hours. 
Super Shave Bundle
All the Powerpuff Girls x Truly products, bundled. 
The kit includes: No Troubles Bubbles, What's Up, Buttercup?, Super Fierce, PowerPuff Girls Razor, and Pimple Power Pack. ALERT: Our collab with the PowerPuff Girls is a limited edition offer that won't be restocked after going out of stock. So get them now before you miss out!
Using high-performing actives like allantoin, squalene, hydrocolloid, and hyaluronic acid, these beauty products are designed to nourish and hydrate your skin. Best of all, they're suitable for all skin types. Any Powerpuff Girls fan is welcome to try!
Here's how to use the different products in the kit.
No Troubles Bubbles: 
Apply the shaving butter to skin prior to shaving. For best results, lather up the butter using warm water and always shave following the direction of the hair to prevent razor bumps, burns, and ingrowns. Rinse off the shaving cream, and pat dry.
What's Up, Buttercup?:
Apply a generous layer of after shave butter directly to the skin. Massage into the skin using broad strokes until the product is fully absorbed.
Super Fierce:
Prior to shaving, apply a thick layer of serum directly to skin as needed. Massage it into the skin, using firm, broad strokes until the product is fully absorbed.
PowerPuff Girls Razor:
Glide the razor across shaving cream-covered skin in the direction of the hair for a smooth, irritation-free shave. Rinse the blades between swipes. Wash and store in a dry area after using.
Pimple Power Pack: 
Apply a pimple patch onto the affected area. You can apply multiple at once. You can also use on shaving bumps and irritated patches to soothe the skin and reduce irritation. Leave on for 4+ hours, or overnight. Repeat the process until your pimples or bumps disappear.
You may have already heard of the Powerpuff Girls Makeup Collection -- courtesy of ColorPop. Well, the ColourPop collection is pretty hard to beat. Products include the Bubble Bath Bar, Lip Mask Duo, Saved Roller Gloss Kit, Villainous Colour Stix, and Shadow palettes to name a few. They're definitely extremely fun and adorable!
However, we're one of the first retailers to release a Powerpuff Girls-inspired shaving collection. Taking inspiration from their dazzling personalities and signature colors, our beauty brand has created something totally different! Instead of a makeup line, we've got all the shaving essentials you need for a truly sensational shave!
Share
---