Curly Hair? Watch Out for these Hair-Unfriendly Ingredients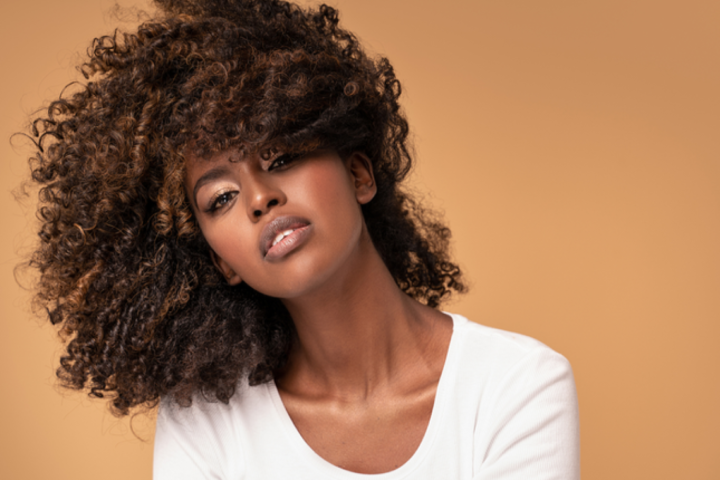 Finding good products for your naturally curly hair can sometimes be a challenge. Especially since many hair products are laced with ingredients that can cause more harm than good to your precious tresses. 
On the plus side, there are still plenty of curly hair products you can use that won't leave your strands dry and frazzled. They're the good guys that restore hair health!
While you might be well-versed in what your hair needs, it's important to shop with a conscience when it comes to purchasing hair care products -- since the wrong ones can cause a slew of issues ranging from dryness to breakage and even frizz.
Here are the ingredients you don't want in your shampoos, conditioners, and styling products. For the sake of happy hair!
Silicones
Silicones are typically found in conditioners and hair masks for their ability to smooth the hair and prevent frizz. Hair experts describe them as synthetic oils that act like natural oils. Trouble is, consistent use of silicones can lead to product buildup and ultimately, flat, lifeless locks.
"Silicones may initially leave the hair silky and smooth, but with continued use will build up on the hair, weighing it down," explains board-certified dermatologist Joshua Zeichner. "So while it may be tempting to use them, I generally recommend avoiding silicone-containing shampoos." 
Common names for silicones in hair products include dimethicone, cyclomethicone, and cyclohexasiloxane.
Sulfates
You may have heard about sulfates before, but what exactly is so bad about them? Put simply, sulfates are chemical detergents that make shampoo sudsy. And while they may leave hair squeaky clean, sulfates can wash out the good oils from your hair and scalp, leaving you with itchy, dull, dry hair and scalp.
The three most commonly used sulfate compounds that you'll find in your shampoos and conditioners are sodium laureth sulfate, sodium lauryl sulfate, and ammonium laureth sulfate. You'll also find these in your skincare products too. Cleansers, toners -- many of them contain sulfates. That's why, as a consumer, you need to take responsibility and shop for hair-friendly ingredients instead. In other words, scan the ingredients list for the baddies and only choose the ones with the good guys inside.  
Each type of sulfate is different in intensity, but they can all be irritating to your hair and scalp. Laureth sulfate is the milder than sodium lauryl sulfate, and ammonium sulfate is milder than the sodium version. If you can, try to avoid them oil -- especially if you're fighting frizzies as sulfates only make things worse.
Parabens
Parabens exist with the main purpose of prolonging shelf life and preventing bacteria growth within products. When it comes to examining the label of your favorite hair mask, look out for names such as butylparaben, methylparaben and propylparaben which are the most commonly found parabens in beauty products.
The problem with parabens is that they can be extremely irritating. Since curly hair tends to be more fragile and hair loss can also be an issue, parabens put you at risk of scalp irritation and potentially hair shedding.
Worst of all, parabens have been linked to cancer. Steer clear!
Drying Alcohols
Alcohols are not created equal. Some can be good and others can be very drying to delicate curls.
For instance, isopropyl alcohol (usually found in hair gels and sprays) is drying and harsh to your natural hair. Regular use of products containing this ingredient can leave your hair dry, frizzy, and dull. 
Cetearyl alcohol and Cetyl alcohol, conversely, are emollients that are known to hydrate, smooth, and soften strands. Plus, they provide slip to your deep conditioners and masks to make the detangling process much easier.
Waxes and Mineral Oils 
While waxes and mineral oils can be moisturizing for your mane, they can also cause product buildup in curly or wavy hair types. In order to remove that buildup, you'll need to use a clarifying shampoo multiple times to get rid of it all. This can be very drying and damaging to curly hair. So, best to steer clear of waxes and mineral oils to save your strands the stress.
Best Curly Hair Products to Try
Looking to shop the best curly hair care products? To keep your curls smooth, soft, and bouncy, here are the products to use.
Super Flower Bundle - Shampoo & Conditioner
Sulfate-free, preservative-free, and made with only natural ingredients. Super Flower Shampoo and Conditioner promote healthy hair regrowth for curlies seeing shedding. Formulated with hemp, castor oil, lavender, aloe, and provitamin B5, this hair-thickening duo helps to smooth the cuticle, retain moisture, and stimulate hair growth. Wash days just got way more manageable!
Unicorn Locks Repair Hair Mask
A keratin-packed mask to feed the scalp, prompt hair growth, and boost strength. Avocado acts as a natural moisturizer, diminishing dryness and preventing dandruff. Coconut oil also lends its hydrating properties. 
After using this hair mask, you'll be able to achieve almost any hairstyle you like, since your mane will be so much more manageable. The curly girl method needs this staple in their hair care routine.
Bonne Nuit Beaute Satin Sleep Set
Regardless of your curl pattern, all curly haired cuties are prone to waking up with frizz and unruliness when sleeping on cotton pillowcases. That's why you need to switch to satin or silk! 
Our Satin Sleep Set features a standard size pillowcase to help with hair frizz and breakage, an eye mask for a peaceful sleep, and a headband and scrunchie to keep your hair out of your face. This vegan set is your frizz-free solution to a super sweet sleep and ultra-smooth morning. 
Next time you go hair care shopping, be sure to scan the bottle for these hair-harming ingredients. Using gentler, kinder ingredients can make a huge difference to your strands.
If you're still struggling to manage your curls, ask your hairstylist about relaxer treatments. You may even want to consider co-washing -- washing your hair solely with conditioner. You'll find plenty of tutorials online!
Share
---