Hair Care Shortcuts if You've Only Got A Few Mins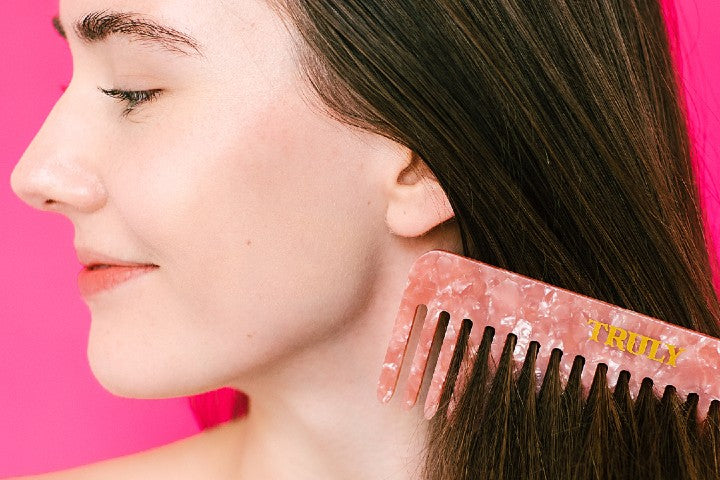 Hair texture, color, and style may differ, but one thing we can all agree on: tresses that look smooth, shiny, bouncy, and beautiful. The kind that looks like they've been in the care of a salon profession since … forever.
If time is the only thing getting in the way of you and your dream hair, let us show you how to get a gorgeous, healthy-looking mane in merely minutes. You don't need expensive masks or keratin treatments. You just need a few hair care essentials, and a mindset prepped for achieving luscious locks.
Below, we've put together some quick and easy tips for beautifying your tresses.
HYDRATING HAIR
Wash it Less
According to Mintel, 33% of women who have changed their hair washing habits in the last year cite concern over damage as their top reason. And right they are.
"Over-washing can be damaging for your hair, especially if it is bleached, coloured, has been chemically treated or is naturally very dry or porous," says Steve Rowbottom, co-director of Westrow. Are you a daily washer? You may want to re-consider your regimen.
"When you wash your hair every day it strips away the natural oils and proteins that you need to keep your hair and scalp healthy, so try to limit hair washing to three times a week if you can," Rowbottom continues.
Apply a Nourishing Leave-In Hair Mask
Hair masks are excellent for replenishing moisture within the cuticle. If you've noticed your hair feeling extra dry and brittle lately, invest in a high-quality, hydrating hair mask like Truly's Unicorn Locks Repair Hair Mask.
But don't worry if you've no time for hair masking. Simply apply a couple of squeezes onto the ends and mid-lengths of your hairs, and leave it to sit in your tresses until your next wash.
SPEEDING UP A BLOWOUT
Divide Hair into Bigger Chunks
Prolonged exposure to heat can dry out your hair and lead to breakage. Of all the hairstyling heat tools, the hairdryer remains the most hair-friendly, but it still causes damage the longer you hold it against your strands.
To give your mane oomph without wasting valuable time, hairstylist Jimmy Paul recommends doubling or tripling the sections of hair you hold in the brush. You'll slash your hair drying time in half doing it this way.
Let it Air-Dry Longer
Another great hack for cutting dry time: let your freshly washed hair air-dry longer. Instead of blow-drying it when it's completely wet, wait 20 minutes so that the majority of your mane can dry before styling.
DE-TANGLING
Use a Comb
If your hair's looking like a hot mess, invest in a wide-toothed comb. The way you brush or comb your mane can make all the difference.
"Tail combs and other small-tooth combs can cause severe damage and breakage to your strands," explains hairstylist Kendall Dorsey. "The best way to detangle hair is to use a paddle brush or wide-tooth comb as they are much more gentle on the hair."
Truly's Rose Gold Wide-Toothed Comb is perfect for getting rid of tangles and smoothing out strands.
DE-FRIZZING
Sleep on Silk (Or Satin!)
The easiest way to wake up with frizz-free strands is to switch your cotton pillowcase for silk or satin. Silk prevents friction between your hair and the pillow, putting a lid on frizz and breakage.
Alternatively, try sleeping in a silk bonnet which Dorsey says "will keep your hair in place, prevent it from friction against your blankets, pajamas, and your pillow. Plus, it locks moisture in all night."
Boost your beauty sleep with Truly's Satin Sleep Set. Inside, you'll find a satin pillowcase, eye mask, scrunchie, and headband.
Apply Oil or Serum
The quickest way to get rid of frizzy hair and flyaways is with a nourishing serum or oil. Rub a dime-size amount between your palms, then run them over your mid-lengths and ends. It'll only take a minute, and the frizz will look a lot less noticeable.
If you have a few spare minutes, follow up with a large flatiron to really smooth things over.
STYLING DAMAGED HAIR
Try Heat-Less Styles
We all want beautiful, perfectly styled hair, but we can't afford to endure much more styling when the hair is damaged.
Luckily, your mane can still look amazing minus hot tools. Nowadays, you only need to look on Pinterest for heatless hairstyles, and you'll get all the inspiration you need for gorgeous tresses. Think messy buns, top knots, plaits, etc. You can be as creative as you like.
Only Style Certain Areas
Did you know that you don't need to cover every strand of hair when flat ironing your hair? It's a trick hair pros pull all the time.
"Focus on the one thing that defines the look," says hairstylist Serge Normant of the Serge Normant at John Frieda salon.
For a smooth and sleek style, neglect the underneath in favor of the part and layers around the face.
"That will give the whole head the illusion of being done," says Normant. "The underneath and the back don't matter."
You could also apply the same technique to curling. Instead of curling your whole head of hair, tie it up in a twist and curl the wispy hairs that fall. You'll get this beautifully undone look without damaging your hair.
THE BIGGEST HAIR CARE SHORTCUT OF ALL …
Keeping your hair healthy with high-performing products.
Like the skin, you can't achieve flawless hair without following an effective hair care routine. It doesn't need to be complicated. Simply washing and conditioning your hair with the right products is a great start for maintaining healthy locks.
Show your mane some TLC with Truly's Super Plant Bundle Shampoo and Conditioner. This hair-revitalizing duo blends plant oils and vitamins to keep your hair healthy and hydrated. 
So you see, getting good hair isn't hard or time-consuming. While we do recommend following a hair care routine targeted to your hair type and issues, these shortcuts can save you a lot of time if you're looking for a quick pick-me-up for your mane.
Share
---