How to Grow a Gisele Bundchen-Worthy Mane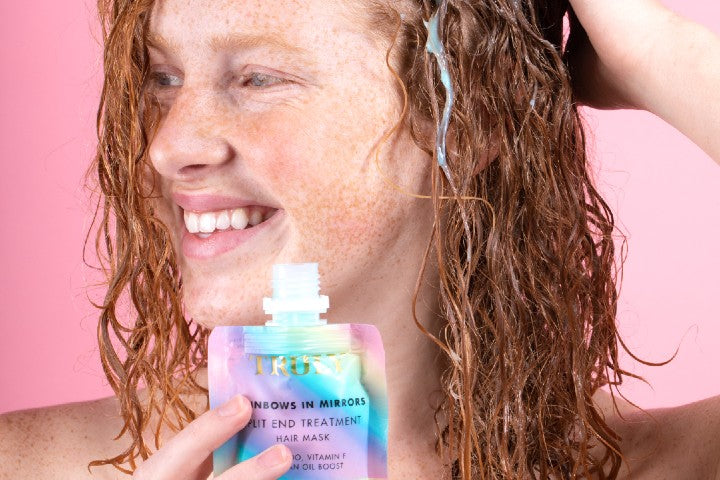 Who doesn't want healthier, thicker, glossier hair?
If you're someone who cares about your hair, your quest for longer, thicker hair probably involves slapping on daily masks or popping supplements – anything to achieve a Gisele Bundchen-worthy mane.
If those masks or pills aren't working for you, it's time to try a different approach.
Here Truly brings you a go-to guide for growing thicker, healthier locks. Not overnight, because that would be unrealistic, but as quickly as possible.
Massage Your Scalp
A 2016 study found that giving yourself a four-minute scalp massage every day can thicken hair. You'll need to do it for 24 weeks straight if you want to see results, but the research shows it really does work.
Here's the science behind it: massaging improves blood circulation, enabling hair follicles to receive sufficient nutrition for healthy hair growth.
So the next time you're in the shower, spend a couple of minutes massaging your shampoo into your scalp. You can also do it outside the shower.
And Nourish it Too
Hair health really does start at the root.
With a rich microbiome of bacteria and fungus necessary to keep hair in top condition, your scalp should only be in contact with gentle shampoos and other hair products.
"Keeping a healthy balance of moisture and natural oils is important on scalp just as it is on your face," says hair specialist Michelle Blaisure.
Overusing harsh cleaning products can disrupt the scalp's pH balance and strip the hair of essential oils needed for healthy growth.
Invest in a quality shampoo to cleanse and nourish the scalp like Truly's Super Flower Hair Growth and Thickening Shampoo. Then follow up with Truly's Super Flower Conditioner.
Brush Every Day
Brushing your hair every day will help distribute the natural oils through your hair, protecting it from damage. Regular brushing will definitely boost your hair's thickness over time. Regardless of your hair texture, daily brushing will also help exfoliate the skin, remove dead skin cells and dead hair, and make room for thick, luscious locks.
However, brushing's only helpful if you're using the right brush. We recommend Truly's Vegan Boar Bristle Brush, perfect for all hair types and gentle on your scalp.
And a little tip: Never brush your hair from the roots! This can cause friction on the hair shaft and damage it. Always start at the ends and work your way up.
Load up On Protein
Yes, diet matters when it comes to hair growth and thickness.
"Protein and complex carbohydrates are key to maintaining a good hair growth cycle," says trichologist Philip Kingsley, "so make sure you are including both of these in your diet." Think nuts, seeds, beans, and legumes – these babies are packed with protein.
You'll also need plenty of carbs. Your hair follicles need to receive enough energy to thrive, so be sure to include a portion of brown rice, oatmeal, or whole-wheat toast with each meal.
Make sure you top up on vitamins, too, like vitamins D (found in leafy greens like spinach and kale) and vitamin E (found in avocado and almonds).
Lay Off the Hot Tools
Keeping your mane healthy is essential when trying to grow thicker locks. And that starts with using your hairdryer or flat iron a little less than usual. It's tough, we know, but it'll be so worth it when you finally attain that thick, glossy mane you've been craving.
"Keeping hot tool use at a minimum will lessen hair damage," says hairstylist Jenny Balding. "It will make a huge difference."
And if you can't stay away from your hair curler, use a heat protectant spray every time you plan on using it. Oh, and choose a hot tool brand that regulates heat temperature to lessen the risk of breakage.
Get Invisible Trims
A phrase coined by hairstylist George Northwood – the guy who styles Meghan Markle's mane.
"Have an invisible trim every three months," urges Northwood. "This is where we skim the ends without taking off length. Follow this with regular strengthening treatments to prevent it breaking and always use a thermal heat protection product on your hair when using hot tools. I also love a keratin blow dry as it adds protein to the hair."
Frequent trims will prevent your hair from snapping and keep it looking thick and healthy.
You might also consider cutting your hair at your shoulders or above to give the appearance of thicker locks. If you have thin hair, long hair tends to look stringy and un-voluminous. Opt for a short to medium length instead to give it some oomph.
Keep Your Hair Healthy
If your hair breaks, it won't grow any longer. That's why it's important to keep your hair hydrated, nourished, and protected so that it doesn't break.
Get yourself a moisturizing and restoring hair treatment like Truly's Rainbows in Mirrors which mends frayed ends, restores vibrancy, and diminishes dryness. Use this every time you wash your hair. For an intense treatment, leave it in your hair overnight.
QUICK FIXES FOR THICKER HAIR
Want to transform your tresses from thin and limp to voluminous and lush in just a few minutes? Here are some easy tricks you should try.
Spraying dry shampoo into your roots can give your mane an instant boost of volume. It's the quickest and easiest way to breathe life into thin, lifeless hair.
Volumizing or thickening products can make a huge difference in making your hair look fuller. Compared to shampoos and conditioners, leave-in thickening sprays, gels, and serums give your mane a real boost for added thickness.
"They coat hair to make it feel thicker and give it grip to help you manipulate strands into a voluminous look," GH Beauty Lab Chemist Danusia Wnek explains.
Backcombing your hair can give the illusion of voluminous hair, fast. Back-comb near the roots of your crown with a comb for added height. Comb over hair to smooth. You'll get a nice oomph at the crown that'll make your hair look instantly thicker.
Share
---