Upgrade Your Beach Waves this Summer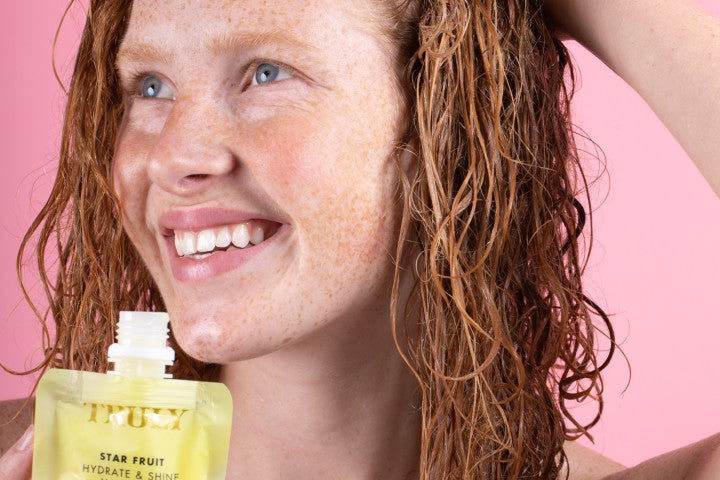 Beachy waves are a big deal on social media right now - literally everyone is searching for the secret to achieving sun-kissed, summertime waves. 
Luckily, you don't need to be near the sea to get that beachy texture. You can easily recreate the look with a few simple steps from the comfort of your own home - and with only a few basic products and tools.
To help you create this beloved summer style, we've dived deep into the depths of the web to bring you the secret little formula for perfect beach waves. Enjoy!
BEAUTIFUL BEACH WAVES ARE ALL ABOUT THE PREP
Preparation is essential if you want to get beach waves. 
It starts with using a nourishing, hydrating, lightweight shampoo and conditioner like Truly's Revitalizing Super Plant Bundle.
After washing your hair, spritz a little sea salt spray onto your strands and work it through your hair using your fingers. This lightweight formula adds instant volume and enhances texture, giving fine hair some oomph. It's also great for naturally wavy hair as it boosts your natural hair texture. Mousse is another excellent option for texturizing and volumizing thin, straight hair.  
Avoid applying too many hair products on your damp hair as they may weigh down your tresses, creating limp, greasy curls that look far from the surfer girl hair you're seeking. 
You can use either a diffuser or simply let your hair dry naturally, as these methods both give the hair natural texture to create authentic beach hair.
Once your hair is dry, spray over your mane with a hairspray before going in with any other tools to make sure your waves stay.
Hair types that need lots of moisture like curly hair are advised to apply a smoothing cream to their curls before blow-drying the hair with a nozzle attached. Doing this will prevent unwanted frizz or dryness. 
Now you're all prepped, let's get started with the beachy hair styling process! It'll be fun, we promise!
BEST BEACH WAVE METHODS
Diffuse + Curl
Start by diffusing your wet hair to give it natural texture and tousle. Then follow up with a curling wand. It's best to select the wand depending on your hair type and length. 
Short hair or medium-length hair? Choose a barrel that's one inch in diameter. Long hair? Opt for a one-and-a-quarter-inch barrel. 
"To create your waves, start by taking a one-inch section of hair," says celebrity stylist Mandee Tauber, celebrity stylist. "Holding a one-inch curling iron vertically, gradually wrap the hair around the barrel, curling away from the face."
Finish up with a texturizing spray.
Braids + Flat Iron
The easiest and quickest way to wake up to bombshell beach waves: fall asleep in braids and press a hair straightener open and closed along the braid the next morning. 
Section the hair down the center back. Then divide it into two large sections. Apply a texture spray or mousse, before winding the hair into plaits. 
When you wake up you can run the flat iron across your braids and leave them to cool before undoing them. For added shine, run a hair oil or serum through your waves, and you're all set!
Ponytail + Curling Wand
The great thing about the beachy waves hairstyle is that the waves begin about halfway down your hair. Our favorite genius shortcut? Pulling hair into an ultra-high ponytail and curling that one section with your wand.
This method makes it easy to keep track of which pieces you've curled when your tresses are gathered in one single place. The result? Beautiful, beachy loose waves.
Hair Pins + StylingProduct
If you live by a low-maintenance hair routine, you're going to love this method for creating beach waves at home.
After washing your hair, apply a lightweight styling product, then let your hair air dry. No hot tools needed here!
When your hair's still slightly damp, twist your tresses into two buns at the nape of your neck and secure with pins. Once your hair is completely dry, release them and enjoy your beachy hair look.
Hair Dryer+ Hair Straightener 
You can use your flat iron for much more than super straight hair you know!
Turns out, hair straighteners are even capable of curling your hair - or at least helping you achieve summer waves.
"I separate the hair into one-inch sections and start by attaching the iron at the root, then I glide it down as I twist the hair, making sure I keep the iron in motion to avoid creases," says Justine Marjan, celebrity hairstylist, and ghd brand ambassador.  
Once you've curled all the sections, leave your tresses to cool and set with hairspray. To give your curls a more natural look, break up the waves using a wide-tooth comb like Truly's Rose Gold Hair Comb.
To prevent your waves from getting frizzy overnight, sleep on a silk pillowcase then scrunch your hair the next morning to breathe life back into your curls.
Wave Iron + Matte Hair Spray
The Beach Waver is a much-loved tool to create natural, beach waves. 
"Its unique design creates more of an elongated wave versus a curl," says celebrity hairstylist and co-founder of Mark Ryan Salon, Ryan Trygstad. "Use a lightweight, matte hair spray, like R+Co. Outer Space sprayed throughout before ironing."
Keep your Beach Waves Looking Their Best
...by prioritizing your hair health. 
In other words...
Always spray your hair with heat protective spray before using hot tools to prevent breakage. And remember to always finish your hair washing session with a hydrating, vitamin-loaded hair mask to perk up your mane and keep it looks shiny and healthy.
Try Truly's Star Fruit Hydrate & Shine Hair Mask to give your hair natural vibrancy and prevent future breakage. 
It doesn't matter how good your technique is, you just can't hide unhealthy hair. To ensure your beach waves look their best, keep your hair strong, healthy, and shiny by investing in a few good hair care products.
Beach waves are a hot hair trend right now. Jump on the bandwagon too by trying out the above techniques and seeing which works best for you. 
Share
---