What Does Deep Conditioning Even Mean? Healthy Hair Guide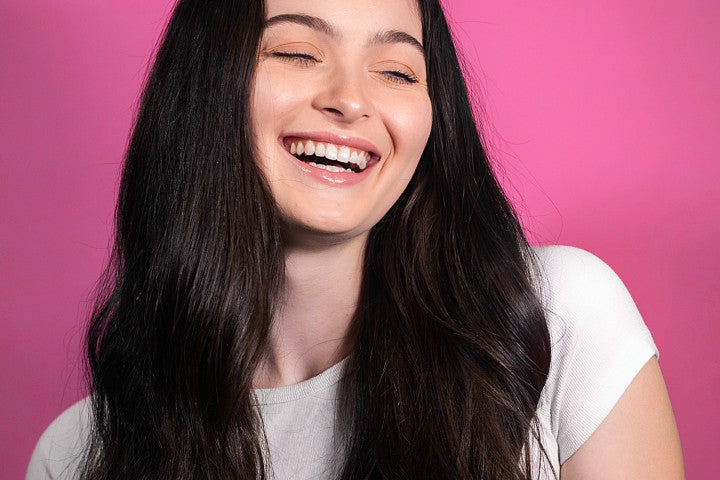 Every day, you put your hair through a lot – constant brushing, daily straightening, frequent washing. What you end up with is dull, dry hair with split ends. To give your mane the TLC it deserves, it's well worth adding a deep conditioner into your routine to give it the intense hydration it needs to thrive.
Deep conditioners are loaded with super-strengthening, hydrating ingredients like keratin, argan oil, vitamin B12, and coconut oil. Sometimes, all it takes is one masking treatment to see a difference in softness and shine.
But where do you even start with deep conditioning and how can you find the right product that'll transform your tresses? Chill – we've got the lowdown on deep conditioning and the best hair masks to make your hair extra happy.
WHY YOU NEED TO DEEP CONDITION YOUR HAIR
Everything from daily blow drying to dying your hair can cause immense damage to your strands. To keep them healthy and reverse damage, you need to start using a nourishing hair mask as part of your routine.
Hair masks penetrate deep into the cuticle, repairing breakage and strengthening the strands. They tend to be rich in hydrating oils, which restore moisture levels in the hair, making it appear shinier and fuller. Hair masks also make hair less prone to damage and reduce frizz caused by dehydration. They're even useful at keeping your color looking fresh and bright.
HOW HAIR MASKS DIFFER FROM REGULAR CONDITIONERS
Ask the average hair expert and they'll tell you the same thing: hair masks are better than conditioners.
According to hairstylist Sophia Hilton, "Conditioners can only nourish so much, whereas hair masks typically have smaller particles, so the product absorbs better, and your hair stays conditioned for longer."
Celebrity stylist Earl Simms shares the same philosophy.
"Most of the time, your hair is stripped of its natural oils due to things like colouring, heat and chlorine," he says. "Masks help to restore the hair shaft and work to fix some of that damage."
You should definitely consider swapping out conditioner for masks if you're constantly coloring your hair, as bleached and processed hair needs all the moisture it can get. By using a hair mask every time you wash it, you can gradually repair your tresses and boost moisture levels.
The next time you hop in the shower, bring a bottle of Truly's Coco Rose Milk Hair Mask with you. This smoothing mask combines coconut oil with rose to deliver hydration, nourishment, and manageability.
HOW TO USE A HAIR MASK
First, shampoo with a hydrating formula like Truly's Super Fruit Shampoo. And make sure you're using warm water to wash your mane.
"The warm water opens up the cuticles on your hair. This allows the mask to penetrate into the hair's structure (a regular conditioner only tends to sit on the outside of your hair)," says celebrity hairstylist Mark Hill.
Next, towel-dry your hair and select the best hair mask for your specific needs. Split ends? Try Truly's Rainbows in Mirrors Mask. This formula is made with avocado and argan oil to hydrate and soften hair, restore color, and seal frayed, brittle ends.
Spread a thin layer of product evenly onto locks from mid-lengths to ends, and comb through with a wide tooth comb like Truly's Rose Gold Hair Comb.
If you've got fine hair, be careful not to over-apply product, as this can weigh the hair down, making it look greasy and flat.
To maximize the benefits of your hair mask, leave it on for 20-30 minutes and cover your head with a warm towel to lock in the moisture. For an intense treatment, try leaving the mask on overnight. Remove by rinsing with cool water and re-shampooing and conditioning.
HOW FREQUENTLY TO USE A HAIR MASK?
Generally speaking, deep conditioning should happen after every wash.
Of course, it all depends on your personal preference – and your hair type. Plus, not everyone uses shampoo with every wash, so in that case it wouldn't be necessary to follow up with a hair mask. Nevertheless, it's worth deep conditioning at least once a month, regardless of your hair type or preferences. But if you're someone with dry, damaged hair, try doing it more often. The more, the better.
Still, pay attention to how your hair reacts to deep conditioning.
"If there's too much buildup from conditioning you may be using too much or using a product that's too heavy for your hair," says celebrity hairstylist Angela Stevens. "You don't want it to feel weighed down or oily after blowing your hair dry. For curly textures, it doesn't matter as much but if you want to wear it straightened it shouldn't feel greasy."
Overall, we recommend using a hair mask once a week for best results. But if your hair is in need of some serious repair, consider deep conditioning after every shampooing session. It may take a few weeks before you notice a difference, but the commitment to deep conditioning your mane on a regular basis will be totally worth it!
AND WHAT ABOUT LEAVE-IN CONDITIONERS?
Leave-in conditioners vs hair masks? Well, they're basically the same thing only with the former you're actually leaving it to sit in your hair instead of washing it out.
"Leave-in conditioners are great for giving your hair some extra conditioning and providing it with moisture and softness," says Michelle Paterson, Hair Manager at Pouts & Pinups. "Leave-in conditioners come in many different forms, from liquids to creams and sprays and can be left on the hair until its next wash."
To maximize its effects, use these products on dry hair in between washes to combat frizz, restore lost moisture, and deliver nourishment and shine to your hair.
Healthy hair doesn't come without a little hard work. If you want your mane to looks its best, invest a little time into pampering it with deep conditioning products and leave-in masks. Oh yeah, and try to cut down on all the hot tools you've been using lately – they're killing your precious strands!
Share
---