All the Ways You Can Use Our New Truly Blanket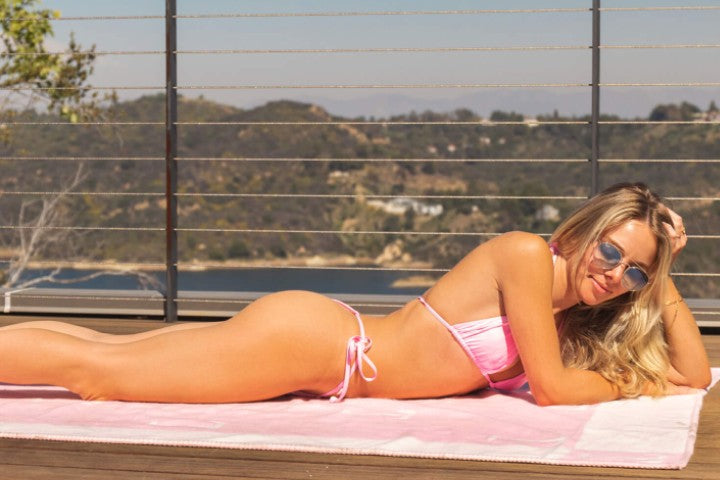 Truly just launched its NEW, ultra-cozy blanket that serves way more than one purpose. This multipurpose luxury pink blanket provides all the warmth and snugness you need for extra satisfying slumbers while adding a whole new level of comfort for those evening reads and Netflix marathons. But that's not all!
You can take her to the beach, to the park, or wherever you need her. She's extremely versatile — and incredibly chic!
Measuring 180x130 cm, this baby soft blanket is made from a mix of cozy cashmere, breathable polyester, and silky acrylic fiber to secure year-round warmth, comfort, and convenience.
Here are all the ways you can use our NEW and FIRST ever Truly Blanket.
As a Regular Blanket
Layer it over your bed to stay toasty in the winter, or over yourself for that super-satisfying comfort and security a fuzzy new blanket brings. It's also large enough to fit two under if you fancy snuggling down with bae or your bestie while watching a movie or catching up on your fave series. She's queen-size, so she'll easily drape over you and your duvet cover.
This high-quality cashmere blanket is perfect for all climates. In the winter months, you can layer it over your bed or under your comforter to keep you warm while cutting down on electric bills. And in the summer, you can use it to prevent overheating, as blankets work to regulate body temperature throughout the hotter months. In other words, it's perfect for hot sleepers too!
Plus, you can expect a tranquility-infused sleep with this buttery soft blanket, so you can wake up feeling revived!
As a Beach Towel
Lounging at the beach can now be an extra chic experience thanks to its this lush pink blanket. In addition to draping it over your sun bed or laying it over the sand, you can also use this queen size blanket as a beach towel to soak up those ocean swims and splashes.
It's machine washable, so you can easily keep it clean while making the most of its versatility. Nappers, sunbathers, and sea-loving sweethearts won't be able to get enough of this multipurpose blanket.
As a Stylish Throw
Throw blankets can transform a living room or bedroom. You can drape it over your bed, couch, sofa, or chair. It'll instantly elevate any room while adding functionality, since you can use it when you're feeling chilly or in the mood to snuggle.
Simply toss the blanket over the desired furniture and let it drape. Throw a few pillows on top, and you've got yourself an extra stylish room. Throws are great for adding texture, warmth, and style into any space.
Don't worry if your bed is king-size. You can fold the blanket length-ways and drape it across the end of your bed for a touch of elegance. It'll look way more chic than your average fleece blanket.
As an Emergency Travel Towel
This soft and absorbent blanket will keep you dry during those times when you can't get your hands on a towel. Or maybe you accidently left your towels at home, only to realize the accommodation has none. Bring your Truly Towel along, and you've always got a spare towel just in case the need arises.
As a Cozy Pet Bed
Does your furry feline or canine love to cuddle under the bed covers with you? Make things extra cozy for him or her, while ensuring hair-free bed covers by creating a comfortable space on the floor or end of your bed for your pet to retreat any time of day.
Natural fibers like organic cotton and wool will attract more hair than synthetics. Choose fabrics that repel hair and moisture, such as polyester and acrylic (those that make up our beautiful blanket!).
For a Princess-Like Picnic
Planning a picnic with friends, family, or your BF? You'll need a proper blanket to create the perfect setting while making it comfortable to eat, drink, and chill out. Without a good blanket, the event can lose much of its flare. Grab our Truly Pink Blanket for an extra girly, comfortable, and memorable picnic.
Our plush pink blanket is soft, snuggly, and machine-washable, so you won't have to worry about spilling food over it. That should come right out in one single wash.
For an Indoor Spa Day
Lay out your blanket, grab all your Truly essentials, and set them down on one side of the blanket. You can use this versatile blanket for shaving, moisturizing, or masking — either way, you'll look ultra chic doing it. Plus, it saves you spending all that time in the bathroom when you can do it right from the comfort of your cozy pink blanket.
Plus, it works as a super cute background for selfies and product shots. Just in case you want to show off your goods! Just remember to throw it in the washing machine when you're done to remove any spillages.
Give it as a Gift
While quilted, weighted blankets (aka gravity blankets) are hugely popular right now thanks to their ability to provide deep pressure stimulation, they can be tricky to buy as a gift. You need to know a person's body weight in order to purchase the best weighted blanket, since there are many weight options available.
With Truly's Blanket, you don't need to guess or ask for someone's weight. You can simply add it to your cart and send it as a gift for that special someone's birthday. Honestly, we're certain she'll love it!
One blanket...eight ways! If you LOVE getting your money's worth, you'll definitely want to snap up this limited edition blanket. You can use it as a regular blanket, beach towel, throw, or even give it as a gift. There are so many uses for this soft n' stylish blanket — you can decide how you want to use!
Got ideas? Let us know how you'll be using the NEW Truly Blanket! We can't wait to hear your ideas!
Share
---