Situational Skincare is SO Relevant RN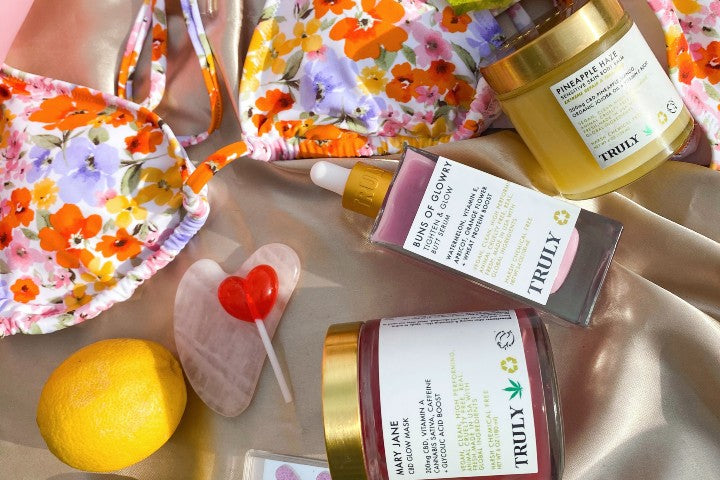 Needs change -- including your skin's. 
If you like staying on the pulse when it comes to new skincare trends, you may have heard of the newest buzzy term in town: Situational skincare. 
The whole concept centers on tailoring your skincare routine based on what your skin is telling you it needs, and honestly, we think it's genius!
Here's everything you need to know about situational skincare, from what it is to why you need to try it -- and the skincare products to do it with.
WHAT IS SITUATIONAL SKINCARE?
Your skin doesn't always feel the same. Sometimes it gets dry, sometimes it gets irritated. One day it might start breaking out, while the next you might look a little shiny. That's where situational skincare comes in.
Skincare brand Holifrog actually created the mantra, and according to its co-founder, Majeed Hammet, the idea stems from the fact that "skincare doesn't begin and end once you've figured out your skin type."
He explains, "It's about taking care of your skin's needs as they come up and they can change daily so you should tailor your routine accordingly." Sounds smart!
"It's good to have the right serums, moisturizer, and a wardrobe of cleansers with different properties, strengths, benefits, and consistencies to benefit the skin's health," adds Hammet.
BENEFITS OF SITUATIONAL SKINCARE
Here's why you might want to give it a try...
It Addresses Different Skin Concerns
The problem with saying you have dry skin, oily skin, or acne-prone skin is that you feel obliged to stick to a skincare regimen filled with products that target those specific issues. But what happens when oily skin suddenly feels dry? Or dry skin starts experiencing clogged pores and pimples? 
By using products that do not cater to your skin's needs, you can end up exacerbating issues like dryness, oiliness, and acne. 
It Prevents Skin Problems
If your skin is typically dry, that means you probably use cleansers, lotions, and serums designed to provide deep hydration to the skin. However, if you suddenly notice clogged pores and blemishes, applying products formulated for dry skin to oily skin with breakouts can make your problems worse.
That's because products designed for dry skin types are typically thicker, heavier, and richer than those intended for oily or acne-prone skin. As a result, applying thick creams onto skin that's currently dealing with congestion can worsen pore clogging and lead to further breakouts -- or at least, no relief.
Using formulations that cater to your skin's needs on any given day can prevent this from happening.
It Keeps Skin Healthy, Happy + Glowing
You can achieve healthy skin by staying in-tune to what your skin needs. Observe and touch your face. How does it look? How does it feel? From there, you can decide what it needs today. 
By closely examining your skin on a daily basis, you can understand what your skin needs every day and respond with the right products. Doing this will promote healthy, clear, and radiant skin.
COMMON SITUATIONS + TAILORED SOLUTIONS
Here are some common situations that call for customized skincare solutions:
You've Just Completed a Killer Workout
Sweat sessions can cause clogged pores and breakouts. You'll want to clear off any sweat and maximize your post-workout glow by using a brightening cleanser followed by a lightweight moisturizer.  
The Solution: Wash with Truly's Super Matcha Facial Cleanser + moisturize with Flower Child CBD Face Cream.
You Hardly Slept Last Night
Tired skin tends to look dull and depleted. Wake up your complexion with an AHA serum to buff away dead skin cells from the skin's surface, and some replenishing face oil or serum formulated with anti-aging powerhouse retinol and brightening vitamin C. 
The Solution: Exfoliate with Truly's CBD Jelly Toner + rejuvenate with Vegan Collagen Facial Serum.
You Have Painful Sunburn
Sunburn calls for major TLC! Treat it as you would severely sensitive skin -- and avoid any harsh soaps or cleansers that could irritate your burns. 
To soothe and speed up recovery of your sunburn, cleanse and moisturize your skin using gentle formulas enriched with nourishing ingredients like jojoba oil, vitamin E, and CBD.
The Solution: Check your skin into post-UV rehab with Truly's After Sun Kit. And remember to layer up with sunscreen -- SPF 30 or higher -- to protect your skin from further damage and irritation. 
You've Spent All Day in Heavy Makeup
Wearing heavy makeup for a long period of time can cause pore-clogging and potential breakouts. It can also steal your glow. You'll need to thoroughly remove all your makeup along with any dirt and sebum that's accumulated throughout the day. Follow up with a brightening, restoring face mask that you can sleep in, so you can wake up with revived skin.
The Solution: Cleanse with Truly's 24k Gold Impurity Cleanser + mask with Starface Jelly Sleep Mask.
You're Experiencing Sudden Dryness
Winter puts at high risk of dry skin -- even if you don't usually have it. Load up on emollients and other hydrating creams, lotions, and serums to keep your skin in check. 
The Solution: Moisturize with Truly's Cream Skin Face Moisturizer + Unicorn Fruit Whipped Body Butter.
You're Fighting Angry Breakouts
If you're dealing with pesky pimples, patch them up with zit-draining acne patches. Traditionally used in wound care, these patches are highly effective at healing active blemishes and preserving skin integrity. Plus, they prevent you from picking and prodding, which ultimately prevents acne scars and discoloration. 
The Solution: Treat with Truly's Super Star Pimple Patches.
Skin's appearance can greatly affect your self-esteem. One risk factor that contributes to various skin concerns is not paying adequate attention to your skin's daily needs. That's an important factor when it comes to skincare product decision making. After all, if you're not using the right products for your skin's needs, it won't get the help it needs to thrive and look its best. 
Speak to a dermatologist or healthcare provider if you have a skin condition that requires professional dermatology guidance and treatments.
Share
---