22 Beauty V-Day Gifts to Show Your Mom Some Love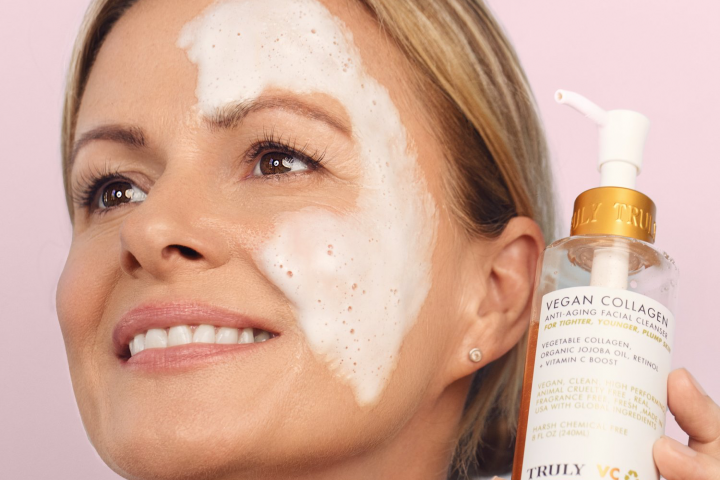 Valentine's Day gifts don't have to be reserved for romantic partners. This year, give your mom (real or in-law!) a present that's just as sweet, thoughtful, and amazing as she is.
To send you in the right direction, we've created a list of 22 Valentine's Day gift ideas that are the perfect way to say "I love you." 
If you're just as tired as us of seeing pajama sets, weighted blankets, and cashmere sweaters gracing the great gift idea lists for V-Day, scroll down for better, beauty-inspired options we know your loved ones will appreciate.
GLOAT Luscious Lip Butter
It costs less than a box of chocolates -- but looks and feels way better!
GLOAT Luscious Lip Butter is a luxe lip moisturizer made with coconut oil, hyaluronic acid, and peppermint to hydrate, plump, and smooth the pout. It's the perfect gift for moms all over! Besides looking super cute, this formula works like magic, canceling out chapped lips for smooth, silky ones. 
Moon Bath Essentials Set
Any mom will enjoy an evening of R&R in the bath, so give them something to make their night of self-care serenity even more special with our Moon Bath Kit. This gift set comes with a body cleanser and spa mist made with soothing herbs like lavender and ashwagandha to calm the mind, soothe the skin, alleviate muscle ache, and promote relaxation. 
Unicorn Fruit Eau de Parfum
Add this intoxicating viral-worthy fragrance to your mom's perfume lineup. This irresistible fragrance combines notes of vanilla, sandalwood, citrus, white floral and black currant to create a balanced scent that's as sweet and warm as she is.
Vegan Collagen Bundle
Our Bestseller Skincare Set will make your mom feel like royalty every time she does her skin-care regimen. This golden gift box comes with four full-size products from the vegan collagen anti-aging line, which focuses on reducing the appearance of fine lines, wrinkles, and dullness. Using powerful ingredients like retinol, collagen, and vitamin C, she's in for an extra special surprise with this thoughtful gift set.
Blueberry Kush Body Oil
One drizzle of this skin-illuminating elixir is all it takes to see why it earns a place on your mother's vanity. Packed with brightening blueberries and resurfacing hydroxy acids, this high-quality formula leaves behind the prettiest, healthiest glow. It's definitely worth the splurge!
Smooth Legend Shave Kit
A 3-step shave kit to make your mom's shave days all the more enjoyable. It's not something you'd typically find in a gift guide, but we're convinced mom will love this unique gift set.
Pink/White Bath Towel
An extra chic bath towel to give your mom, sis, or significant other. Embroidered with an emerald truly logo on durable terry cloth, this large bath towel will wick away moisture with ease. Plus, she can take it with her for lounging on the beach.
"For Luscious Locks" Hair Brush
Looking for a last-minute Valentine's Day prezzie for mom? Let it be this vegan boar bristle hair brush. With its rose gold hue and de-frizzing abilities, it's bound to wow the heck out your mom. Plus, it massages the scalp for optimum hair growth.
Satin Sleep Set
Mom will LOVE this machine-washable 4-piece satin sleep set, designed to provide a crease-less, frizz-free night of beauty sleep. 
Mary Jane Glow Mask
Give her the gift of glowing skin with this retinol-infused exfoliating face mask. It's made to hydrate, soften, and brighten your complexion. 
SkincareTravel Pouch
Help mom keep all her grooming essentials perfectly organized with this skincare travel pouch made with water resistant vegan leather and a double zipper enclosure.
Unicorn Blast Bundle
All the cult favorites, bundled into one beautiful gift set. Moisturize, polish, and plump with this all-star lineup of the most decadent Truly must-haves.  
Moon Lit Shimmer Oil
This sparkly oil may seem like something you'd get yourself for date night. But it doesn't just need to be a romantic gift for yourself. Gift it to your mom as a way of telling her how sparkly and special she is! 
Tuned 'n Tanned Trio
Galentine's or Valentine's, give your mom the gift of a year-round golden glow with this 3-step sunless self tan kit.
"Pour le Visage" Face Towel
The best Valentine's Day gifts don't have to be the most expensive ones. Get her a keepsake like this soft pink face towel to express how much she means to you and how much you appreciate having her in your life.
Lemonade Mist
A refreshing face and body mist my mom, your mom, or anyone's mom will love!
Starface Jelly Sleep Mask
Instead of a gift card, succulents, or Etsy keyring, get mom this AHA-powered sleep mask. It's made with retinol, vitamin C, and AHAs to smooth, brighten, and resurface the skin as she sleeps. 
Super Fruit Shampoo + Conditioner
Treat your mom to some fruity hair therapy with this shampoo + conditioner bundle designed to moisturize, repair, and restore shine in strands.
Deluxe Body Bundle
A four step curve perfect kit designed to pamper, brighten, and tighten those lovely lady lumps. Mom may not wear lingerie, but she can still show her tatas some love, right?
Body Brightening Kit
Our Body Brightening Kit is designed to tackle discoloration and dryness on areas that need a little extra nourishment. Mom will love! 
Body Star Perfecting Cream
Is your mom the kind that slathers on her lotions and potions watching Netflix? Give her this luxurious cream to spread all over the body for a dose of smooth, dewy hydration. 
Star Fruit Hydrate & Shine Hair Mask
If you're strapped for cash but still want to get your mom something nice for V-Day, consider gifting her this shine-inducing, hydrating hair mask that leaves hair feeling, smelling, and looking sensational. It's cheaper than bath bombs and looks way better than DIY gifts. Plus, it looks super cute!
You will also find these products on Amazon, Sephora, and Ulta. 
Share
---