Beach Day Beauty Essentials for a Head to Toe Summer Glow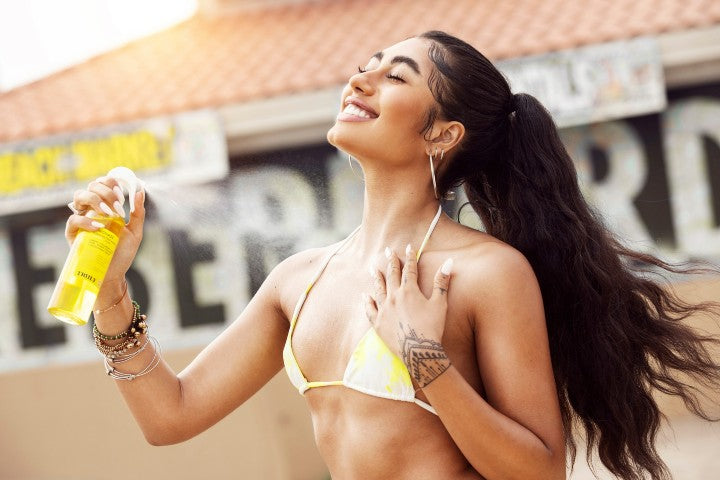 Beach days might be an excuse to kick off your flip flops and just chill -- but why not look head to toe gorgeous doing it?
Okay, okay, so it may sound easier said than done. You're on the beach, in the heat, and obviously you're pretty sweaty. Is it really possible to look that good in that situation? Sure it is!
With a few sublime skincare products (and one delightful haircare product!) you can achieve that summer glow -- and glossy locks -- while you're chilling in the sun. Mojito in hand?
If you like what you hear, be sure to bring these beauty products along with you the next time you head to the beach.
Any Broad-Spectrum SPF 30 Sunscreen
First things first, make sure you apply an oil-free sunscreen before leaving your house. Sunscreen needs 20-30 minutes to properly sink into the skin and function at its best. In other words, don't leave it until you've arrived to apply your first layer.
On that note, applying sunscreen should be integrated into your daily skincare routine -- not just for beach days. 
And make sure you reapply it regularly!
"Ideally, sunscreen should be reapplied every two hours, or more frequently if you are swimming or sweating heavily," says Joshua Zeichner, the director of cosmetic and clinical research in dermatology at Mount Sinai Hospital in New York City. "The best time to apply sunscreen is before you go outside because there are [fewer] distractions and you can make sure that you have adequately covered all exposed skin areas."
By keeping a bottle of it in your bag, you'll remind yourself to reapply it and in doing so, keep your skin shielded from sun damage.
Lemonade Mist
Whether you're looking to nourish dry skin, perk up a dull complexion, or enhance your natural glow, our Lemonade Mist has got you covered. It's useful to keep on hand during the summer months when your skin's prone to sweating, redness, and irritation. Face mists are a quick and convenient way to hydrate and brighten the skin.
What's unique about Truly's formulation is that it's made for both the face and body -- so spritz it wherever you need it. You'll feel super fresh in seconds!
Featuring vegan collagen, lemon, and hyaluronic acid, this all over mist visibly smooths the skin and promotes beach-ready levels of glow. Thanks to its lemon content, it's also rich in vitamin C -- a well-known skin brightener and healer. Plus, you'll smell like sunshine!
Unicorn Hair Repair Mask
According to Franck Izquierdo, co-founder of IGK Hair Care, the combination of sun, wind, and salty sea water isn't great for hair health.
 "Salt plus wind creates dryness which leads to breakage," he says. 
So what can you do about it? Pack a tube of Truly's Unicorn Hair Repair Mask with you the next time you take a trip to the beach. This nourishing formula contains hair-strengthening keratin amino acids, hydrating coconut oil, and shine-inducing avocado. 
Apply a small amount of the mask to the end of your hair tips to tame frizz and provide hydration. Leave it in without rinsing. Besides hydrating your frazzled tresses, it'll also help protect them from the sizzling heat.
Unicorn Fruit Body Butter
Just like your hair dries out in the sun, so does your skin!
That's why it's worth packing a moisturizing body lotion that you can apply as you bake in the sun. One great pick if our Unicorn Fruit Whipped Body Butter. With its deliciously luxurious whipped texture and rainbow of swirls, this moisturizer promises firm, plump, hydrated skin.
With its base of shea butter and blend of antioxidant packed acai, matcha, rosewater, and jojoba oil, this is your go-to summer beauty formula. Besides its moisturizing abilities, this body butter is loaded with elasticity-restoring vegan collagen for a youthful, glowing complexion.
Just slather it on all over!
Blueberry Kush CBD Body Oil
Want to add some shimmer to your skin? The quickest way to achieve a healthy glow and sexy shimmer is with our skin illuminator, aka, our Blueberry Kush CBD Body Oil. 
This beach day beauty essential is formulated with AHA + BHA, 300mg of hemp, vegetable collagen and 1,000 blueberries per bottle to boost collagen production, fight inflammation, and brighten the complexion.
Blueberry seed oil is brimming with antioxidants and serves as a natural shield against blue light and support of skin barrier function thanks to its high level of fatty acids. 
The combination of AHA + BHA helps to even out skin tone, improve the skin's moisture content, and control excess oil while generating new skin cells.
Apply it as the final step in your beauty regimen to lock in moisture for the rest of the day.
GLOAT Luscious Lip Butter
The lips are a delicate area of the body. For that reason, they require even more attention than the rest of your skin. Or to put it more specifically, more hydration and protection. 
Truly's GLOAT Lip Butter combines peppermint and hyaluronic acid to gently plump the lips and create long term lip hydration. This irresistible butter fits nicely in your purse and can be used anytime of day to soften lip lines and lock in moisture for hours to come! It's also enriched with plumping ingredients for a juiced up, happy pout. You could call it a beauty routine necessity we suppose!
Follow up with lipstick or a lip tint if you'd like a pop of color on your pout.
Any Pre-Beach Beauty Tips?
Sure! For starters, you'll want to use a gentle cleanser to remove dirt, oil, and product buildup. Then, exfoliate with a sugar-based scrub to slough away dead skin cells for decongested pores, brighter skin, and improved product penetration.
Feel free to apply self-tanner the night before to wake up with a sunkissed complexion. Alternatively, apply tinted moisturizer and bronzer after your sunscreen application to your skin and body for a quick head to toe tan.
Ready for the beach? Slide on your sandals and off we go!
Share
---