Galentine's Day Gift Ideas 2022: Beauty Gifts For Your Besties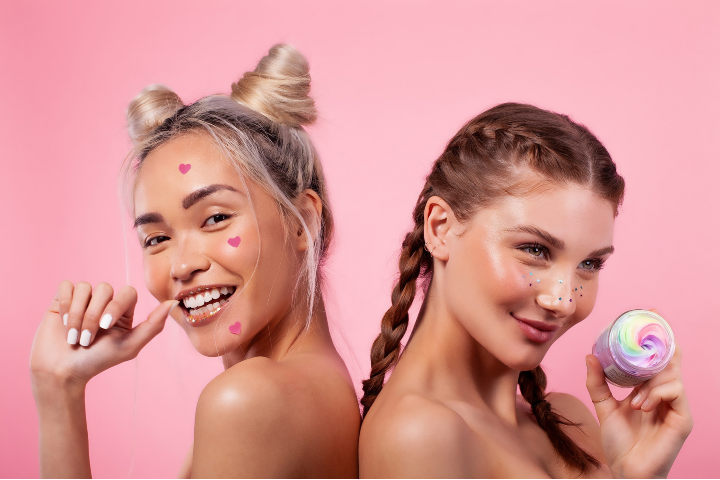 Get ready for Galentine's Day! It's just around the corner, and the perfect excuse to treat your fave ladies. 
Whether you're planning to celebrate the day with your best friends, or simply want to chill out at home and relax, there's never a wrong time to splurge on your besties and beloved female family members.
From one beauty-loving babe to another, here's a list of our favorite Galentine's Day gift ideas we know she'll LOVE! Because February 13th is getting closer...
P.S. we're going beyond wine glasses, bath bombs, succulents, and friendship bracelets! 
Ultimate Body Bundle
Your BFF is bound to love this 6-piece body set, featuring the best of both bestsellers: our anti-aging, retinol-packed Acai Your Boobies trio + our amino-rich, smoothing Buns of Glowry line. Guaranteed to give you a perkier pair -- of tatas and cheeks -- in just a matter of weeks.
Why She'll Love It
These beauty products are clinically proven to improve skin texture and firmness. In other words, she'll definitely see results after using these products on a regular basis. 
Plus, they're packed with powerhouse ingredients like anti-aging retinol, hydrating watermelon, and cellulite-smoothing wheat protein. 
Blueberry Kush Bundle
You really can't go wrong with the gift of self-care. And that's exactly what this body-brightening gift set is. It includes a body lotion, body scrub, face oil, and body oil, all designed to leave skin clear, calm, and illuminated. It's the perfect gift for your gal pals. 
You could also include it in your Galentine's Day party if you fancy enjoying an at-home spa day with the girls.
Why She'll Love It
This 4-step body kit contains brightening blueberry, exfoliating AHA/BHAs, and vegan collagen to detoxify and illuminate skin all over. Plus, blueberry offers blue light protection to keep skin shielded from your skin-harming technical devices. And need we mention she'll be left smelling like blueberries? Yum!
Satin Sleep Set
Give her the gift of a comfy, dreamy, restful night's sleep with the added benefits of waking up with frizz-free strands and an un-creased complexion. Plus, it's the perfect way to enjoy a sleepover together!
Why She'll Love It
The Satin Sleep Set features a pillowcase, eye mask, scrunchie, and headband, all pink and made in satin, to secure a night of true beauty sleep. It's a thoughtful gift for babes who cherish their snooze time. Give it to your loved ones for G-Day or V-Day. She'll certainly appreciate it!
Moon Lit Shimmer Oil
Celebrating female friendships doesn't need to mean spending a fortune on lush gifts. The thought is what counts. Show your golden girls just how much they mean to you by treating them to a bottle of Moon Lit Shimmer Oil. 
Why She'll Love It
This sparkling body oil is an instantly absorbing dry oil infused with champagne gold shimmer for a radiant glow on the go. Made with a brightening blend of chai spices and witch hazel, this formula will leave her brighter, tighter, and even more luminous than normal. Plus, it offers skincare benefits such as hydration and skin damage reversal.
Unicorn Fruit Eau De Parfum
A gorgeous gift for that babe in your life who deserves only sweet things. Unicorn Fruit Perfume is the irresistible aroma of our Unicorn Fruit Body Butter, transformed into a signature scent. 
Why She'll Love It
With a fruity, feminine base of candy floss, vanilla, and sandalwood, and top notes of white floral and black currant, this captivatingly sweet scent is made for sweethearts with a seductive side. It's a great gift for that bestie who just gets you. Plus, it beats Etsy keychains and DIY manicures. Great as they may be, Unicorn Fruit beats all. Once you smell it, you can never go back.
Rose Gold Hair Comb
Galentine's and Valentine's Day gifts don't need to dry out your bank balance. The best Valentine's Day and Galentine's Day Gifts are the ones with a lot of thought. You can also make your own DIY gift box by adding this into your holiday gift box.
Why She'll Love It
Our rose gold hair comb is a go-to hair accessory for all hair types -- especially long hair! The widely spaced teeth ensure snag-free detangling and evenly distribute conditioner and other hair products.
Plump Your Lips Bundle
The #1 Volumizing Lip Balm + Mask that moisturizes lips, naturally plumps your pout, and minimizes fine lines and creases. Especially in the winter, the lips needs extra TLC to stay soft, smooth, and nourished. This 2-piece kit offers all the hydration your lips need.
Why She'll Love It
The kit features Heartbreaker Lip Plumping Mask: a ceramide-based glittery lip mask + Unicorn Fruit Lip Plumping Balm: a minty lip butter with plumping properties. She'll love the way this duo makes her kissers look and feel. 
Mary Jane Glow Face Mask
Wanna know why you're my bestie? Because you lighten up my days and leave me feeling glowing -- just like this exfoliating CBD face mask. Mary Jane Glow deserves a place on any Galentine's Day gift guide if you're looking for something better than coloring books and essential oils, and something more unique than Amazon bestsellers.
Why She'll Love It
Formulated with redness-reducing hemp, tightening and brightening caffeine, and anti-aging retinol, this carefully crafted formula promises a youthful, radiant complexion. It's a great fill-in for those days you're feeling far from glowy! 
We don't know about you, but we're feeling strong Galentine's vibes already! What better way to celebrate the love for your friends and special ladies in your life than by treating them to one or more special beauty gifts. 
If you're looking for uncommon goods that you can't find everywhere, you'll find a selection of unique gifts over on the Truly shop, as well as on Sephora and Ulta -- where you'll also find our products.
Happy Galentine's Day, our super sweet, super sexxy beauty babes!
Share
---