How to Get Glass Skin in 2 Steps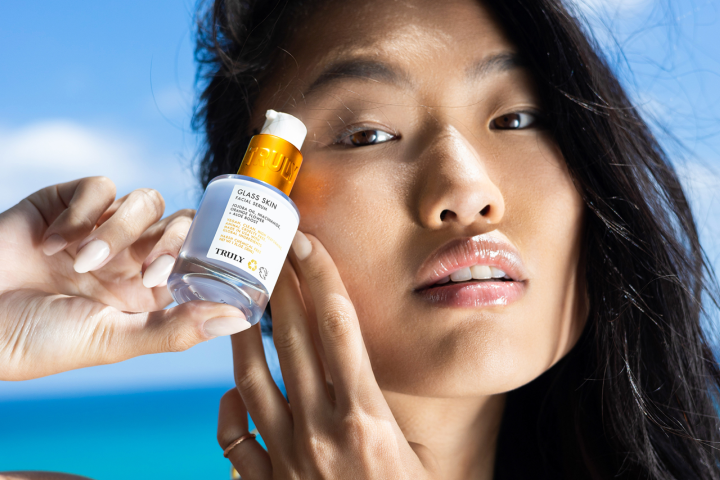 Glass skin is a popular Korean beauty trend that first went viral in 2017. Today, the K-Beauty trend has earned more than 200 million views on TikTok — and counting!
You'll know glass skin when you see it. Plump, hydrated, clear, and reflective, it's basically like glass. As for what it takes to achieve glass skin, a specific skincare routine involving the layering of hydrating products is required to get healthy, poreless skin. Or is it?
Traditionally, the Korean glass skin routine involves approximately 12 dedicated steps, including the likes of oil-based cleansers, toners, mists, sheet masks, and hydrating serums. But let's face it, who has the time? For those of you looking for a shortcut to poreless, gleaming skin, try Truly's 2-step glass skin routine.
What is Glass Skin?
Glass skin is a term used to describe skin that appears clear, luminous, and glass-like. It is achieved through a multi-step skincare routine that emphasizes hydration and moisture, making the skin look plump and supple.
The glass skin trend typically involves a strict skincare routine that includes double cleansing, exfoliating, toning, using essences, serums, and moisturizers, and protecting the skin from the sun. Hydration is key to achieving glass skin, so the use of hydrating products is a must.
As much as we love the Korean skincare trend, we're not huge fans of the time-consuming skincare regimen. For that reason, we created a formula designed to nourish, clear, and hydrate your skin in just two easy steps. Scoll down for the deets!
What Does Glass Skin Look Like?
Glass skin appears smooth, clear, and radiant. It has a dewy finish and is free from imperfections such as dark spots, breakouts, and uneven skin tone. The skin appears plump and supple, with a translucent quality that makes it look like it is glowing from within. Think of it as your healthiest skin!
Is Glass Skin Real?
Yes, glass skin is real, and anyone can get it — with the right products, of course. Regardless of your skin type, you can definitely achieve glass skin provided that you use a combination of hydrating skincare products and stay dedicated.
The key to achieving glass skin all comes down to supporting skin barrier health — and strengthening it if it's compromised. With the use of nourishing ingredients and antioxidants, it won't take long to manifest glowy, healthy skin.
How to Get Glass Skin: A Step-By-Step Guide
Typically, glass skin routines involve a dozen or more steps including cleansing oils, eye creams, brightening serums, face oils, lotions, and sunscreen. Turns out, you don't need that many steps to treat your skin concerns and unlock glass skin.
With Truly's NEW Glass Skin Set, you can get glassy skin in just a matter of seconds. Here's how.
Step #1: Cleanse + Clear
With Glass Skin Cleansing Balm
First off, you'll need to start with a clean canvas to ensure all those active ingredients penetrate their deepest and work their best. The Glass Skin Cleansing Balm is a 2-in-1 makeup remover and cleanser that cleans deep, removing dead skin cells and blemish-causing impurities for a fresh, clarified complexion. From blackheads to zits and large pores, this cleansing balm cleans out pores so your skin can breathe and blemishes quickly go away.
In spite of its deep cleaning power, Glass Skin Cleanser plays nicely. It's gentle on the skin, and can even soothe the most sensitive skin.
How to Use: Gently massage a small amount of the cleansing balm onto dry or wet skin using circular motions. Rinse off or wipe away with a clean, damp washcloth. Repeat for heavy makeup.
Step #2: Hydrate + Refine
With Glass Skin Facial Serum
Next, plump and seal in moisture with the Glass Skin Facial Serum. Hydration is essential for manifesting healthy, glowing skin. Besides treating dry skin, it helps the skin reflect light better for improved radiance and can even prevent breakouts by balancing oil production.
The Glass Skin Face Serum melts in immediately and delivers a superlative level of nourishment for skin that looks poreless and glowing with no greasy residue. It's suitable for all skin types.
How to Use: Apply a couple of pumps to cleansed skin. Massage into skin and allow to absorb for a few minutes before applying moisturizer. Use both day and night. Remember to apply SPF if you're using this in the morning or day time.
Why Truly's Glass Skin Set Works
Inspired by the K-beauty craze, the Glass Skin Set perfects your complexion by minimizing pores, clarifying blemishes, and replenishing moisture to revive your natural radiance. Infused with nourishing ingredients like jojoba oil, niacinamide, and probiotics, this dynamic duo not only hydrates and soothes, but also refines your skin to leave it looking flawlessly poreless and luminous - all achieved in just two simple steps!
The Products
The Glass Skin Cleansing Balm is a 2-in-1 cleanser and makeup remover that penetrates deep into the pores, lifting the day's dirt, oil, makeup, and impurities for a clear, poreless, and glowing complexion. It gently dislodges dead skin cells and unclogs pores, helping to dissolve blackheads and prevent future blemishes.
The Glass Skin Facial Serum is a lightweight, fragrance-free formula that targets dryness and large pores for a better-than-filter, glinting finish. Psst...it's our first ever pump bottle serum for precise, mess-free product application.
The Key Ingredients
Niacinamide
A potent form of vitamin B3, niacinamide helps to maintain optimal moisture levels, regulates sebum production, and visibly improves the appearance of pores. Regular use of niacinamide in skincare can result in a more balanced and healthy-looking complexion.
Jojoba Oil
A non-comedogenic emollient, jojoba oil boasts a unique composition similar to the natural oils produced by your skin, making it an effective moisturizer that helps to reduce trans-epidermal water loss. It also aids in regulating oil production, resulting in a soft, smooth, and radiant complexion without any greasiness.
Probiotics
These live microorganisms help to maintain a balanced skin microbiome, which in turn helps to alleviate skin concerns such as eczema, acne, dryness, and fine lines that are often associated with UV damage. Incorporating probiotics into your skincare routine can help to strengthen your skin's barrier and promote a more youthful appearance.
Orange Flower
Full of vitamin C, orange flower is a powerful antioxidant that helps to combat signs of aging such as dark spots, fine lines, and wrinkles. This anti-aging powerhouses also fights off free radicals to prevent premature aging, while also promoting optimum skin health. Regular use of orange flower in skincare can help to improve the overall texture and appearance of the skin.
Aloe
A soothing and hydrating ingredient, aloe provides relief to dry, irritated skin. It can even help in reducing the appearance of hyperpigmentation thanks to its skin healing properties.
While you certainly can use retinol face masks, hyaluronic acid serums, BHA-powered toners, and collagen-boosting creams in addition to several other steps to achieve glass skin, you don't need to. With Truly's Glass Skin Set, you're just two steps away from glossy, poreless, radiant skin!
Whether you've got dry, sensitive, or oily skin, this 2-step glass skin routine works for all!
Share
---