How to Get Your Skin Glowing for New Year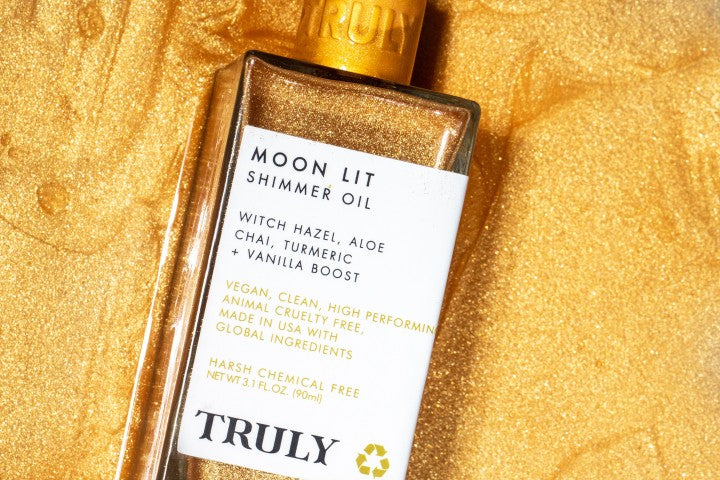 Ready to reign in the New Year with radiant, glowing skin? 
If your skin's looking a little down and depleted these days, it's about time that changed. With a little care and attention, you can transform skin that looks dull and tired to luminous and revived -- right from the comfort of your own home. No dermatologists, estheticians, or expensive in-office treatments needed!
Just follow these skincare tips on how to make your skin glow naturally, ready to reign in 2022 looking extra shiny and dazzling!
#1:  Cleanse Every Day
It sounds like a simple one, but daily cleansing can make a huge difference to the appearance of your skin. At the end of every day, wash your face with a gentle cleanser to thoroughly remove dirt, oil, and dead skin cells that can clog pores and cause dullness and breakouts. Cleansing is an essential step in any skincare routine, and one that must not be missed if you're seeking clear, healthy skin.
For daily use, try Truly's Super Matcha Facial Cleanser, which is suitable for all skin types -- particularly sensitive skin! It's made with matcha, rose, lavender, and vitamin C to soothe, clear, hydrate, and brighten all at the same time.
If you've got oily skin or acne-prone skin, you may want to try washing your face twice a day using an acne-targeted cleanser like Truly's CBD Jelly Anti-Blemish Facial Cleanser.
#2: Exfoliate with AHAs
Alpha hydroxy acids (AHAs) are chemical exfoliants used to dissolve dead skin cells for a clearer, brighter complexion. The two best AHAs are glycolic acid and lactic acid, which you'll find in a range of skincare products including cleansers, toners, serums, and lotions.
Besides clearing the pores and promoting clear skin, regular exfoliation is an excellent way to brighten the skin and instantly boost its glow. That's because exfoliation removes the outer layer of dead cells so the skin's surface is smoother, clearer, and ultimately better at reflecting light.
For gentle exfoliation, try Truly's Mary Jane Glow Serum three to four times per week, which infuses glycolic acid with retinol and caffeine to wake up the skin, fade pigmentation issues, and deliver a dewy finish. You can also try a physical exfoliant, like Truly's Matcha Face Scrub two to three times per week to reduce blemishes, fine lines, discoloration and dullness. 
#3: Massage in Your Moisturizer
Next, you'll want to hydrate your skin using a moisture-replenishing face serum or moisturizer. When skin is moisturized, it naturally reflects light, making it appear more glowing.
"Lack of hydration makes your complexion dull and even accentuates wrinkles," explains dermatologist Jeanine Downie, M.D. "Apply a topical moisturizer morning and evening to replenish hydration."
You can boost the effects by massaging the product in to stimulate blood flow and wake up your whole complexion. Simply massage in your serum, oil, or cream using your fingertips. Spend two to three minutes massaging the product into your skin to promote youthful, radiant skin in seconds.
Try Truly's Cream Skin Face Moisturizer, a formula that blends hyaluronic acid with sea kelp for a double dose of dewy hydration. Use after washing your face to seal in moisture and diminish dry skin. 
#4: Add Vitamin C to Your Skincare Routine
Vitamin C is a potent antioxidant that's known for brightening the skin. Besides its glow-enhancing powers, vitamin C can also make your sunscreen work harder. 
"Apply five drops of vitamin C serum underneath SPF each morning to target free radical damage, help lighten dark spots, and even out your skin tone," says Natalie Smyth, an influencer and skin-care expert. This will also prevent premature signs of aging, sun damage, and skin barrier weakening.
For daily use, try Truly's Vegan Collagen Facial Serum. Vitamin C-powered, this formula also uses a combination of retinol, collagen, and coconut oil to hydrate, rejuvenate, brighten, and calm the skin. 
#5: Try a Face Mask
For instant glow-boosting benefits when skin feels particularly dry and diminished, smooth on a face mask and let it sink into your skin. 
Truly's Golden Leaf Resurface & Brighten Hemp Face Mask is an AHA, BHA, and Hemp power combination face mask that resurfaces your skin for a smoother, healthier-looking radiant complexion. For best results, use two to three times a week or daily for intensive hydration and brightening effects. Those with sensitive skin shouldn't go above weekly sessions.
Since the holiday season's in the winter, when the air becomes dry and skin dryness becomes a common side effect, it's important to take good care of your skin through regular moisturising and frequent face masking sessions.
#6: Chill Out -- Literally
If it's New Year's Eve and you're looking for a speedy glow boost, turn to your freezer! Ice cubes are an excellent and thrifty way to de-puff the face as well as increase blood flood for instant glow. Simply run one or two ice cubes over your face and neck until they melt. Your pores will shrink, your puffy under eyes will disappear, and your skin will instantly appear more radiant.
#7: Use a Shimmery Lotion
If you're planning to slip into that little gold dress for New Year, you're going to want every inch of you glowing. Lucky for you, that's perfectly attainable with the help of a shimmery body lotion that delivers hydration and instant sparkle. 
Truly's Moonlit Shimmer Oil is exactly what you need RN. With a blend of witch hazel, aloe, chai, turmeric, and vanilla, this silky formula will leave you feeling soft to the touch, sparkly to the eye, and sweet to the senses. 
Slather it all over or use it to highlight your cheeks, cupid's bow, collarbone, or thighs. It works all ways!
With New Year just around the corner, you have just enough time to prep your skin so that it looks utterly glowing, radiant, and dazzling for the big day. Make the above beauty tips part of your regular skincare routine in order to achieve naturally glowing skin from head to toe.
Share
---