Rihanna's Skincare Routine, Revealed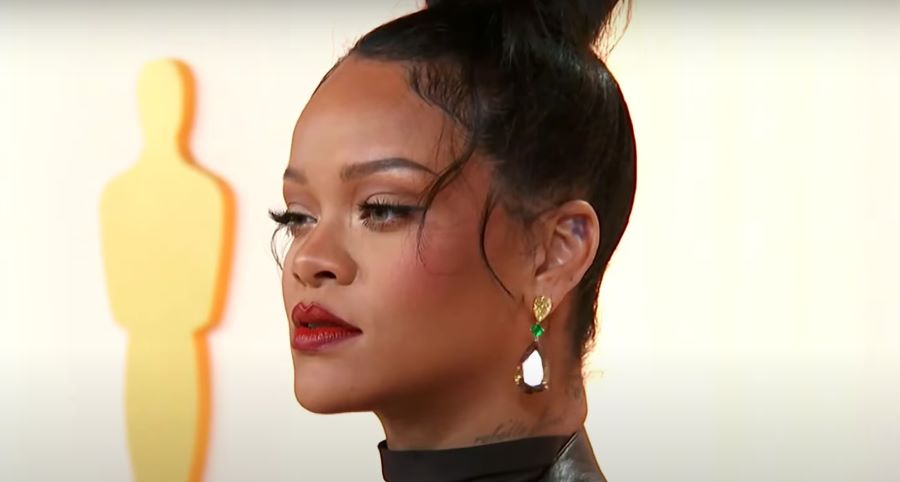 Discover the Rihanna skincare routine and what she does to get her iconic glow. It's no secret Rihanna has one of the most enviable complexions ever. Hence the reason people are obsessed with Rihanna's skincare line, Fenty Skin.
But just like the rest of us, she too faces her own skin struggles such as sensitivity and the occasional zit. For that reason, she's super picky when it comes to skincare products.
Ready to get that Ri-Ri glow? Ahead, Rihanna's skincare routine and tips. 
What Skincare Does Rihanna Use?
Since pregnancy, the beauty mogul has been focusing on hydration. In an interview with Bustle, she opened up about the changes your skin goes through during pregnancy. With all those "dry spells", she admitted to over-moisturizing and paying more attention to sun protection.
So what moisturizer does Rihanna use? Fenty, obviously. Her go-to night cream is Instant Reset and as for body lotion? She can't get enough of Butta Drop, a shimmering whipped oil body cream. 
Does Rihanna Use Her Own Skincare?
Rihanna has her own skincare line called Fenty Skin. She launched the line in July 2020 as an extension of her beauty brand, Fenty Beauty. Fenty Skin focuses on providing smart skincare for a wide range of skin types and tones with a mission to treat, smooth, and tighten the pores.
The Rihanna skincare routine includes a lot of products from her own line. That said, she has spoken out about other brands she uses over the years. As for the skincare ingredients you'll find in Rihanna's favorite skincare products, niacinamide, hyaluronic acid, green tea, Barbados cherry, and coconut oil come out on top.
Rihanna Skincare Routine 
Want to get that plump, juicy, dewy look like the Fenty Beauty mogul? Rihanna's skincare routine isn't as complicated as you'd think it would be. She proves that you really can't go wrong as long as you have the basics in check. Here's everything Rihanna does to keep her skin looking its best.
She Deep Cleans with a Double Cleanser
To get her skin squeaky clean, Rihanna favors the double cleansing process. Being the busy babe she is, she speeds up the process by using a two in one cleanser that both removes her makeup and cleans away dirt and oil. 
Rihanna cleanses morning and night using a deeply cleansing yet non-drying formula enriched with ginkgo biloba, Barbados cherry, green tea, and fig. 
Looking for a 2-in-1 cleanser that gets rid of gunk while leaving skin gorgeously smooth, poreless, and glowing? Try Truly's Glass Skin Cleansing Balm.
Then, She Pats on Toner
The second step in the Rihanna skincare routine: toner. Her favorite is somewhere between a serum and toner, enriched with niacinamide, green tea, and Barbados cherry. 
She pats it into her skin after cleansing to brighten, tone, and reduce the appearance of pores. In Rihanna's words, small pores make you look instantly younger and she likes to keep things tight.
Shrink your pores with Truly's Glass Skin Facial Serum, a refining formula of niacinamide, jojoba oil, and probiotics. It balances, smooths, and blurs large pores.  
She Slathers on Moisturizer with SPF
A Rihanna skincare essential: moisturizer with SPF. In a Zoom interview with Glamour Magazine, she said "the biggest misconception with SPF, in particular, is that Black people don't need it." They do! And that's exactly why she takes sunscreen application very seriously.
"You don't think about the parts of your body that are exposed to the sun, like your hands," she told Glamour. "Driving your car—on the steering wheel—those are things that age really quickly, but they're so exposed. SPF is for everyone and every day."
She Hydrates – Inside and Out
Rihanna's biggest skincare splurge? Moisturizer! She keeps her skin hydrated at all costs, and she's happy to invest in only the best. Aside from slathering her face and body in nourishing creams, butters, and lotions, Rihanna stays hydrated by drinking copious amounts of water – and coconut water.
When she's having a bad skin day, she swears by cutting all alcohol and overdoing the water. It restores her gorgeous glow almost instantly. 
To intensely hydrate your skin for hours of RiR-like radiant, try Truly's Glazed Donut Facial Glow Cream. Rich, lightweight, and non-greasy, it melts into skin for an instant burst of hydration–with coconut oil, passion fruit, and vitamin E. 
She Loves Wearing Lip Masks on Long Haul Flights
Rihanna does everything she can to stay hydrated, especially on long flights. Between the different time zones and climates, she goes heavy on hydration to avoid feeling dry. Aside from her regular creams and coconut water, she always brings a lip mask to keep her pout smooth, plump, and full.
Rihanna's fave lip mask, Plush Puddin, contains a slew of nourishing, plumping ingredients like coconut oil, jojoba oil, pomegranate, and vitamin E. 
For instantly juicy, extra luscious lips, apply Truly's GLOAT Luscious Lip Butter. A whipped, minty butter made with hyaluronic acid, coconut oil, shea butter, and peppermint for your plumpest pout.
She Gets the "Wet Look" with Facial Mists 
With regards to Rihanna skincare tips, she archives that highly desired "wet look" with a combination of facial mists. Because they drench skin in moisture, they instantly give skin a dreamy dewy look.
When it comes to choosing the right mist to get Rihanna's look, select products with moisture-locking ingredients like hyaluronic acid, coconut oil, jojoba oil, and glycerin. 
How to Get Rihanna's Look
Here's how to get Rihanna's head to toe glow. From whipped body butters to silky facial serums and firming scrubs, we've got everything you need to get firm, smooth, and dewy like Queen Ri.
Glass Skin Set
A fundamental part of the Rihanna skincare routine is keeping skin clean and hydrated. When skin is clean, pores become less visible and your complexion appears younger. When skin is hydrated, you instantly look plumper and fresher. Not to mention makeup glides on much better when skin is properly cleansed and moisturized.
Truly's Glass Skin Set features a 2-in-1 cleansing balm + facial serum formulated with niacinamide, jojoba oil, and probiotics. Together, they help to melt away dirt and impurities, refine pores, and give skin a healthy glow. 
Bubble Butt Set
Rihanna always looks strong and sculpted. Get the look with Truly's Bubble Butt Set, a 2-step skin tightening routine you're guaranteed to love. It features the Bubble Butt Jelly Scrub and Mighty Tighty Serum, loaded with collagen-boosting retinol, saffron, and hyaluronic acid to reveal your tautest tum, tush, and legs.
Aside from the set's firming and tightening effects, it helps reduce the appearance of fine lines and hyperpigmentation. 
Deluxe Unicorn Set
A staple in the Rihanna skincare routine is whipped body cream. Besides feeling incredibly indulgent, it intensely hydrates the skin, sealing in moisture for smooth, supple skin. 
Truly's Deluxe Unicorn Set is the perfect way to experience the wonders of whipped body care. This 6-step skin-loving, lip-plumping, hair-repairing set utilizes the hydrating powers of shea butter and coconut oil to leave you silky and plump from head to toe. With a decadent cotton candy scent.
Glazed Donut Shave Set
Sensually smooth, glistening skin…this way! We've heard some things about Rihanna's skincare routine but nothing about her shave routine. If we had to guess, we'd say it looks something like Truly's Glazed Donut Shave Set. The luxurious, ultra-indulgent set that contains every single step needed for the shave of your dreams.
What's included? An exfoliating cleanser, shave butter, razor, after shave cream, and oil, plus a gold scoop. We love it, models love it, and we're sure you'll love it too.
GLOAT: Greatest Lips Of All Time
Get Rihanna's plump, juicy pout in just four fun steps with Truly's GLOAT: Greatest Lips Of All Time. Featuring a lip scrub, serum, oil, and butter infused with plumping peppermint and hydrating hyaluronic acid for your most luscious lips yet.
Fortunately, the Rihanna skincare routine isn't too hard to replicate. Give it a try to shine bright like a diamond and achieve that Rihanna-like radiance.

Watch Rihanna's skincare routine and more celebrity skincare routines:
Image Sources:
ETalk YouTube
Entertainment Tonight YouTube
Share
---