The Best Last-Minute Gift for UK Mother's Day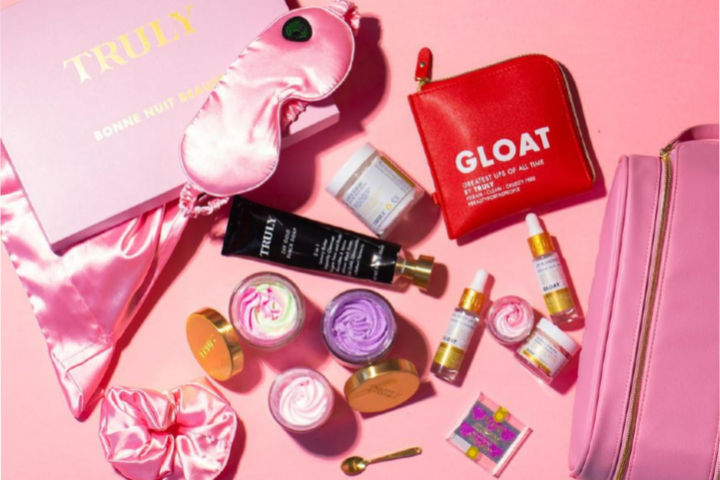 On behalf of our British readers and because we do ship to the UK, we've decided to help you out with finding the perfect last-minute gift for your mum. Because every mum (or mom) deserves to be appreciated for her never-ending love, kindness, and generosity.  
With UK Mother's Day only two days away, there's still time to find a gift that shows your mum how much you adore her. And we've found the perfect one for you …
A Truly Gift Card
The best thing about a gift card from Truly? Mum gets total control over her gift. She's guaranteed a gift she'll love because she'll get to choose it herself. But at the same time, it's better than just putting cash in a card, which looks a lot more rushed and a lot less planned.
Show mum how to celebrate herself this spring by gifting her with a Truly gift card. It's a great way to say "I love you" and show how much she deserves to splurge on some beauty treats. She has plenty to choose from!
At the Truly store, mum can indulge in plant-based collagen skincare bundles, luxurious bath time kits, or deluxe hair masks. There's something for every mum here.
Gift cards are delivered via email with instructions to redeem at the checkout.
Send as a gift today to make sure she wakes up to this wonderful prezzie Sunday morning.
WHAT YOU NEVER KNEW ABOUT UK MOTHER'S DAY
Mother's Day is celebrated throughout the world, but different countries celebrate it on different dates. Like the UK for instance. This year, "Mothering Sunday" as it is called in the UK will fall on Sunday 14 March.
The holiday dates back to the Middle Ages, when the custom developed of allowing those who lived far away from their home to return to visit their mothers on the fourth Sunday of the Christian festival of Lent. It became a tradition, giving families an opportunity to meet up again. Mothering Sunday has continued ever since.
OTHER WAYS TO SHOW MUM HOW MUCH YOU CARE
Just because you're in lockdown doesn't mean you can't give mum an awesome day. Whether you get to see her in person or virtually, there are still plenty of ways you can shower her with love and gratitude. Check out our ideas!
Bake Her Brownies
Home-baked goods always leave an impression. So if you haven't got much time to go out shopping or surf the internet for ideas, try whipping up a batch of homemade brownies for her instead. You can either deliver them personally or post them – yep, it's totally possible.
If you're doing this from afar, be sure to post them the same day you bake them for guaranteed freshness. Remember to add in a handwritten note, too!
If brownies aren't her thing, how about cupcakes? Bake her whatever it is you know she likes – and do it with a great big helping of love. She'll be blown away when she opens the door to a sweet-smelling batch of home-baked treats made by her beloved son or daughter.
Plan a Spa Day
With her Truly Gift Card, she can choose from a wide selection of bath and body products. If you can't make it to see her this year, set a date to get together and enjoy a home spa day using Truly products.
Some of our favorite picks for a DIY spa day with mum include Truly's Glowing Skin Bundle, Moon Bath Essentials, and Silky Smooth Shave Set.
She'll love these relaxing, skin-soothing plant-based skincare products. And so will you!
Make a Photo Book
Mums love photographs. If there's one gift you absolutely can't go wrong with it's family photos. Whether you make it online or offline, there are plenty of resources you can use to create a beautiful photo book your mum will cherish for years to come.
Make sure you select your favorite family photos for print. The ones you'll know she'll laugh at or cry at. Alternatively, if you plan on seeing your mum in person on Mother's Day, perhaps creating a photo book could be a fun activity you can do together. Some quality bonding time!
Send Flowers
Fresh flowers are an instant mood booster and always a good choice for Mother's Day. Receiving a beautiful bouquet of flowers is a great way to make mum feel extra special this year.
Best of all, you have numerous flower delivery companies to choose from. Don't forget to add a personalized message with the flowers to show her who they're from!
Host a Skype Dinner Party
Can't spend Mother's Day with your mum this year? It sucks – we know! But there is a way to feel that much closer to her, even from afar: a virtual lunch.
You don't need any special technology or tools. Just Skype and whatever you plan on eating for dinner. You could even email your mum in advance with a great recipe that you can both cook on the day.
Hosting a Skype dinner party is a fun and creative way to spend time with your mum from a distance. You could also go one step further and dress up the area of your home your laptop camera points to. Think balloons, flowers, etc. Then your mum will feel like she's right with you and with all the celebratory décor.
Sure, Mother's Day is going to be different this year. But don't let that ruin your plans for hanging out with mum and spoiling her – you can do that from afar. In the meantime, you can start making plans for what you can do together when the lockdown lifts. It could be as simple as going for a walk, having dinner at her favorite restaurant, or enjoying a spa day together – at the actual spa.
Mother's Day is what you make it. Even virtually, you can make it a wonderful and memorable day for your beloved mother. She deserves it!
Share
---