The Best Truly Beauty Products of the Year: A Roundup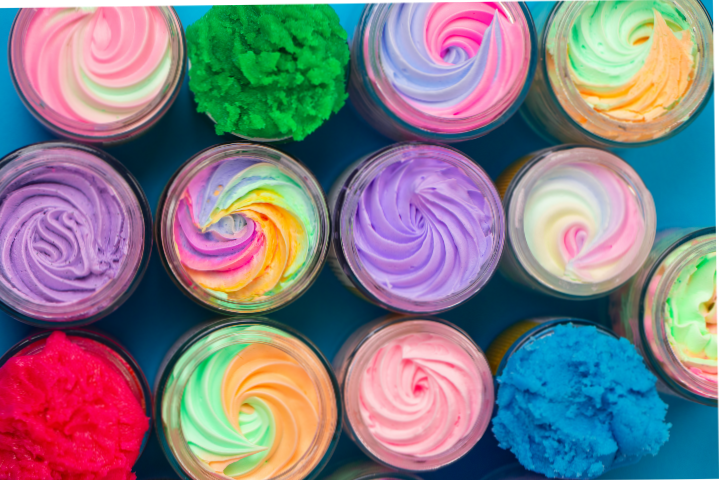 This year has been a great one at Truly! Not only have we released dozens of brand new high-performing skincare products. We've also heard back from you guys (our loyal babes) and the press that these beauty products work like a charm.
From hydrating body butters to brightening soaps and antioxidant-rich serums, we've released a ton of new products this year that really boast the wow factor. Of course, there are also the Truly icons that have remained just as hot this year as the years prior.
Here's a roundup of Truly Beauty's best beauty products of 2022 — and what people are saying about these TikTok-viral, high performance skincare treats.
Barbie Dream Duo
One of our newest drops, Barbie Dream Duo was inspired by your fav childhood toy. It features a whipped pink body butter and purse designed to leave your skin sleek and sparkly while helping you take on the day in style.
Here's what Seventeen Magazine says about the new nostalgic kit:
"In honor of Barbie's 60th anniversary, Truly dropped the Barbie Dream Duo, which includes a vegan leather mini purse with a heart-shaped handle and pink whipped body butter made with acai berries, matcha, and a vegan collagen booster."
Exfoliating Bath Bars
Your Truly favorites – Acai Your Boobies, Anti Cellulite, Buns of Glowry, + Unicorn Fruit – transformed into lathery, skin-brightening bath bars to leave you gleaming. Each bar is enriched with antioxidants and collagen-enhancing actives like retinol and acai to suds away dryness, dullness, sagging, dimples, and odors. Suitable for all skin types, from dry skin to sensitive skin and even acne-prone skin.
Did you know it was featured in Reader's Digest only recently?
"Truly's luxurious bath bars are formulated to exfoliate and treat skin with care," the description reads.
Best Of Shave Minis Kit
Since you loved our Smooth Legend Shave Kit soooo much, we decided to miniaturize the products and create a cute little kit so you can stay smooth and ingrown-free — on the go!
It's not just you (and us!) who love it. Cosmopolitan had a few kind words to say about this mini shave kit, which they featured in one of their recent gift guides.
"It has everything she'll need for a nice and easy shaving experience, thanks to the coconut and passion fruit-infused pre-shave scrub, shaving butter, and after-shave oil. It also comes with a mini razor and a pretty cosmetic case to hold everything."
Unicorn Fruit Body Butter
The cult-fave body moisturizer is just as flaming hot now as it was years ago — when we first welcomed it onto Truly shelves. A rainbow swirl of shea butter, matcha, and acai, this buttery, deeply nourishing body lotion leaves skin feeling silky soft. Include it in your daily skincare routine to hydrate and plump all over. Psstt..it can also be used as a hand cream, lip balm, and hair product (think leave on conditioner or mask!).
This year alone, it's received a great deal of praise from our customers and from various publications, including — most recently — Pure Wow.
"How fun is this rainbow swirl?" writes Pure Wow. "The multi-colored, whipped body butter has a delicious fruity smell and is packed with matcha, chia, acai and rose for a deeply moisturizing experience."
Unicorn Deodorant
Our first and only deodorant! Unicorn Fruit Deodorant is aluminium-free and leaves you smelling fresh all day. It also treats pigmentation, dullness, dryness, and irritation for smooth, even, glowy pits. Aside from improving skin tone, it combats bad odors to keep your pits fresh all day long.
WellandGood love it too.
"First of all, it works (we wore it in the dead of summer and through hot yoga classes). It's aluminum-free. It leaves pits softer and brighter. And it smells like birthday cake and rainbow sunshine sprinkles."
Heart Your Imperfections Patches
Need a quick fix for those stubborn breakouts? Our heart-shaped pimple patches make banishing blemishes an extra cute experience. These hydrocolloid-based stickers drain active zits of gunk and sebum to clear you up overnight. They can even prevent acne-related dark spots and hyperpigmentation.
The New York Post had a few good words to say about these zit-fixing patches.
"Truly's Blemish Treatment Acne Heart Patches are the most adorable, girly-girl pimple patches we've ever seen," they wrote. "We love the heart shape, but we love the fact that this set is clean and non-drying even more."
Acai Your Boobies Butter
This chest-firming treatment has long been a winner amongst its users! Formulated with antioxidant-rich acai, elasticity-restoring retinol, and hydrating shea butter, this treatment tightens, lifts, and smooths away fine lines with visible results after four weeks. We're one of the few beauty brands serving up boob products, and people really can't get enough. Neither can The Zoe Report.
"This lavender-hued whipped butter is all about tightening and firming your ta-tas," they wrote.
Honey Buns
You waited a loooong time for it. We know! And we greatly appreciate your patience. The moment Honey Buns dropped, it simply flew off the shelves. Haven't tried it yet? SheFinds describes the kit beautifully.
"Get a body mask, serum and limited-edition Honey Dipper Stick in one," says Justine Schwartz, Editorial Director of SheFinds. "The ingredients are simply dreamy: agave nectar, sea buckthorn fruit oil, echinacea, and vitamin E. And the benefits are even better: smooth fine lines, sculpt sagging skin, and soften acne scars."
24k Gold Black Soap Cleanser
A 2-in-1 face and body cleanser that gently exfoliates to buff away sebum, dirt, and dead skin cells for clearer, smoother skin all over. Besides warding off breakouts, it also aids in shrinking pores to give skin a matte-like finish.
The Daily Beast loved it so much, they dedicated an entire article to the product.
"Right after my first application, I was hooked! Not only did I feel like a million bucks because of the gold glitter flecks, but my skin looked dewy, smoother, tighter, and felt well-nourished."
Body Tightening & Firming Minis
Our limited edition body tightening minis! These dessert-inspired body care goodies help you stay taut and toned on the go. Featuring polishes, serums, and creams from our Dulce de Leches + Cake Maker lines, plus a Gold Lunchbox and Cake Server. Infused with hyaluronic acid, retinol, and guarana to treat stretch marks, cellulite, and sagging.
Hear what Insider has to say about it:
"A luxe home spa day goes far beyond a face mask and cucumber slices with this dessert-inspired full-body experience."
Unicorn Lip Balm
Our viral Unicorn line boasts a moisturizer, scrub, eau de parfum, soap, and also a lip plumping balm. Formulated with shea, peppermint, and aloe, this lip treatment soothes dryness and chapping while leaving lips looking visibly fuller. Wear it underneath your lip gloss or tint to prep for smooth application.
Elle describes it as a "potent lip plumper that uses peppermint oil for its lip-enhancing effects. It also leaves behind a slight shine and oh-so-buttery soft feel."
Buns of Glowry Butt Polish
The at home butt lift everybody's been crazy about for years! Buns of Glowry Butt Polish is a firming, resurfacing formula designed to tackle stretch marks and cellulite while sculping sagging skin. Wake up your booty in one single step!
PureWow thinks its the bomb too!
"The watermelon extract, vitamin E and wheat protein blend work to firm, hydrate and plump your booty so you probably won't need the TikTok leggings after all."
Here at Truly, we create vegan, cruelty-free formulas, blending the finest actives such as retinol, vitamin C, and AHAs to treat every skin concern imaginable, and deliver visible results in just a matter of days or weeks. You'll find face, body, and hair care products on our online shop, along with some super fun (and luxurious) accessories.
While our products are available on Ulta, Sephora EU, and Walmart, the discounts and deals found on our website are exclusive to the website.
Share
---