The Five Edible Skincare Ingredients That Will Rescue Your Regimen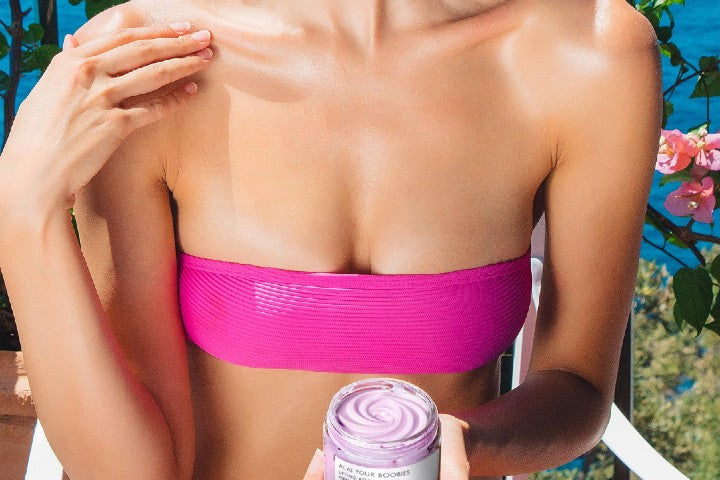 From dousing acne scars with olive oil to smearing avocado on dry patches, edible skincare has become a growing trend in recent years.
That doesn't necessarily mean you have to streamline your skincare routine to organic wholefoods. There are plenty of beauty brands out there, embracing natural ingredients in their formulas. So you can reap the benefits of edible skincare without being forced to live out of messy DIY creations.
"Consumers have become more educated and skeptical about the traditional ingredients in their skincare products, and this is forcing skincare brands to get inspired by real superfoods and natural ingredients for their formulations," explains Priscilla Tsai, the founder of Cocokind.
Take Truly Beauty. All our products are made using clean, natural, plant-based ingredients for a luxurious yet therapeutic skincare experience.
Scroll down to unlock the powers of five edible skincare ingredients (which just happen to be found in several of our products)!
THE POWERS OF UTILIZING NATURAL INGREDIENTS
The skin absorbs around 60 percent of what you put on it.
"Unfortunately, cosmetics and personal care products have little government oversight, which means many products, and the ingredients used in today's beauty products, are not well-regulated," says green cosmetic chemist Yashi Shrestha.
In other words, you could be suffocating your skin with a dozen or more toxic ingredients without even knowing it.
Look out for offenders like parabens, phthalates, PEGs, SLS, synthetic fragrances, silicones, and formaldehyde the next time you purchase a beauty product. If you see one of these listed on an item, steer clear of it and opt for a natural product instead.
Natural ingredients like plant oils, flower extracts, and nourishing butters provide the same (if not better!) results – without jeopardizing your health.
Take a look at our top five picks of edible skincare ingredients for healthy, flawless skin.
Acai 
It first became a household name when celebrity dermatologist Nicholas Perricone appointed it as a "Superfood for Age-Defying Beauty" on the Oprah Winfrey Show in 2005. Since then, it has steadily found its way into many beauty products.
Derived from a species of palm tree native to Brazil, the nutrient-loaded acai berry possesses the potential to repair damaged skin and replenish moisture. Packed with essential fatty acids and vitamins A, B, C, and E, acai berry helps fight free radicals and slows down aging. Experts say it may also reverse aging skin. Found in many skincare products, acai berry is mainly noted for its anti-aging benefits.
Try Truly's Acai Your Boobies Bundle for your daily dose of this powerhouse age-reversing berry.
Watermelon Extract
According to dermatologist Dr. Zenovia, "Watermelon is an ingredient that is packed with antioxidant properties to help boost skin health. Watermelon contains high levels of Vitamin C and E, which can help the skin look more vibrant and firmer."
Thanks to its high water content, watermelon extract is a natural hydrator perfect for treating dry skin. It also helps fade hyperpigmentation.
Give Truly's For Your Buns Bundle a go to show your booty some love. Resurfacing, tightening, and moisturizing, this 2-step formula is designed to beautify your buns thanks to its blend of watermelon extract and wheat protein.
Coconut
Coconut milk is a natural, soothing ingredient that's wonderful for hydrating the hair and skin. It also boasts high levels of vitamin C and copper to maintain skin elasticity and prevent wrinkles.
A 2018 study found that coconut milk is packed medium-chain triglycerides (MCT) that include acids like lauric acid, caproic acid, decanoic acid, and caprylic acid.
"These acids make up the MCTs that are known for anti-microbial and anti-inflammatory properties, which makes a great option for use in rinse-off cleansers, masks, or leave-on moisturizers helping to soothe and improve skin barrier," says Natalie Hwang, product development manager for KORA Organics.
Pamper yourself with Truly's Coco Cloud Whipped Luxury Shave Butter for the smoothest shave of your life.
Rose
"Roses are filled with antioxidants that help fight free radicals caused by pollution and UV light," says dermatologist Dr. Lily Talakboub.
They're also a gentle astringent that can soothe irritated skin and a natural moisturizer thanks to their plethora of flavonoids and vitamins A, B3, C, D, and E.
Global makeup artist Amanda Bell adds, "Rose is a perfect all-rounder for every skin type. It's a hydrating and soothing ingredient, which appeals to our olfactory sense and blends beautifully with other oils as a booster for the skin."
Immerse your skin in rose's hydrating superpowers with Truly's Coco Rose Fudge Whipped Body Butter. Made with a blend of coconut and rose, this nourishing formula will brighten and hydrate your skin from head-to-toe.
Matcha
Essentially powdered green tea, matcha is a powerful skincare ingredient with a host of benefits.
"It contains catechins, a type of polyphenol, making it into a powerful antioxidant," says dermatologist Judith Hellman. "The catechins help trap and inactivate free radicals in the skin, thus thwarting many of the signs of aging."
It's also an anti-inflammatory agent, which eases skin conditions like acne and rosacea.
New York-based dermatologist Joshua Zeichner tells us to "Think of matcha as you would other antioxidants: Like a fire extinguisher that puts out inflammation, minimizes damage caused by sun exposure, evens skin tone, and promotes healthy collagen production."
Truly's Unicorn Fruit Whipped Body Butter contains matcha in abundance to protect your skin against free radicals and add volume to the skin. There's also acai, chia seed, and rosewater in there for some added skincare magic.
With more of us looking for ways to simplify and naturalize our skincare routines, it's no surprise edible skincare is under the spotlight right now.
Luckily, plenty of brands out there offer natural and organic skincare free of harmful chemicals (as mentioned above).
What you put on your skin should be just as essential as what you put in your mouth. If all you see on a skincare product is line after line of chemicals, that's a good sign you should move on to something better.
Natural, edible skincare is the future.
Share
---