The Products Your Skin Needs During Daylight Savings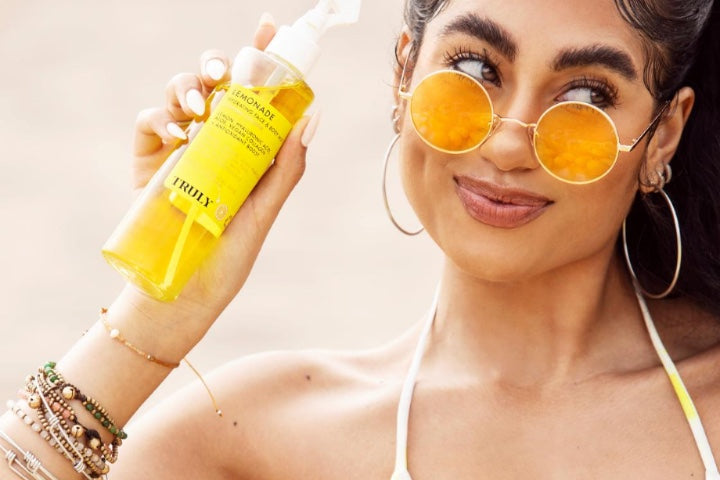 If your skin's looking a little meh these days, it could be down to Daylight Savings. With the dark mornings, dark nights, and very little sunlight in between, your skin can end up looking dull and depleted. After all, it is vitamin D deprived!
Fortunately, you can replenish and nourish skin that's not been getting enough of the sunshine vitamin. 
Here are the skincare products you need to save your skin during Daylight Saving Time.
A Brightening Cleanser
Everyone should be cleansing every day. In the winter months when your skin gets less sunlight and ultimately less vitamin D, it's important to use a gentle cleanser that naturally brightens skin.
Give our Vegan Collagen Facial Cleanser a try. It's formulated with firming collagen, fine line fading retinol, and brightening vitamin C to leave you with a youthful radiant glow. While it may be an anti-aging formula, any skin type can benefit from incorporating this product into their skincare routine. For best results, use it morning and night if you have oily or acne-prone skin, or only in the evening if you have dry skin or sensitive skin.
An Invigorating Scrub
Exfoliation helps buff away dead skin cells and impurities to brighten and awaken the complexion. It also allows other beauty products to penetrate the skin more effectively. After all, no product can absorb if your skin is covered with a layer of dirt and dead skin.
Try our Matcha Face Scrub for weekly exfoliation. Natural sugar and Dead Sea Salt intertwine with soothing matcha, antioxidant-loaded green tea, and resurfacing glycolic acid for an invigorating scrub. This formula offers gentle exfoliation to the skin without being too abrasive or causing micro-tears to the skin. It's perfect for all skin types! Yes, even sensitive skin! For best results, use this exfoliator 1-2 times per week.
A Glow-Enhancing Face Mask
Face masks are a great way to inject moisture and vitamins into the skin. Since your skin's not getting much vitamin D these days which can leave it prone to dullness, you need to restore it's hidden glow with a brightening face mask.
Boost your radiance with Mary Jane Glow Mask. It's made with a nourishing blend of redness-reducing hemp, tightening and brightening caffeine, exfoliating glycolic, and vitamin A to speed up cell turnover. This formula delivers powerful antioxidants to tighten and brighten while replenishing essential hydration. For best results, use it once a week -- or more if your skin can handle it!
An AHA-Based Serum
Alpha hydroxy acids (AHAs) are essentially chemical exfoliants that unglue dead skin cells from the skin's surface to reveal a clearer, brighter complexion. They're key for buffing away dry patches, breakouts, and dull skin tone.
Treat your skin with Mary Jane Glow Serum. It's the same formula as the mask only in serum form. Hydrating, brightening, and resurfacing, this daily serum is key for treating dryness, hyperpigmentation issues like dark spots, breakouts, and dullness. It can also slow down signs of aging thanks to its retinol and antioxidant content. For best results, use daily after cleansing your face. 
A Nourishing Face Cream
Hydration is always important, but even more so in the chilly months as this is when skin gets the driest. Invest in a quality face cream to keep your skin moisturized and soft all day long.
Our Flower Child Face Cream works as both a day and night cream. Use it in your morning skincare routine or nighttime skincare routine -- or both! Made with hydrating hyaluronic acid and anti-inflammatory hemp, this powerhouse blend nourishes your skin and restores elasticity for a taut, spring complexion.
A Moisturizing Body Butter
Your face probably gets most of your attention in regards to skincare. However, don't forget your body needs a little TLC as well -- especially during the wintertime when the weather is colder and the air is drier. This is when your skin needs moisture most!
After showering or bathing, while your skin's still a little damp, scoop out some of our Unicorn Fruit Whipped Body Butter and massage it into your body. Made with a base of shea butter, which is high in concentrations of fatty acids and vitamin E, this deeply conditioning body lotion boasts emollient properties that seal in hydration. For best results, use it daily -- after showering or bathing. 
A Broad-Spectrum Sunscreen
It might not seem sunny outside, but UV rays are still there. Whenever you leave the house, you are instantly exposing yourself to UVB rays, which is why dermatologists urge to wear SPF 30 every day -- or at least whenever you go outside. Sun protection is essential for warding off premature signs of aging, sun damage, and even skin cancer.
While a small amount of UV exposure is healthy for skin, as it provides a daily dose of vitamin D, excessive exposure can lead to all sorts of skin concerns. To maintain healthy skin, make sunscreen part of your daily regimen.
Pair it with an antioxidant serum, like vitamin C serum, to maximize its effects. Avoid layering with retinol products as this can make skin more sensitive to the sun. 
A Hydrating Mist
Swap out your harsh, astringent toner for a hydrating face mist. Mists are great for infusing moisture into the skin for hours of dewy hydration. Plus, they're super convenient for on-the-go hydration as you can quite simply spritz it on -- no rubbing or rinsing required!
Our fave? It's got to be our Lemonade Mist. Designed for the face and body, this hydrating mist features vegan collagen, lemon, and hyaluronic acid to visibly smooth, moisturize, and brighten skin. Plus, it's great for all skin types. Even oily skin and combination skin can benefit from this formula since lemon can decrease oil production.
You can also spritz it on as soon as you wake up in the morning to instantly refresh and revive! 
You don't need to supplements to get your skin through Daylight Savings. All you need are a few good topical products, and your skin should be dewy and glowing in no time! Speak to a dermatology professional if you're continuing to experience chronic dryness.
Share
---