When our Boobie Polish Started to Target Stomachs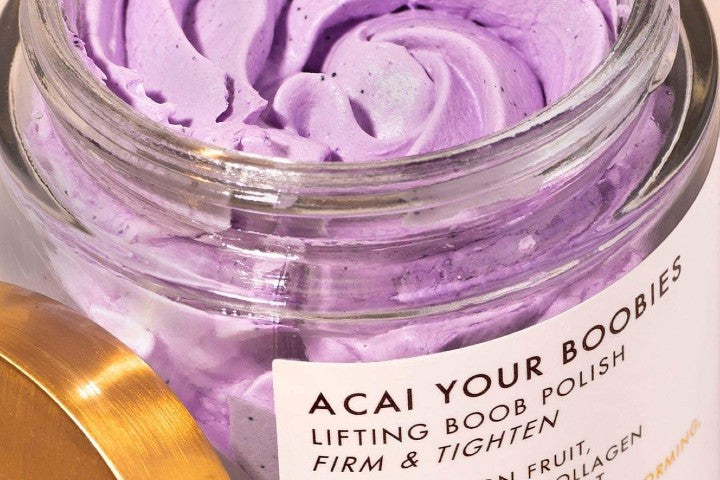 Our Acai Your Boobies Lifting Boob Polish has taken the skincare community by storm. From selling out on TikTok to getting published in articles across the web, Acai Your Boobies Lifting Boob Polish is mega popular! The reason? Of course it's aesthetic is a factor--it's a whipped purple swirl in a glass jar that is super eye-catching. It smells like an acai berry paradise and the texture is like creamy heaven. But the main factor? It works! This product helps bring youth to those boobies--it targets stretch marks, uneven skin tone, loose skin, blemishes, dryness, and overall dullness. With key ingredients like retinol and acai that help speed cell turnover rate, it's no wonder that this product really fights against aging and diminishes any existing skin conditions. 
We created this polish for boobies--there aren't many products that focus on boobs so we filled that gap. What we didn't realize is that people would start using this product on other areas besides boobies. We call this process a "product hack". These sorts of hacks can vary--using a face oil for hair (hello Hemp Oil!) or using a body butter as a face highlight (ahem, Unicorn Fruit!). The most notable product hack has been using the boob polish on the stomach. Many customers have skin concerns on the stomach that they'd like to target: stretch marks, loose skin, dryness seem to be the common occurrence. 
We've had multiple people claim that this boob polish has diminished their skin concerns on their belly. The power of retinol, am I right?! Retinol is a prolific ingredient that can make that skin more youthful. Topical application of retinol on the stomach can boost the synthesis of glycosaminoglycans, a component of connective tissue required for retaining moisture. Retinol can also prevent free radicals from affecting the skin which may lead to an adverse effect on the collagen levels in the body. Science-y words aside, retinol boosts your collagen levels! Perhaps you've had a few children, or have lost a lot of weight--your stomach can easily get stretch marks or loose skin after instances such as these. You can easily get a bounceback to your 20s if you want to go under the knife, but not all of us are rolling in that sort of expendable income. 
After reaching out to our community, most customers seem to use a mix of products: mixing the Acai Your Boobies Lifting Boob Polish with our Jelly Booster Pigment Treatment Body Potion, or mixing the polish with our Body Star Perfecting Cream are pretty common. However, a big chunk solely uses the Acai Your Boobies Lifting Boob Polish as the key product to tackle the skin on their stomach. Most people tend to see results within 4-6 weeks of use--this is a common timeframe for most skincare products, especially retinol-based ones. 
But enough of the chatter--let's view some of these befores & afters from customers using the Acai Polish on the stomach! If you'd like to see our results Instagram, check it out here: https://www.instagram.com/thetrulyexperience/
Before & After with our Acai Your Boobies Lifting Boob Polish
Before & After Using our Acai Your Boobies Lifting Boob Polish, Jelly Booster Pigment Treatment Body Potion, Buns of Glowry Smoothing Butt Polish, and Body Star Perfecting Cream.
Before and After Using our Acai Your Boobies, Jelly Booster Pigment Treatment Body Potion, Buns Of Glowry Serum
Share
---