24/7 Sensational Curls Can Happen. Here's How.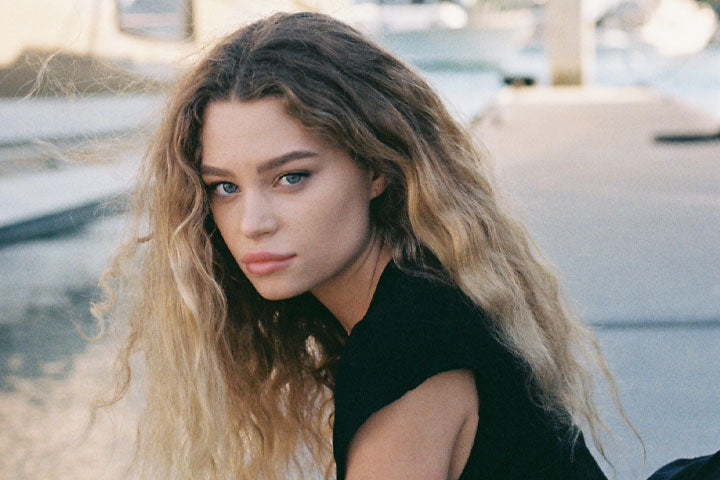 Curly hair is different to all other hair types. It curves and it coils, leaving it particularly vulnerable to dryness and breakage. Because the natural oils produced by the scalp to protect and nourish strands have a tougher time reaching the whole of the hair, it makes curly hair more prone to thirst. A look nobody wants.
So, if you have naturally curly hair and you're looking for an effective routine to keep your mane looking magnificent, we've got one in store and waiting for you. Here are some simple, but soooo effective hair care tips for curly hair types. Enjoy! And don't forget to take notes!
Pre-shampoo
Pre-shampooing is a step before shampooing that we highly recommend for curly hair types. That's because pre-shampooing softens and detangles the hair prior to in-shower shampooing. By conditioning your hair, it prevents unnecessary damage during the cleansing process, especially if you have extremely dry strands. 
Choose between a regular conditioner and conditioning oil to pre-shampoo and apply it directly to dry hair. Using your fingers, work the product in through your curls so that every strand of your hair is covered. Leave it on for 20-30 minutes before rinsing and shampooing. For severely dry hair, place a shower cap or towel over your hair to help open up the cuticle of your hair and enable the conditioner to penetrate more intensively. 
Hydrate your strands with Truly's Super Plant Conditioner. Packed with nutrient-rich, vegan ingredients that give your strands an instant boost, this conditioner offers long-lasting hydration for your ultra-thirsty tresses. 
Shampoo, Wisely
When you have curly hair, you should be treating your hair as if it were fine cashmere. You wouldn't wash your favorite cashmere sweater on hot in harsh detergent now, would you? Your hair should be treated no differently. Invest in a mild shampoo with plenty of natural oils and nutrients to nourish and hydrate your hair. 
Try Truly's Super Plant Shampoo – a superfood for curly hair. Formulated with neroli, vitamin B5, and red seaweed, these high performing vegan ingredients will zap away dryness and replace it with shine and hydration. It's the perfect daily shampoo for curly hair types. 
Reduce the Shampooing
Because curly hair is prone to dryness, it doesn't need to be washed as frequently as straight hair. In fact, regular shampooing can stress and dry out thirsty curls. Thus, try to limit your shampooing sessions to 2-3 times per week maximum to keep your curls healthy and hydrated.
To keep your hair looking fresh in between washes, spray a few gusts of dry shampoo into your roots – that'll soak up any oils and grease. Dry shampoo is an excellent tool for maintaining clean, fresh-looking hair without stripping it of its natural oils like regular in-shower shampooing does.
Avoid Blow-drying
Now that your hair is washed and conditioned, you may feel obliged to run a hair dryer over your mane to manage your curls. Don't. The American Academy of Dermatology warns against blow drying the hair and recommends that you air-dry instead. 
The best way to manage your mane after washing is to apply a leave-in conditioner and rake through your strands with your fingertips instead of a comb, which can lead to frizz. And if you really must blow-dry, hit the cool setting to make sure you're not drying your hair out any further.
Deep Condition – A LOT
After every shampoo, apply a deep conditioner or leave-in hair mask to provide your hair with moisture and keep it looking smooth, shiny, and healthy. Look for a formula that contains humectants like glycerine or glycol and nourishing oils and butters like coconut, shea, and argan. If your hair is really weak, opt for a mask with keratin to restore dry, damaged curls.
Fortunately, there are a number of hair masks out there for you to choose from all at varying prices. We recommend Truly's Star Fruit Hydrate and Shine hair mask. This weekly treatment is enriched with coconut oil and chamomile to restore hydration and enhance shine. 
Minimize Brushing
You may consider brushing your hair as essential as brushing your teeth, but that's actually not the case. Especially for curly hair, brushing is way too aggressive and will lead to reduced definition and increased frizz. If your hair is tangled, use a wide-toothed comb instead, starting at the ends of your hair and working your way up to avoid damage. Alternatively, comb your hair using your fingertips. These are far less damaging practices for keeping your curls tangle-free. 
Truly's Rose Gold Hair Comb is a pretty yet practical hair accessory for all hair types – especially curly ones. Thanks to its widely spaced teeth, this comb ensures wet or dry hair won't break while detangling. It's also ideal for evenly distributing your leave-in conditioner.
Sleep on Satin
The way your curly mane looks depends a lot on your lifestyle habits. For instance, are you sleeping on a cotton pillowcase? That could be the reason you're waking up with unruly hair. The problem with cotton pillowcases is that they can cause frizz and breakage. Swap them for satin pillowcases to keep your curls intact. You can also wrap your tresses in a satin scrunchie to maintain sleek, soft curls. 
Truly has the best Satin Sleep Set which features a pink satin pillowcase, scrunchie, eye mask, and headband. This vegan set is your frizz-free solution to a beautiful night's sleep – and morning.
Curly hair is a beautiful and unique hair type. However, it does require far more maintenance than any other. Prone to dryness, breakage, and frizz, you do need to put the effort in to keep your curls looking shiny and defined. Once you nail your curly hair care routine, you've got yourself daily gorgeous curls. Hopefully, the above tips will help guide you in developing an effective hair care routine for 24/7 sensational curls. Because who doesn't want to wake up every day with luscious locks? 
Share
---