5 New Truly Beauty Bundles to Gift to Your Bestie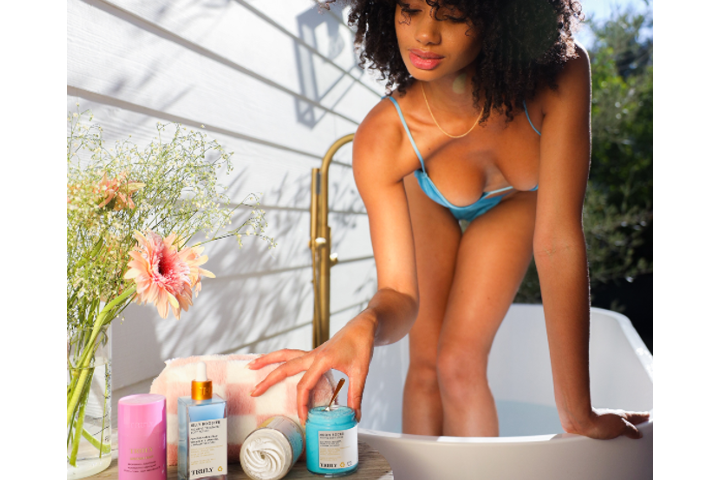 When it comes to showing your bestie some luuurrrvve, nothing beats a beauty gift set. Especially a Truly Beauty gift set! Over the past couple of months, we've released some HOT new bundles that make perfect presents for friends, loved ones, or yourself of course.
If you can't seem to put into words how much you <3 your bestie, SHOW HER — with one or more of these skin-loving bundles.
#1: Ultimate Unicorn Bundle
The 7-step Unicorn Fruit Set for your smoothest skin, shiniest hair, and plumpest pout! Ultimate Unicorn Bundle features our cult-fave skin, hair, and lip formulas enriched with nourishing ingredients like rose, acai, vegan collagen, and vitamin E. Your bestie will LOVE everything about this kit, from its fluffy, whipped textures to its fruity, sugary scents. Inside, you'll find several bestsellers + a couple of new arrivals: our UF Deodorant and Unicorn Bath Bar. Even if she's never tried a Truly product in her life, she'll love what this bundle brings to her life.
Hydrating, plumping, exfoliating, and strengthening, this 7-step beauty routine is the upgrade she'll forever be thankful for.
What's inside:
Unicorn Locks Repair Hair Mask
Unicorn Fruit Lip Balm
Unicorn Fruit Body Butter
Unicorn Fruit Whipped Body Polish
Unicorn Fruit Deodorant
Unicorn Bath Bar
Unicorn Fruit Eau De Parfum
Pink Fuzzy Bag
#2: Literally Obsessed
The Truly X Yannalinnaa Collection just dropped...and we're all LITERALLY OBSESSED! We teamed up with TikTok makeup artist Ms. Yana to bring you a Yannalinnaa-curated body care bundle packed full of her fave Truly skincare products! From whipped body butter to de-stressing cleanser to breakout-busting serum, this 7-piece set lets you recreate the influencer's skincare routine — and achieve her enviable glow. Your bestie will love pampering herself with these smoothing, brightening, and acne-fighting beauty products! And she'll love the results even more!
These formulas rely on nature's most nourishing ingredients — coconut milk, black charcoal, and acai — to leave you smooth and dewy from head to toe.
What's Inside:
Coco Cloud Shave Butter
Moon Rocks Body Scrub
Coco Cloud After Shave Serum
Black Jelly Blemish Body Serum
Unicorn Whipped Body Butter
Moon Jelly Body Cleanser
Mini Gold Spoon
#3: Pit Perfecting Kit
It's a sad tale as old as time. You douse your face and body with luxe moisturizers, serums, and masks, but when it comes to your pits...well, your pits go neglected. Turns out, your pits need just as much love as any other body part. From dark spots to dryness and odor, your underarms face skin concerns, too. Hence, the birth of the Pit Perfecting Kit.
Pit Perfecting Kit is a complete underarm care routine featuring our new Unicorn Fruit Deodorant, a handful of pit-perfecting essentials, our PPG Razor + a Checkered Fuzzy Bag. Formulated with coconut, pomegranate, and mango, these underarm care essentials help to alleviate body odor, ingrowns, discoloration, and body hair for your smoothest, glowiest, and sweetiest pits.
What's Inside:
Unicorn Fruit Deodorant
Coco Cloud Shave Butter
Moon Rocks Scrub
Jelly Booster Pigment Treatment
Award-Winning Powerpuff Girls Razor
Vegan Fur Cosmetic Pouch
#4: Unicorn Fruity Fragrance Set
Unicorn Fruity Fragrance Set is a smoothing, brightening, and odor-fighting routine powered by rosewater, mango butter, and symwhite 377. This 3-step set features a lineup of luxe, full-size products: an exfoliating bar soap, odor-eliminating deodorant, and our bestselling Unicorn Fruit fragrance. Each product works together to brighten, buff, and sweeten while leaving skin feeling irresistibly smooth.
Is your bestie acquainted with the iconic Unicorn Fruit fragrance? It's time to acquaint her! Lucky for her, every product in the set works in harmony to deliver a long-lasting cotton candy scent.
What's Inside:
Unicorn Fruit Deodorant
Unicorn Bath Bar
Unicorn Fruit Eau De Parfum
#5: Anti-Cellulite Trio
One of the best gifts you can give is the gift of self-care. If you're looking for the perfect birthday or holiday gift, make it our Anti-Cellulite Trio. This 3-step routine contains a polish, mask, and serum enriched with a blend of lipolytic and collagen-boosting ingredients to manifest your smoothest skin. Since almost all women suffer from cellulite, the Anti-Cellulite Trio is an excellent choice for helping to reduce the appearance of dimply skin — and boost confidence!
Some of its essential ingredients include retinol, orange flower, apricot, and vegan collagen, which work together to resurface, hydrate, and rebuild collagen to promote smoother, firmer skin and fade fine lines and dimples. In addition to its skin refining ingredients, this smoothing bundle harnesses the power of exfoliation and massage to reduce the appearance of cellulite. It comes complete with a cute cosmetics case, so you can keep all your products in one place — and take it with you on your travels to maintain dimple-free skin.
What's Inside:
Anti-Cellulite Body Polish
Anti-Cellulite Body Mask
Anti-Cellulite Body Serum
Luxury Terry Case
Alternatively, Try the Mini Bar
If your budget doesn't stretch far enough for a bundle, you can still treat your bestie to something special. At the Truly Mini Bar, you'll find a selection of limited edition travel-size bestsellers such as Acai Your Boobies Polish, Unicorn Fruit Whipped Body Lotion, Unicorn Locks Hair Mask, and Nice Melons Boob Serum. These formulas contain powerful ingredients like retinol, vegan collagen, and antioxidants to fade fine lines, firm sagging skin, diminish dry skin, and improve skin tone.
All products here are small, travel-size, and wallet-friendly, so you can still treat her — without going broke.
Gift guides for besties typically contain makeup brush sets, mascara, eyeshadow palettes, lip gloss, and highlighters. As awesome as makeup is as a gift, skincare is a little more unique and a great way to get to the root of your skin concerns.
All Truly products are vegan, cruelty-free, and gentle enough for all skin types. You can purchase our products on Ulta, Sephora EU, and on our official website.
Share
---