A Truly Beauty Gift Guide (For Everyone You Know)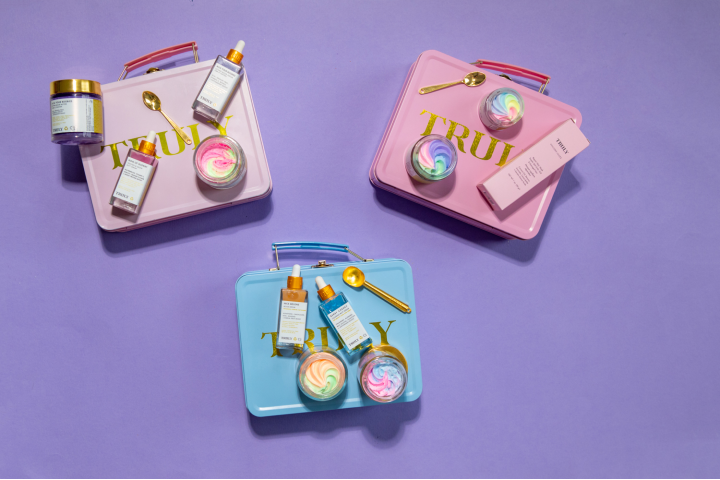 Are you looking for the perfect beauty gift this holiday season?
You could get your loved ones any beauty product you can get your hands on, but that wouldn't make it the perfect gift. To really wow your beauty lover friends and family members, choose something specifically for them. Something they'll know you've put a lot of thought into. 
Lucky for you, we've created a gift guide crammed full of beauty gift ideas for each and every family member/loved one. Scroll down to find your perfect holiday gift and brighten their Christmas, the Truly way! 
Cannabis Lovers
Our CBD Infused Line 
Got a friend or family member who swears by the powers of CBD? Then they'll love what we've got on offer!
Truly's CBD Jelly Baby Bundle is the perfect gift set for the CBD lover in your life. Featuring five hemp-infused skincare products, it's everything you need for smooth, soothed, blemish-free skin.
Inside, you'll find a facial cleanser, body cleanser, face serum, toner, and body mask. These products utilize the skin-clearing powers of actives like salicylic acid, vitamin C, retinol, and glycolic acid. In addition to reducing redness and irritation, these ingredients help unclog pores, clear breakouts, and leave the skin looking visibly smoother.
Mom
Your Moms Bundle
Treat mom to this luxe skincare set this Christmas. Because you can never over-splurge on mom!
This bundle includes five hydrating, anti-aging formulas to create a youth-restoring skincare routine: cleanser, serum, moisturizer, and 2x face masks. Powered by the likes of vegan collagen, hyaluronic acid, and retinol, this anti-aging bundle ticks all the boxes for promoting a plumper, firmer complexion. Mom will love it!
If you're searching for the best beauty gift for mom, make it this one. It's everything she needs to prioritize self-care and skincare!
Boyfriend
Your Man's Bundle 
Holiday shopping for bae has never exactly been easy. Make things easier for yourself and better for him by gifting him this 4-step shave routine.
This ultimate shave kit includes every skincare step (and product) necessary for clean, smooth skin. Created by the guys of Team Truly, this kit is designed to deal with coarse facial hair, lower skin pH, and scientifically thicker, oilier skin. It really is the best gift for the man in your life. 
Featuring an oil-absorbing cleanser, hair-softening shave butter, zit-zapping body serum, and brightening face serum, your man will enjoy super smooth results with this shave set. It's the perfect stocking stuffer! And the ultimate shave upgrade!
Sister
Flawless Skin Care Bundle
Show your sis how fabulous she is by giving her the gift of flawless skin! Who doesn't wish for that?
Our Flawless Skincare Bundle contains a face cream, eye cream, and face serum formulated with high-performing ingredients like hyaluronic acid, sea kelp, and willow bark extract. Together, these skincare goodies work to condition skin, plump out fine lines, diminish discoloration, and minimize the appearance of pores for a truly radiant complexion. 
It's the skincare routine she needs for a clear, dewy complexion every day. 
Party-Goer
Moonlit Shimmer Oil, UF Perfume, GLOAT
Give the party-loving lady in your life the tools she needs to glow from evening to am with a few Truly essentials.
Moonlit Shimmer Body Oil is a chai and turmeric-infused formula designed to add sparkle to your cupid's bow, cleavage, collarbone, and calves. It's a 60-second fix for glowing, shimmery skin. Plus, it offers hydration and a subtle sweet scent thanks to its blend of aloe and vanilla. 
Unicorn Fruit Eau de Parfum is one of our bestsellers. Fruity with a hint of vanilla, it's just what she needs to smell divine all night long. Pair it with our Unicorn Fruit Lotion to seal in the scent for hours of seductive fragrance.
Another great pick for the party-goer in your life: the GLOAT Kit. This 4-step daily lip kit includes a scrub, serum, oil, and butter all designed to deliver a plumper, juicier set of luscious lips. Coconut oil, hyaluronic acid, and peppermint play a starring role in their hydrating, smoothing, plumping abilities. 
The products can be doubled up as lip balms and lip gloss.
Skincare Purist
Moon Rocks Body Scrub 
For something reliable and not too crazy, choose our Moon Rocks Body Scrub.
This lightly whipped blue-tinged sugar scrub is made with a nourishing base of 100% organic coconut oil, brightening lavender, and protective vitamin E to buff and brighten a dull complexion. 
Our fluffy sugar exfoliant is cruelty-free, environmentally friendly, naturally brightening, and gentle enough for daily use. It's the perfect addition to your wellness routine.
Forget mascara, nail polish, eyeshadow palettes, makeup brushes, and totes, and get her something that'll leave her naturally glowing.
For Anyone to Test-Drive
Holiday Mini Kits
Want to get that special someone in your life something other than manicure sets, brush sets, and fancy pillowcases? Give them a taste of fun and fab skincare with our limited edition Holiday Mini Kits.
Featuring lip, skin, and hair care products, these minis are more affordable than their full-size versions. Plus, they look super cute! Any beauty or makeup lover will fall in love at first sight!
You can choose from three different kits, depending on her tastes: Acai + Buns, Melons + Berry, or Mini Unicorn. 
We hope this holiday gift guide has helped you find the perfect beauty gifts for your loved ones. If you're looking for gift ideas for other special people in your life, take a browse through our selection of products and select the ones you think they'd like. We offer everything from skincare serums and oils to haircare formulas and accessories. Take your pick! 
You will also find all of our products over on Ulta, Sephora, and Amazon. 
Share
---