Truly Beauty's Christmas Gift Guide 2022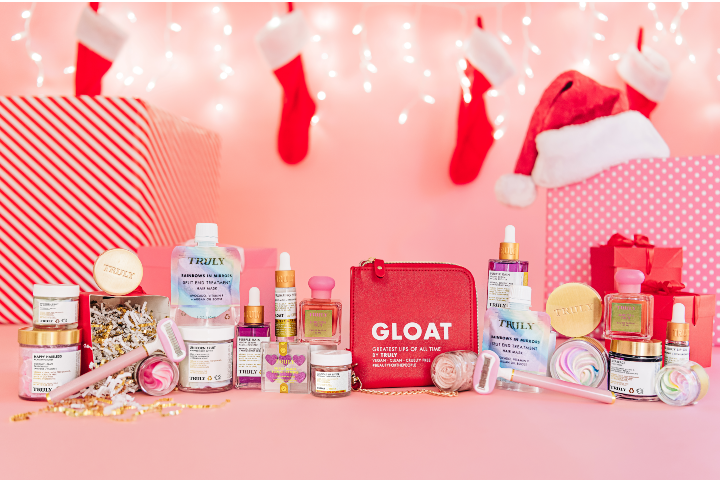 With Christmas fast approaching, it's time to start shopping! We've taken the stress out of Xmas shopping by creating a list of the best beauty gifts to wrap up for your loved ones this holiday season. From limited edition gift sets to luxe stocking stuffers, you'll find something for everyone in this Christmas gift guide curated by the Truly team.
Browse Truly's list of the best Christmas gift ideas for 2022 below. Or check out our Holiday Gift Set Guide here. Happy shopping, beauty babes!
NEW Holiday Gift Bundles
Nothing makes for a great gift like a thoughtful gift set and these brand new mini gift sets tick all the boxes for anyone who's looking to take their beauty products — anywhere and everywhere.
Make her feel extra special this holiday with one of these limited edition mini gift sets. Even if she's not much of a traveler, it's the perfect gift for giving her a taste of Truly. Maybe she's seen us on TikTok and some of our formulas are already on her wishlist? Give her a chance to sample the Truly favorites with one of the following (or both, if you're feeling generous!):
Gold Dulce and Cake Maker Minis Kit (LIMITED STOCK)
Our limited edition kit featuring polishes, serums, and creams from our Dulce de Leches + Cake Maker lines, plus a FREE Gold Lunchbox and Cake Server.
Shop now, $59.99

Best of Shave Minis Kit (LIMITED STOCK)
This exclusive set features our bestselling Smooth Legend Scrub, Happy Hairless Shave Butter, Glazed Donut Oil + a FREE Truly Pink Razor and Mini Lilac Trunk.
Best Sellers
Beauty lovers in your life won't be able to get enough of Truly's trending skincare treats. Make holiday shopping easy peasy this Christmas by filling your cart full of our bestselling products — guaranteed to get giftees smiling! The best gift ideas don't always have to be the most unique but they do need to make her smile. Luckily, we have a slew of skincare gift sets you can treat your loved ones to this Xmas (that are also bestsellers!).
Here are some of our faves:
Iconic Gifts
The most sought after Truly products you'll find. Instead of an advent calendar, leggings, or eyeshadow palette, spoil your best friend to a moment of self-care — with results that'll go beyond Christmas. That's the fabulous thing about skincare. It just keeps on giving.
At Truly, we have plenty of iconic gifts you can treat your fave girls to this Xmas. Let's take a look at the goodies on offer:
Indulgent Collections
Want to get your loved ones something truly thoughtful? If you're feeling generous this season, we have a few unique gift ideas on offer that we know she'll love as much as we do. They're a little more on the pricey side, but you can't put a price on love, can you?!
Splurge on one or more of these indulgent beauty treats, either for yourself or a friend. Yep, you can definitely treat yourself too!
Unstoppable summer skin in 7 steps! This bundle helps to lift, firm, hydrate, and smooth your way to vibrant, radiant skin! Bonus: Complete with a FREE minty vegan leather skincare travel pouch!
Get the most incredible Christmas gift with our limited edition collector's set featuring 11 full-size body care formulas + a FREE limited edition Holiday Robe worth $250.
The gift that keeps on giving! Get her a gift that goes beyond Xmas with one of our mystery subscription bundles. Each box contains 4-6 SURPRISE goodies ranging from fluffy whipped body lotions to smoothing scrubs, face masks, and fun accessories with a value of $213+!
Nighttime Routine Evening Hydration, $122
A luxury nighttime skincare routine to leave you waking up looking and feeling refreshed! This indulgent gift set features rejuvenating masks, calming shower formulas, and our dreamy Satin Sleep Set, which contains a satin pillowcase, scrunchie, headband, and eye mask. In addition to soothing you into a meditative state for a deeper sleep, the formulas in the set fight against fine lines, acne, and dryness overnight.
Stocking Stuffers
Drop something Truly special in her Xmas stocking! Choose from this adorable selection of luxe stocking stuffers that'll brighten up her day — and transform her skin:
Purple Rain Serum 

Unicorn Fruit Body Butter

Happy Hairless Shave Butter

Super Acne Trio 

Unicorn Lip Balm 

Unicorn Eau de Parfum

Razor

Razor Cartridges 

GLOAT Products

Rainbow in Mirrors Hair Mask 

Starface Sleep Mask
Drop a Free Shopping Spree in Her Inbox
Looking for a super last-minute Christmas gift for your fav babe? It doesn't get faster than a Truly Gift Card. Simply choose the amount, they select a gift, and your Xmas shopping is done! Gift cards are delivered via email with instructions to redeem at the checkout.
De-stress and simplify your seasonal shopping with the Truly Gift card. It's the fastest, easiest, and most fool-proof method of gifting. Plus, you won't have to worry about her being dissatisfied with her gift...cos' she'll be able to pick it!
She'll be able to choose from our whole range of products, including cleansers, serums, face masks, conditioners, totes, and robes.
We hope this holiday gift guide has been helpful in your Xmas shopping spree! Already a Truly lover? Gift your favorite things to that special person in your life and give them the pampering sesh they truly deserve.
While our products are sold on Ulta Beauty and Sephora EU, discounts and deals are exclusive to our official website.
Share
---