Truly House of Beauty Episode 21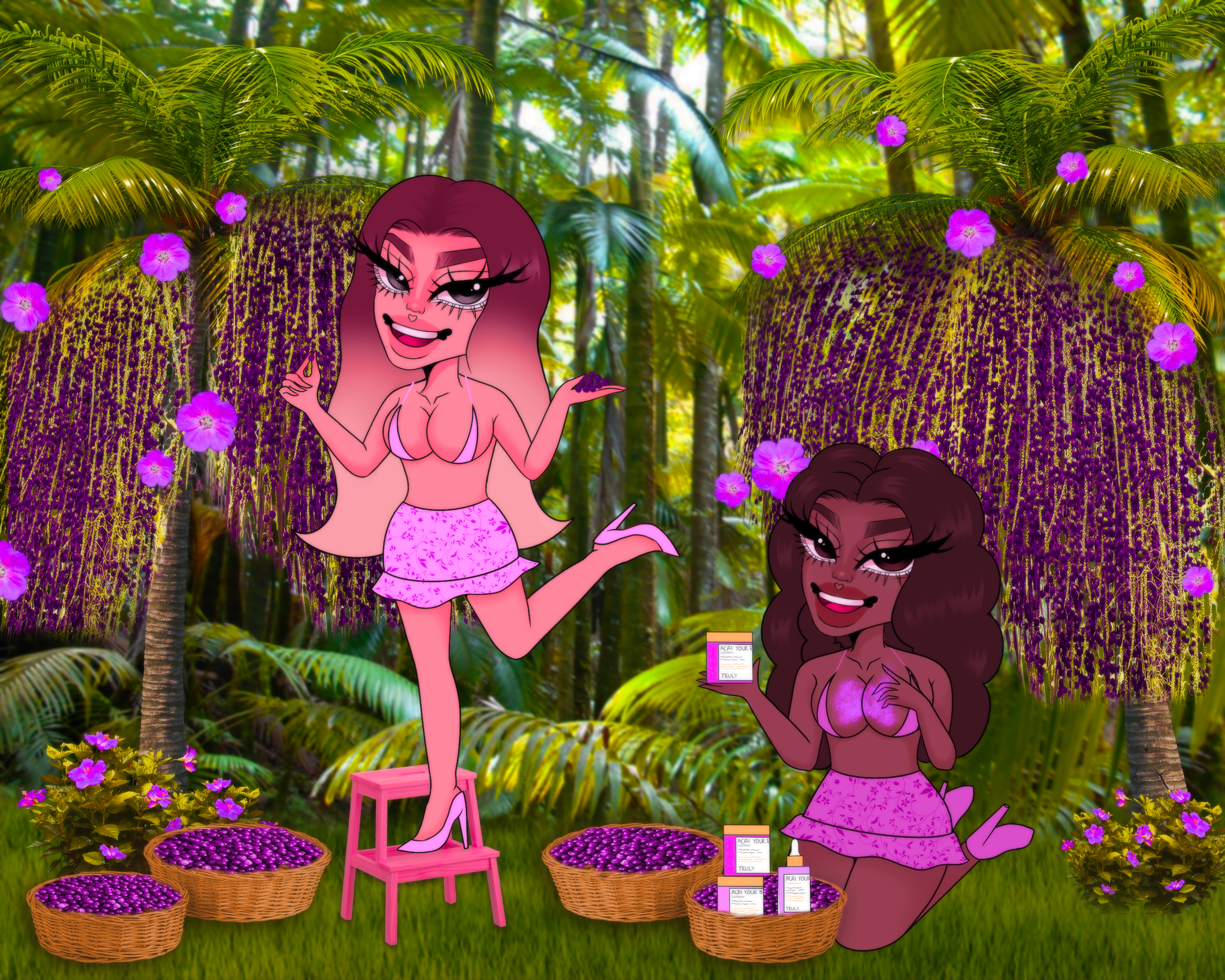 Well well well…look who it is! It's a Truly Babe finally getting to our next episode of the Truly House of Beauty. The last time we all hung out was on 4/20…and yup, the Truly Beauty Babes were blazin' with our CBD skincare products on the notorious holiday. Those lil' babes always end up in some trouble or funky situation. This week's story is a bit different…it's an ode to all things FRUITY in the Truly world with a splash of cottagecore realness. As you may know…we are fruit-obsessors in this house! Let's see which fruit patch each Truly Babe ended up in this cobble-stone, juicy flower field extravaganza. 
The sun is blazing, the vibes are strong, and Zara is surrounded by cantaloupes and kiwis in our Nice Melons field. Yup, Zara herself is hand squeezing bits of kiwis and cantaloupes into each Nice Melons Edition: the boob serum, polish, and the butter! As the sun sets behind the desert mountains, you can catch Zara and her kiwi-drenched tatas being soaked in Nice Melons– a brightening, tightening, and hydrating boobie treatment thanks to all its antioxidant properties. She loves how her boobs feel firmer and are absolutely glowing after using Nice Melons. "It's like my boobies were kissed by the melon goddesses!" she exclaims each time she uses it. She notices all her dark spots and fine lines are diminishing more and more every time she does the 3-step routine. And her skin feels sensational after every use! She's serving up melon-queen realness in her sunset get-up, and is ready to pluck more plump melons for all of the world to enjoy with her.
Prancing around the cottage garden like a wood nymph, you can find Tyler biting into berries–ALL the berries! He's always feeling extra cheeky, especially when he's whipping up a batch of Berry Cheeky for all the babes in the Truly land. Every morning he sips his piping hot tea in his widdle cottage, cheering for the sunrise so he can tend to his berry patch. The resident ginger plucks and squeezes every single blackberry and strawberry into our Berry Cheeky Edition: a butt polish, serum, and buttery lotion made just for your peachy-peach. He's obsessed with clearing any booty acne on his perky booty–working outside can cause some pimples on a butt! "My booty can't STOP craving the berries–it's glowing for days!" he screams at the top of his lungs each time he does he uses the entire line. Feeling the Huckleberry fantasy, Tyler is ready to serve up Berry Cheeky to all!


It's not easy plucking acai berries off of trees, but Anna and Angela call themselves "A-Squared Acai Team" aka they know how to get the job done. That doesn't mean Angela won't take a break to polish her boobies with the anti-aging Acai Your Boobies line. Packed with juicy dragon fruit (hylocereus undatus fruit extract), skin-firming retinol, and intensely hydrating shea butter (butyrospermum parkii), it's fruity food for your boobs! Kicking back, gossiping about that one time Zara's pooted out loud on an Instagram Live, and snacking on acai berries the entire time. These hard-working girlies get up at the crack of dawn to drench all the acai berries in each product in the Acai Your Boobies line. Your favorite swirled exfoliating polish, moisturizing body serum, and collagen-boosting body butter is all hand whipped by them! "We are just ADDICTED to Acai Your Boobies–it makes our tatas so perky 'n smooth!" they say in a twin-like unison. Matching to a tee, the A-Squared-Acai Team is all about Acai Your Boobies Lifting Boob Polish, Serum, and Boob Butter!
Well naturally we'd save the lovebirds for last–yup, we're talking about Chloe and her long-term lover the pool-boy (who she shaved a few episodes ago and can't stop shaving). Under the Californian sun, these two kiddos are basking in the watermelon patch, drenching themselves in the watermelon juice, and admiring each other's glowing skin.. Naturally, they are creating our iconic Buns of Glowry line–filled with watermelon extract, vitamin E (Tocopherol), jojoba oil, mango, and retinol (vitamin A). Both Chloe and the pool-boy love the juicy goodness that Buns of Glowry brings to their derriere–less cellulite and stretch marks, zero pimples, diminished dry skin, and super taute skin. The wind breezes on their booties, and the two kiss amongst the plump watermelons. They were too busy smacking lips to say anything, but we are pretty sure that they are keen about Buns of Glowry — our infamous smoothing butt trio! 


Just remember to wear your SPF, kiddos! Those UV rays are blazing! 
What a nature-filled adventure we had together–the Truly Babes are still busy at work cooking up more exotic recipes, routines, and of course the drama that you all love. Stay tuned for the next episode of the Truly House of Beauty. XOXO. 
P.S.
Don't forget to polish your peach & tatas with our cruelty-free formulas ;)
You can find all our butt and boob firming treatments at Trulybeauty.com, Ulta, and Amazon!
Share
---