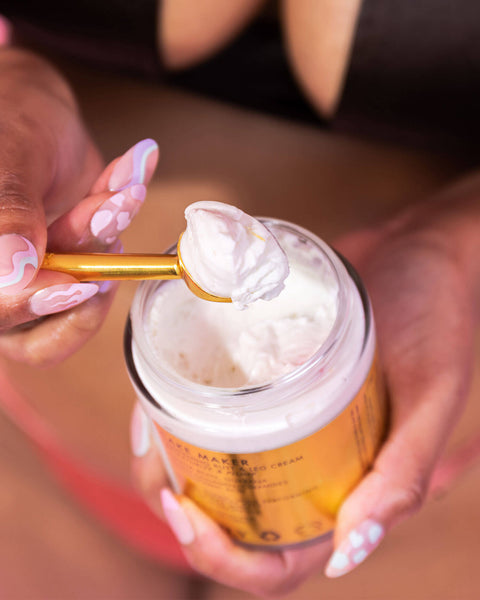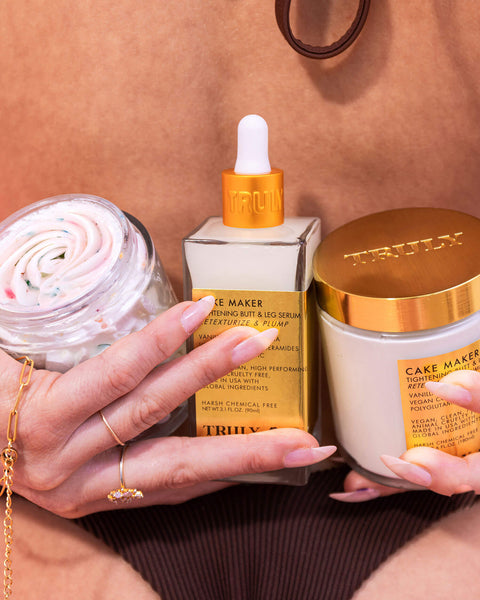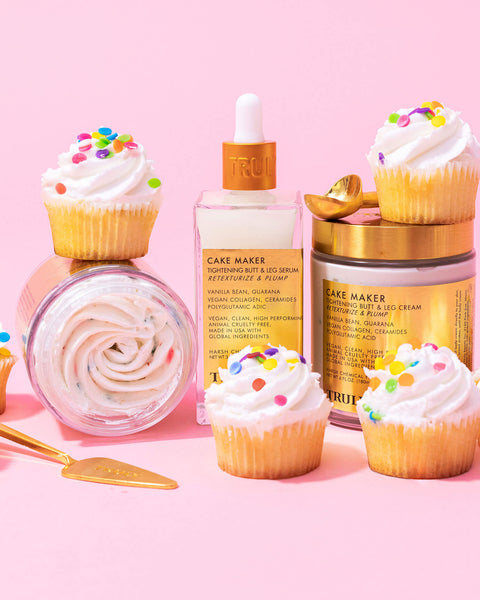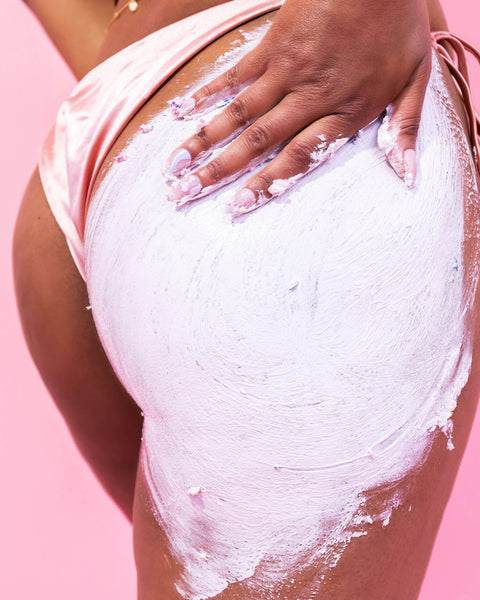 Cake Maker Recipe
>Good to Know:
Retexturizing
Tightening
Lifting
Vegan
Cruelty-Free
Serving up our freshly-baked Cake Maker Kit! A 3-step butt and leg tightening treatment made with a mixture of age-defending vanilla, plant collagen, and guarana whisked with ultra-hydrating ceramides + polyglutamic acid for your smoothest legs and bounciest booty.
This tasty little trio targets cellulite, sagging, + stretch marks with a hydrating lineup of lipids + humectants for extra thirsty skin. Bring on the bubble butt!
What's Inside
🍰 Cake Maker Cream 2 Oz / 60 Ml
🍰 Cake Maker Polish 2 Oz / 60 Ml
🍰 Cake Maker Serum 3.1 Fl Oz / 90 Ml
WHY IT'S SPECIAL
Guarana is a tropical fruit famed for its abilities to naturally sculpt and smooth the complexion by improving overall skin tightness.
Polyglutamic acid + ceramides lend their hydrating and elasticity-enhancing powers for soft and springy skin.
Treat Yourself To Our Tightening Trio.
Diminish doughy skin, stretch marks, and cellulite with the anti-aging all stars in our Cake Maker Collection. Featuring a sprinkle-filled polish to buff and brighten, a fluffy, fast-absorbing cream to moisturize and tighten, and an irresistibly silky serum to sculpt + smooth – all whipped up in a sweet, vanilla, freshly-baked scent to truly treat yourself.
Essential Ingredients:
Guarana 🌴🍹
Plant Collagen 🍑🔥
Ceramides 💦✨
How to Use:
Cake Maker Tightening Butt & Leg Polish: In the shower or tub, mix Cake Maker Cream with a little water to create a nice lather. Massage into your butt and legs, and rinse. Pat skin dry, and spread 3-5 drops of Cake Maker Polish over your bum and legs.
Cake Maker Tightening Butt & Leg Serum: Pat skin dry, and spread 3-5 drops of Cake Maker serum over your bum and legs.
Cake Maker Tightening Butt & Leg Cream: Apply Cake Maker cream to your legs and booty. Leave to absorb before getting dressed.
*The model in these images is a paid model demonstrating use and intended results of the products, these are not actual customer images.
What it Targets:
🔥 Tightens
Collagen and caffeine-rich formulas constrict sagging skin for a trimmed + tightened tush.
🔥 Combats Stretch Marks + Cellulite
Smooths uneven texture and boosts blood circulation – manifesting smoother, dimple-free skin.
🔥 Hydrates
Locks in lasting hydration for a soft to the touch, plumper-looking bod.
Subscribe to Save More
Let us bring your body care essentials straight to your doorstep each month, and enjoy year-round smooth + springy skin.
Subscribe & save 10% on each order!
No commitment. No stress. Only endless satisfaction!
Stay updated on our HOTTEST deals, captivating content, and more!