10 Best Beauty Gifts for New Moms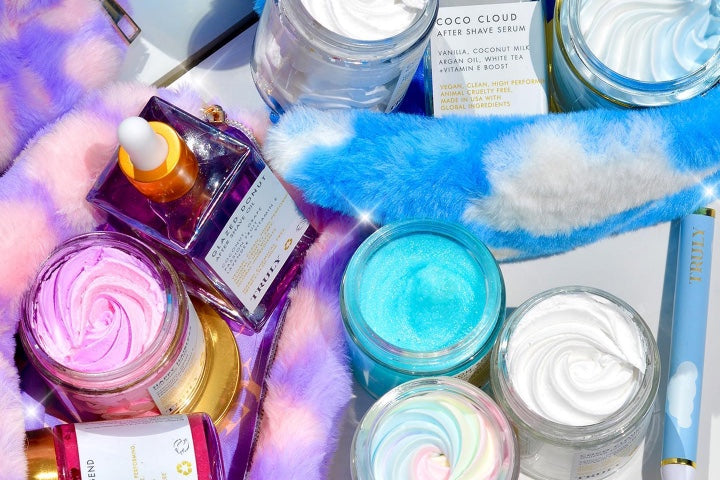 During pregnancy and after, new moms need to be careful what they're putting on their skin. Certain skincare ingredients can be harmful when you're pregnant or breastfeeding, which is why it's important to start reading the labels on skincare products before filling your cart with beauty treats.
If you're buying for a new mom who loves everything beauty, you might be wondering what's safe to buy. According to dermatologists, breastfeeding women should steer clear of ingredients such as retinol, benzoyl peroxide, essential oils, salicylic acid, and chemical sunscreens.
To make things easier for you, we've created a list of 10 pregnancy and breastfeeding-safe beauty gifts you can get for that special lady in your life.
#1: Nice Melons Edition
The best gift for new moms, Nice Melons Edition features a boob polish, serum, and moisturizer all designed to show her boobs some TLC. Together, this trio helps to firm up the breasts, hydrate skin, while smoothing out fine lines and softening stretch marks. It's a great gift for getting her to prioritize some much-deserved self-care time.
#2: Berry Cheeky Edition
A treat for the tush, Berry Cheeky Edition contains a butt polish, serum, and butter which join forces to exfoliate, smooth, hydrate, and lift. This bestselling trio works wonders on the butt, helping to clear up acne, smooth away cellulite and stretch marks, and provide subtle lift. With a new baby, she probably doesn't have much time to treat herself to new beauty products. Treat her to this fruity gift set to light up her days — and her booty!
#3: Pineapple Haze Bundle
Instead of getting her a gift card she'll probably never get around to using, get her this hydrating skincare kit. It's the perfect skincare routine for those with dry skin. Inside, you'll find a hand cream, body balm, lip polish, lip butter, and skin salve formulated with the most nourishing ingredients to deeply hydrate and condition the skin. It provides full body pampering for the new mom who never gets time to indulge in a self-care moment.
#4: Ultimate Coco Cloud Shave Kit
A new and luxurious way of shaving — meet our Ultimate Coco Cloud Shave Kit. Rich and fluffy formulas come together in this kit to deliver the smoothest, closest shave sans ingrowns and irritation while leaving skin smelling coconut-y. It comes with a shave butter, after shave serum, and after shave lotion, plus a 5 bladed razor and blue cosmetics bag to keep everything in one place. It's the perfect gift for Mother's Day, birthdays, or first time moms. Unlike gadgets, diaper bags, and strollers, this gift will help her prioritize wellness — and that's essential as a new mom.
#5: Unicorn Party Kit
Looking for a last-minute gift for new parents? Treat her to this fun and fabulous Unicorn Perfume Gift Set. It's a thoughtful gift that she'll appreciate much more than leggings! Inside, you'll find a body polish, body butter, lip balm, and perfume — all with that signature candy-like scent. It's the best beauty gift for new moms who don't have time to beauty shop right now. Give her a break from all those diaper changes and feedings with this whimsical gift set.
#6: Satin Sleep Set
A luxe 4-piece satin sleep set featuring a pillowcase, headband, eye mask, and scrunchie — all in precious pink satin. New moms don't get a lot of sleep, so make every minute count by treating her to this luxurious satin sleep set to secure a night of restful slumber. Satin and silk pillowcases don't just feel amazing, they also work wonders for your hair and skin — fending off frizz and sleep creases. Bonus: it's machine-washable and 100% vegan!
#7: Moon Jelly Adaptogenic Body Cleanser
A de-stressing body wash new moms can use to wind down at the end of a demanding day. When there's a little one in the picture, new moms don't have much time for long, luxurious showers. Give her a chance to indulge in a relaxing shower with this herb-powered body cleanser. It's gentle enough for all skin types.
#8: Coco Rose Bundle
A hair mask and body butter duo to drench new moms in floral-scented hydration. This beauty set promises to hydrate your skin and hair thanks to nourishing ingredients like coconut, rose, and shea butter. Plus, it smells delicious — good enough to eat, in fact! It's a great gift idea for moms who love luxurious skin and hair care products, but simply don't have time to shop right now.
#9: Lilac Beauty Trunk
She can stash her fave serums, body oils, and lotions in this ultra-spacious, super-chic beauty trunk. It fits approximately eight Truly products -- but there's definitely space leftover for the little cosmetics like lip balms, eyeliner, and mascara. Made of 100% vegan leather, this stylish bag is strong and sturdy, and a great way of keeping everything in one place -- or taking it with you on the go. This keepsake is definitely worth splurge!
#10: Glowing Pit Kit
An underarm discoloration routine, Glowing Pit Kit features an exfoliating, hydrating, and smoothing trio of bestsellers that target and treat hyperpigmentation and discoloration on the body. Since discoloration is a common skin concern in pregnant women, this trio can help promote even skin tone without the use of pregnancy-unsafe ingredients like retinol and BHAs. It uses natural, soothing ingredients such as pomegranate extract, sugar, and vitamin E to hydrate, soothe, and lighten dark spots.
We hope this gift guide for new moms has been helpful in your search for the perfect gift. Whether you're looking for the best Mother's Day Gift or a thoughtful present for a new mom, choose one or more of the above gift ideas to put a smile on her face — and encourage her to indulge in self-care once again!
You can shop Truly at Amazon, Ulta, Sephora EU, Walmart, and Target, as well as on our official website: Trulybeauty.com.
Share
---