3 Best Razors for Women Who Want an Effortless Glide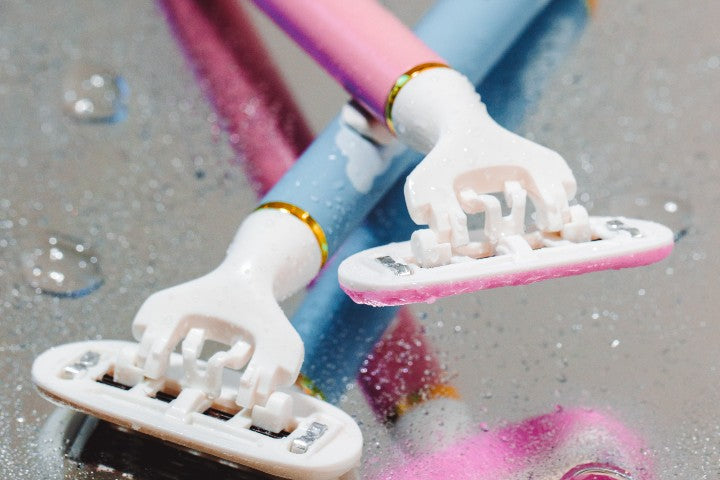 A good razor makes shaving so much easier. By providing a seamless glide, the right razor not only provides a smooth, close shave, but also prevents shaving nasties like nicks, razor burns, and ingrown hairs.
Whether you're shaving your legs, underarms, or bikini line, a high quality razor makes the process that much easier. It's definitely worth the investment if you have sensitive skin that's prone to razor bumps and burns.
Lucky for you, we've found three of the best razors for women — guaranteed to deliver a close and clean shave, every time.
BLADE RAZOR VS. ELECTRIC SHAVER VS. TRIMMER
When shaving your body hair, you probably use the conventional wet razor to get smooth. However, there are different types of razors and shavers you can use to groom your armpits, legs or bikini area.
Wet shaving is the process of using water, shaving cream, and a shaving razor to lift hairs away from the skin. The most common types of razors suitable for wet shaving including straight razors, DE safety razors, and cartridge razors. The benefits of wet shaving include providing a closer shave, affordability, convenience, and speed. On a less positive note, you may experience razor burn, bumps, and nicks if you fail to use the correct technique.
Dry shaving is the process of using an electric razor or trimmer to cut the hairs just above the skin. The two prime benefits of dry shaving include convenience and less irritation. However, electric shavers and trimmers do not leave skin silky smooth like a wet razor can.
In our opinion, wet razors are the overall best for providing an ultra-close, smooth shave. Bikini trimmers are great for prepping the area for shaving for a closer shave. And electric shavers are useful for last-minute touch ups.
If you're aiming for the closest shave, always stick with a traditional wet razor.
BEST RAZORS FOR WOMEN
Disposable razors might be cheap and convenient, but they're doing your skin — and the environment — zero favors. Invest in a women's razor that will last longer than one shave, like one of these three below.
#1: Life Shaver Starter Razor
Make the hair removal process a while lot smoother with this rose gold starter razor. Featuring double blades and a flex grip razor handle, it can tackle hard to reach areas while ensuring the smoothest shave every time you use it. Life Shaver Starter Razor comes with a replacement blade cartridge refill to re-up your ultra-smooth shave. And you can also stock up with this set of two razor cartridges -- because sharp blades are key to achieving that soft to the touch shave.
If you're new to shaving, this is the best women's razor for you that's easy and safe to use, and able to get around all the nooks and crannies for your smoothest shave.
#2: Truly Blue Razor
A five-blade razor featuring extra cushy gel bars infused with aloe & shea butter + 360 degree comfort system for an effortless razor glide. From your pubic hair to your facial hair to your leg hair, this powerful razor can cut through the coarsest of hair while soothing skin with its aloe-infused bars.
If you're someone who lives for your Gillette Venus razor, moisture strips and all, then you'll love what this cloud-patterned razor has in store for you. It's especially effective for those with dry or sensitive skin who are prone to post-shave inflammation.
#3: The PowerPuff Girls Razor
Shave, and have fun with this five-bladed flex-grip razor featuring an extra cushy gel bar for a super smooth glide and silky shave. The PowerPuff Girls Razor is easily portable and ideal for staying smooth — on the go. It also comes with a spare razor head that you can change the moment your blades start feeling dull.
HOW TO USE YOUR RAZOR
Here are some steps for achieving the perfect shave with your new Truly razor.
Step #1: Cleanse + Exfoliate
To prevent dirt, oil, and dead skin cells from clogging up your blades, cleanse and exfoliate the area you plan to shave prior to shaving. One of our favorite skincare products for getting the job done is Smooth Legend Pre-Shave Scrub.
Step #2: Apply Shave Butter
In the shower or tub, wet the area you'll be shaving and apply your favorite shave gel, cream, or butter to prep for razor gliding. Choose a hydrating, soothing formula like our Happy Hairless Shave Butter.
Step #3: Shave with the Grain
Using your chosen razor, shave in the direction of hair growth to remove body hair and prevent razor burn and ingrowns. After every swipe, rinse the blades and re-swipe until you're smooth all over. Try to avoid going over the same area twice to prevent irritation.
Step #4: Finish with After Shave Oil or Serum
Exfoliating and shaving can both leave skin feeling dry. Replenish lost moisture by slathering your freshly shaved skin in a nourishing body oil, like our Glazed Donut After Shave Oil. In addition to sealing in moisture, it helps to quell post-shave inflammation.
Also available at Amazon, Ulta, Sephora EU, Target, and Walmart.
RAZOR CARE TIPS
To get the most out of your razor, you'll need to take care of it and store it correctly so that it continues working its very best. Here are some razor care tips you can try:
Rinse the blades before using.
Rinse after every glide.
Clean and dry blades thoroughly after using.
Store your razor in a clean, dry place until the next use.
TRY OUR WOMEN'S RAZOR SUBSCRIPTION SERVICE
We take the stress out of shaving by delivering a brand new razor or set of blade cartridges to your door each month. When you subscribe, you'll receive a 10% discount on every order — from the first until your last. Try any of these trending razors, and cancel anytime!
If you favor shaving over waxing, we highly recommend investing in a quality razor like one of the above. Always look for features like nonslip ergonomic handles, five blades, lubricating strips, pivoting heads, and cushy gel bars, which all help to provide a smoother, closer, irritation-free shave.
Speak to a dermatologist if shaving leaves you chronically dry and sore, as you may have an underlying skin condition.
Share
---