Best Body Scrub: 5 DIY Recipes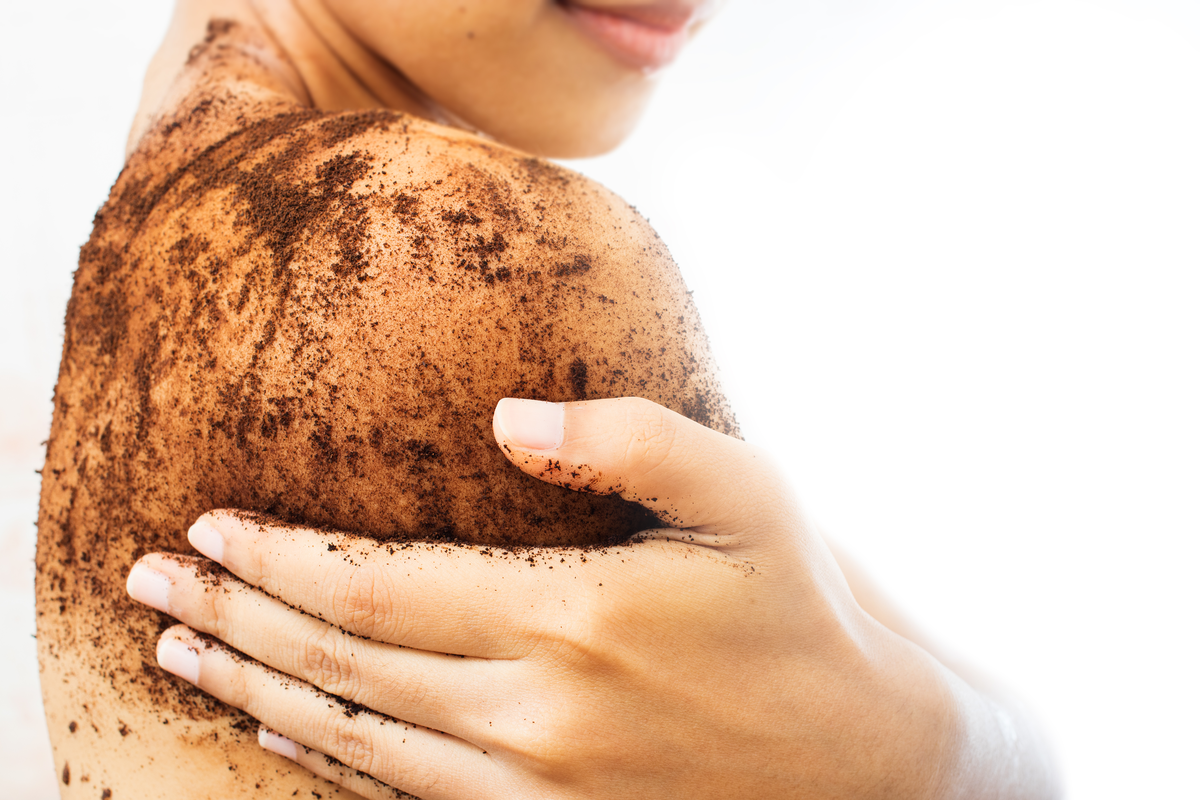 Beautifully packaged skincare products are nice, but concocting your own beauty formula can be much more rewarding and wallet-friendly. So, instead of splurging on that pretty packaged body scrub to keep your skin smooth and silky this winter, try making your own diy exfoliator. It's easier than you think! In fact, most of the ingredients you need are probably sitting in your kitchen cupboards already. 
Now that your winter skin is begging for the best body scrub, you can choose from one of the below diy body exfoliating recipes to get your skin feeling smooth and polished. Just because you aren't showing off your pins, doesn't mean you have to neglect them completely. They still want your attention. 
WHY EXFOLIATING MATTERS
You exfoliate your face, so why should you skip your body? Your body also accumulates dead skin cells over time, which need to be sloughed away in order to keep your skin looking radiant. Regular exfoliation of the body removes that top layer of dead skin cells and promotes the production of collagen, which keeps your skin soft and supple. 
You don't need to do it every day. Once a week should be enough for most skin types. If you have sensitive skin, be careful what types of body exfoliators you use as they may be too rough for your skin and leave it feeling irritated. It's also best to do it less often if you're prone to skin sensitivity. 
EASY BODY SCRUBS RECIPES
Common ingredients you can use in homemade body scrubs include sugar, coffee, sea salt and oatmeal. These ingredients have a perfect texture for exfoliating the skin that help slough away dirt, grime and dead skin cells. Luckily, these exfoliating body scrub recipes are easy and affordable to make. Anyone can give them a try. The result will always be the same: silky, smooth skin. And the best part is, you can play around with all kinds of natural ingredients to find out which works best for you. You'll have so much fun! 
Coffee Grounds Scrub
There's just something about that aroma of coffee beans that seems somewhat addictive and extremely soothing. As it turns out, ground up coffee beans can be just as soothing when applied directly to the skin. Those tiny granules can slough away dead skin cells without being too harsh and leave you with flake-free, polished skin. Caffeine is proven to reduce the appearance of cellulite on the body. Because coffee contains high levels of caffeine, it can be used as a scrub to alleviate cellulite without harsh scrubbing.
What you'll need:
1/2 cup coffee grounds
2 tablespoons hot water
1 teaspoon coconut oil
How to:
Mix together the coffee grounds with the hot water, then add in the coffee grounds. Feel free to add more oil or more coffee until you get a consistency you like. Then massage the mixture into your skin, or store in a sealed container. 
Sea Salt Scrub
Using a salt body scrub can help treat certain skin conditions, especially bacterial related skin issues, thanks to its powerful antibacterial properties. You'll need ground sea salt for this scrub, as sea salt in its pure form can be too abrasive for the skin. The wonderful thing about salt is it not only acts as an exfoliant, but as a skin detox product, drawing out impurities. 
What you'll need:
1/2 cup sea salt
1/2 cup almond oil
A few drops of primrose essential oil
How to:
Combine all the ingredients together until you get a nice, even consistency. Apply to the skin in circular motions or spoon it into a container until you're ready to use it. Because salt is a natural preservative, it will last a long time if kept in a cool and dark place.
Brown Sugar and Oatmeal Scrub
For an ultra-moisturizing scrub, try blending brown sugar with oatmeal. Thanks to brown sugar's wrinkle-banishing glycolic acid and natural humectants, it's a great natural anti-aging ingredient that softens dry skin. Together with oats - a natural, skin-soothing exfoliant - you have yourself one of the best body scrubs around and you don't have to go to a shop to get it.
What you'll need:
1/2 cup brown sugar
2 tablespoons oatmeal
5 tablespoons of coconut oil
How to:
Mix together all the ingredients until you have a paste-like consistency. Smooth it across your body - preferably on damp skin - then rinse it off well and follow up with your favorite moisturizer. This natural body polish will leave your body glowing. 
Shea Butter Sugar Scrub
This shea sugar scrub is excellent for cleansing and hydrating the skin. Packed with vitamins and essential fatty acids, shea butter can help hydrate the skin and lock in moisture while the sugar serves as a gentle scrubbing device to slough away dirt and grime. If you prefer the sensation of salt, you can also switch the sugar for himalayan salt which also works well in smoothing the skin. 
What you'll need:
1/2 cup raw shea butter
2/3 cup sugar 
2 drops of vitamin e oil
3 tablespoons of olive oil 
Several drops of sweet almond oil
How to:
In a large bowl, beat the shea butter until it becomes a softened cream. This may take up to 5 minutes. Then add in the sugar, oils and essential oils until everything is combined. Massage into your skin using gentle, circular motions and follow up with a hydrating body lotion after rinsing off with your favourite body wash. This sugar body scrub will help soften skin, reduce dryness and even brighten the skin.
Jojoba Sugar Scrub
Jojoba oil is a fantastic oil that nourishes and hydrates the skin without leaving a greasy residue. Combined with brown sugar - a gentler alternative to salt - this exfoliator is perfect for people with sensitive skin. 
What you'll need:
1/2 cup brown sugar
1/2 cup jojoba oil
A few drops of Moroccan rose, peppermint, or apricot oil.
How to:
Combine all the ingredients until you get the right consistency. Apply it to your skin in circular motions without vigorously scrubbing. Wash away and apply a hydrating body lotion. You can also replace the jojoba oil with argan oil if you find that works more favorably for you. 
The best thing about homemade body scrubs is that you can play around, experiment and find out what works best for you. There isn't really a best body scrub. The best body scrub is what works best for you personally. And let's face it, diy body polish recipes are always going to win as they don't contain any preservatives or parabens. Frankly, there's no better time to start using a body scrub than now. Winter can be extremely drying on the skin, which is why regular exfoliation and moisturizing matters. A lot.
Share
---