5 Best Exfoliators for the Bikini Area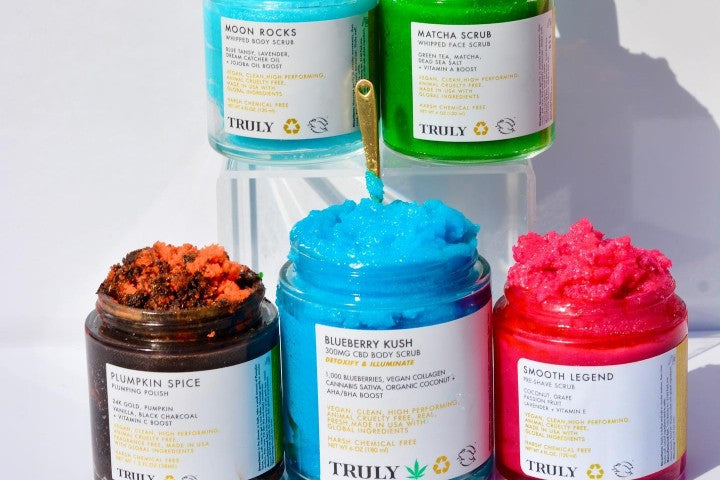 There are multiple reasons to start exfoliating your bikini area. For starters, it can prevent razor burn and ingrown hairs caused by shaving. It also promotes a smoother, closer shave. And, exfoliating your bikini line can treat skin concerns like hyperpigmentation and dryness.
If you want super smooth skin down there this summer, add exfoliation to your skincare and shaving routine. Exfoliation buffs away dead skin cells and impurities, keeping your razor clean and preventing clogged pores and hair follicles that lead to razor bumps. It also promotes skin cell turnover to keep your bikini area bright and free of dark spots.
Here are the five best bikini area exfoliators to start using today.
What is the Best Exfoliator for Bikini Area?
Exfoliating the bikini area can help with ingrowns and hyperpigmentation. Plus, it'll prep skin for a smoother, closer shave. Here are the best exfoliating scrubs for bikini area.
#1: Smooth Legend Pre-Shave Scrub
Whether you wax, shave, or do another hair removal method, exfoliation is an essential step to shed dead skin and excess sebum, and prep skin for easy hair removal.
Smooth Legend Pre-Shave Scrub is especially designed for use before shaving. This sugar-based scrub buffs away dead cells and loosens hair follicles while leaving skin hydrated. Made with soothing lavender, hydrating coconut, and nourishing vitamin E, this formula ensures a super close razor glide and a petal-soft post-shave feel. It also minimizes bikini bumps and targets dark spots and discoloration.
Whether you've got dry skin, sensitive skin or oily skin, this gentle yet invigorating formula is the best sugar scrub for bikini area. 
#2: Moon Rocks Whipped Body Scrub
An exfoliating body scrub that intensely hydrates even the driest of skin while brightening your bikini area.
Moon Rocks Scrub is a lightly whipped sugar and salt scrub made with a blend of nourishing natural ingredients such as coconut, lavender, jojoba oil, green tea, and glycolic acid. Together, these ingredients help to lift dead skin and grime, support cell function, and leave skin glowing.
If you shave your pubic hair, always aim to use this scrub once or twice a week to keep your hair follicles clear and prevent the formation of ingrowns. Of course, like all the scrubs on here, you can also use it on other areas of your body for smoothing benefits. Exfoliators like these can also treat body discoloration, breakouts, dry patches, and uneven skin tone.
#3: 24K Gold Black Soap Luxury Butter Impurity Cleanser
Dealing with painful bumps? Dullness? Or discoloration? 24K Gold Black Soap Cleanser can cure all. This exfoliator for bikini area contains a blend of antibacterial African black soap and charcoal to deeply cleanse and draw out impurities for a clear, smooth bikini line.
Thanks to its cell renewing action, it also spurs the creation of fresh new cells, fading dark spots and discoloration over time. What we love about this scrub: it deeply cleanses and exfoliates without irritating skin. In other words, it's perfect for dry and sensitive skin.
#4: Barbie™ Smooth Scrub
Looking for the best exfoliator for bikini line? Lather up with Barbie™ Smooth Scrub, a pink and sugary exfoliator that gently buffs away dead skin cells and fights odors for your brightest bikini area.
It also helps to loosen hair follicles and preps skin for a smoother shave sans ingrowns–with aloe, witch hazel, and sunflower seed extract. 
You'll love everything about this bikini line exfoliator, from its sugary sweet scent to its fluffy lightweight texture and intense smoothing action. It's a lathery luxury treat your skin will adore!
#5: Unicorn Fruit Whipped Body Polish
A fruity and delectably creamy body polish that smells so good you could eat it. Unicorn Fruit Whipped Body Polish utilizes the soothing skincare benefits of matcha, acai and rosewater to relieve irritation. It also harnesses the hydrating powers of shea butter and cocoa butter to retain moisture in the skin and promote long-lasting hydration.
Based on our bestselling Unicorn Fruit Body Butter, this sweet-scented polish serves as a gentle bikini exfoliator to soften, brighten, and smooth in one single use. Don't forget to use it on the rest of your body for head to toe glow and baby-like softness!
Best Chemical Exfoliant for Bikini Area
If you're looking for an alternative to scrubs, the best choice would be a chemical exfoliant. Chemical exfoliants such as alpha and beta hydroxy acids (glycolic, lactic, salicylic acid) gently dissolve the buildup of dead skin cells without physically sloughing them away. Here's the best chemical exfoliator for bikini area.
Cherry Jelly Cleanser
An antibacterial body cleanser developed with salicylic acid (BHA) and mandelic acid (AHA) to unclog pores, clear away sebum and impurities, and help ease ingrowns and bumps. It's also infused with soothing niacinamide and hydrating allantoin to leave skin smooth and nourished.
How to Exfoliate Bikini Area 
Here are some steps for exfoliating your bikini area to get the smoothest results.
#1: Apply Scrub
In the shower or tub, take a scoop of scrub, mix it with a little water, and massage it into the bikini area using circular motions.
#2: Let it Sit for a Minute or Two
For active ingredients to fully activate and penetrate the skin, leave the scrub on your skin for 30-60 seconds. This way, all those nourishing ingredients in your scrub will be able to work their best and ultimately yield the best results.
#3: Rinse Off + Moisturize
Since exfoliation can dry out the skin, you should always follow up with a lightweight lotion or moisturizing serum to hydrate the area and seal in moisture.
#4: Treat Bikini Ingrowns and Irritation with Cooka Oil
After exfoliating the bikini area, treat any ingrowns or irritation with our Cooka Oil, a pubic hair and bikini serum. It blends the antimicrobial powers of tea tree oil with the hydrating properties of jojoba oil to soothe and soften skin in the area. Use it as a spot treatment to relieve ingrowns and inflammation.
Looking for the best exfoliator for your bikini area? We have five great ones to choose from that each deliver a slew of skincare benefits. Bikini line exfoliation is the secret to a smooth, soft, and glowing bikini area.
Learn more: Do you exfoliate before or after shaving?
Here's a routine you can try at home:

Share
---