Each Step of Your Body's Skincare Routine For Under $120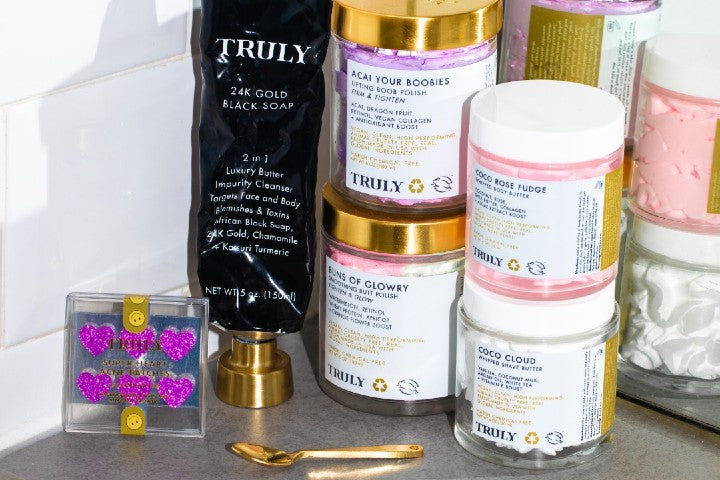 You've been making a serious skincare mistake. And you've been making it for far too long.
What is it, you ask?
So here's the deal: you've been neglecting body skincare, and if you're not already paying the price (think fine lines, breakouts, dryness), then you soon will be if you don't start paying your body more attention.
While your body isn't as exposed to daily environmental aggressors like UV rays and air pollution as your face, discoloration, sagging, and dry skin still exist below the face. So seriously babe, it's time to show your bod some TLC. Before it's too late!
To help you out, we've came up with an affordable (and luxurious!) skincare routine specifically for your body. 
Cleansing
First things first, start checking those ingredient labels on the back of your body cleansers. You may not know it now, but a lot of these products contain harsh soaps and perfumes that steal your skin of hydration. If you have sensitive skin, these may be to blame for your skin irritation.
Instead, select skincare products that are gentle on the skin and contain nourishing, hydrating ingredients like shea butter, plant oils, ceramides, argan oil, and coconut oil. 
Also, steer clear of alcohol. It'll dehydrate your skin, and that glow you crave? It won't happen.
And if you're struggling with bacne, chestne, or buttne (or basically any form of body acne), look for a body wash that's made with acne-fighting ingredients such as salicylic acid.  
Product pick: Truly's 24k Gold Black Soap Impurity Cleanser. 
Exfoliating
It's time to shed those dead skin cells to brighten and soften your skin. And this is something you can do with just a little gentle exfoliation.
Look for products that contain alpha hydroxy acids (AHAs) or beta hydroxy acids (BHAs), as these acids exfoliate the skin's surface and even out skin tone without causing irritation. They're also better at cleaning out excess sebum from oily skin to unclog pores and keep the skin clear. 
While exfoliation is essential for all skin types, sensitive skinned folks should be extra careful. If you have eczema or rosacea, you should avoid exfoliation altogether.
On the topic of exfoliating, don't neglect your butt and boobs. It may seem strange that they need a skincare regimen too, but if you want to keep them looking perky, it's worth the investment. Seek out antioxidant-packed formulas and products that contain active ingredients such as retinol, vitamin C, or glycolic acid.
Product picks: Truly's Acai Your Boobies Lifting Polish & Truly's Buns of Glowry Butt Polish.
Shaving
Ugh. Isn't shaving the most boring task ever? It can also be painful - if you do it incorrectly, that is.
You can minimize the unpleasantness by prepping the skin properly, adopting the best techniques, and using some fun, sweet-smelling shaving products. 
To start with, you'll want to exfoliate the area you plan on shaving to bring the hairs completely out of the follicle. This will reduce your risk of ingrowns.
Next, use a luxurious shaving butter to hydrate and soften the hairs. Feel free to do this in the bath to make the whole experience a lot more enjoyable. Maybe light a few candles too? Really set the mood...
Another thing: make sure you're using a razor with multiple blades. We know the disposable ones are convenient and maybe you have a stack of them in your bathroom. But the best thing you can do for your shaving routine is invest in a high quality razor. It'll make things easier - and a lot less painful! Trust us...
Product pick: Truly's Coco Cloud Whipped Shaving Butter.
Moisturizing
Do you use body moisturizer every day? You should! And the best time to do it? Directly after taking a shower (or bath!).
"Moisturizing right after showering helps trap some of the water in your skin, keeping it hydrated," says Debra Jaliman, MD, a board-certified New York dermatologist.
You know how you moisturize after you wash your face? The same philosophy should be applied to the skin on your body. It's actually easier with the body because you can get away with richer, heavier lotions without fearing breakouts. That said, you might want to stick to a lightweight lotion if you're acne-prone.
Look for skincare products with moisturizing ingredients like hyaluronic acid that helps seal in hydration. And while you're at it, make sure you're slathering on a moisturizer with a nice, pleasant scent. It'll make your moisturizing session all the more fun! If you're seeing signs of aging in your skin, look for products that contain anti-aging ingredients like collagen or retinol. 
Product pick: Truly's Coco Rose Fudge Whipped Body Butter. 
Acne-Fighting
Now it's time to clear up those pesky pimples that crop up on your chest, back, and butt. Or wherever. If you want beautiful, healthy skin, avoid picking and start treating!
The best way to do that is with acne patches. 
These little stickers contain pimple-erasing ingredients to drain your zit of oil, dirt, and bacteria and prevent acne scars. 
Product pick: Truly's Super Heart Pimple Patches.
GET RENDEZVOUS-READY WITH TRULY'S DATE NIGHT SURVIVAL KIT
Whether it's a night out or at-home wellness session, prioritize body skincare with our Date Night Survival Kit. Featuring all the products mentioned above all wrapped into one pretty bundle, this kit preps, polishes, and treats all at the same time. Plus, it comes complete with an adorable gold spoon! All for under $120! Bargain, huh?
Just like you apply your toners, face oils, eye creams, vitamin C serums, and night creams every evening, make some space for your body's skincare routine, too! It doesn't need to be complicated. With a few simple products, you can get your bod glowing from head to toe. Cya cellulite, pimples, dryness, and dark spots! 
Just remember to stock up on a broad-spectrum sunscreen. Your skin's going to need plenty of SPF if you go out during the day time to prevent premature aging and skin cancer.
In the meantime, stay consistent with your body skincare routine, and pretty soon you'll be saying "my skin looks radiant!" 
Share
---