How Squalene Is The Key To Ingrown Hairs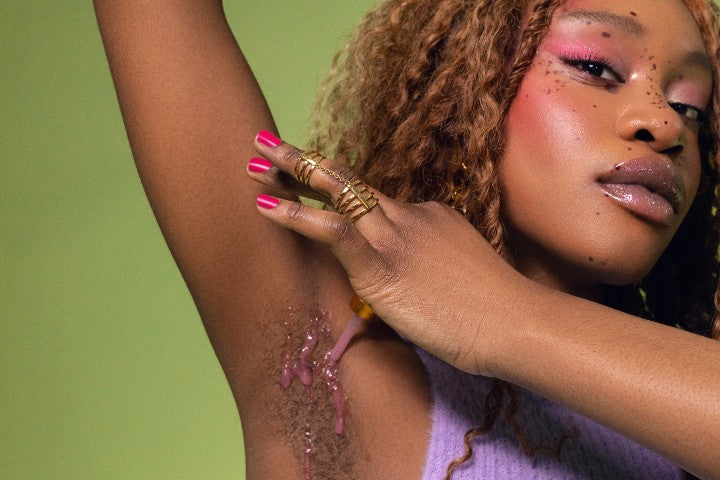 It might be time to introduce squalene into your skincare routine.
Squalene is a versatile skincare ingredient found naturally in the skin and used as an emollient in the beauty industry. It's also an antioxidant, effective at protecting skin against free radical damage and premature aging. Alongside this, squalene boasts powerful anti-inflammatory properties, making it a go-to ingredient for treating shaving issues like ingrown hairs.
Here's everything you need to know about squalene, and how it can eliminate those pesky post-shave ingrowns!
WHAT IS SQUALENE?
Squalene is a lipid that is naturally produced by the oil glands in our skin to hydrate and maintain a healthy skin barrier. It's easy to get confused between "squalene" and "squalane" (with an "a"). 
Squalene with an "e" can be found naturally in the body and is synthesised in the liver. It is an excellent moisturizing substance that protects and hydrates skin. Squalane with an "a", on the other hand, is what you are likely to see on a skincare product's ingredient list. This is because squalene is converted to squalane in skincare to make it more stable.
SKINCARE BENEFITS OF SQUALENE
Squalene is a brilliant emollient that works to moisturize and soften your complexion. According to dermatologists, it is also great for skin barrier support as well as skin tone and texture improvements.
"It is easily absorbed and prevents water loss from the skin, while also helping repair the barrier of our skin, protecting it against external environmental aggressors," explains the dermatologist and founder of Meder Beauty Science, Dr. Tiina Meder. "Its ability to reduce inflammation provides relief to those with acne, eczema, psoriasis, dermatitis, and rosacea too." 
She also adds that squalene can be beneficial as part of an anti-aging routine, enhancing skin's suppleness and vibrancy, and reducing the appearance of fine lines and wrinkles. It's definitely what we would call a skincare multitasker.
Best of all, the derms say squalene is a non-irritating ingredient, which makes it suitable for all skin types. Even if you have sensitive skin, you can sample this ingredient with ease knowing it won't leave you tight, red, and dry.
HOW SQUALENE QUELLS INGROWN HAIRS
There's no doubt about it: ingrown hairs suck. The trouble is, they're incredibly common. Since shaving and waxing are the two main triggers -- and the two most common forms of hair removal -- getting ingrowns post shave has become something of the norm.
See, your hair was not meant to be shaved. So when you do shave, the hair follicle ends up erupting with inflammation as a defence mechanism. It believes it needs to fix the issue at hand. 
Thanks to squalene's powerful moisturizing and soothing abilities, squalane oil can be particularly useful for alleviating redness, irritation, and dry skin. It's a nourishing formula that can quickly soothe ingrown hairs, razor burn, and razor bumps. Look for this ingredient in your shaving cream, cleanser, or lotion. 
THE BEST WAY TO USE SQUALENE TO TREAT INGROWNS
If you're keen on implementing squalene into your shaving routine, it's always best to check with your dermatologist. We recommend purchasing a product formulated with squalene rather than a pure squalene product, as this means it will be gentler on the skin.
Here's how to use squalene to treat ingrown hairs:
Exfoliate
Before shaving, always exfoliate the areas you're planning to shave (legs, underarms, bikini line, etc.) to remove dead skin cells and create a clean base for hair removal. Besides warding off ingrowns, exfoliating prior to shaving delivers a super close shave that'll leave you soft to the touch. And did we mention it'll also leave you glowing from head to toe?
Apply Pre-Shave Serum
Preparation is key when it comes to shaving. Our limited edition Super Fierce Pre-Shave Serum is formulated with ultra-nourishing marula oil and anti-inflammatory squalene to help hydrate and soften hair follicles, and secure a super smooth razor glide sans ingrowns!
The formula also contains watermelon extract, which is packed with vitamin C, delivering antioxidants and nourishment to skin. In addition to shielding skin from aggressors, it can also prevent skin concerns like dark spots and hyperpigmentation. 
Before shaving, apply a generous amount of pre-shave serum directly to skin as needed. Let it fully absorb before getting dressed. 
Treat it with Salicylic Acid
"Salicylic acid is really effective at breaking through and dissolving excess skin cells, and it's not usually irritating," says dermatologist Mona Gohara, M.D., associate clinical professor at Yale University. 
Dab it on morning and night, and be patient. Avoid digging the hair out with a pair of tweezers as this will only make matters worse and potentially even leave you with an infection. Remember, it will take around three of four days of consistent application to remove that ingrown hair.
Never Get Ingrowns Again with this Super Shave Bundle
Prevent and diminish ingrowns from ever occurring again by elevating your shaving routine. Our Powerpuff Girls collab just dropped this fabulous, ingrown-tackling shave bundle featuring five high-performing products: No Troubles Bubbles Shave Cream, What's Up, Buttercup? After-Shave Butter, Super Fierce Pre-Shave Serum, PowerPuff Girls Razor, and Pimple Power Pack. These products are hydrating, softening, anti-blemish, and anti-inflammatory.
Key ingredients include allantoin, squalene, hydrocolloid, and hyaluronic acid. These ingredients work together to fortify the skin, protect it from environmental stressors, and leave your limbs ingrown-free. Best of all, all the products in this line are suitable for all skin types and concerns. Oily skin, acne-prone skin, sensitive skin -- all skin types can benefit.
Plus, you'll be happy to hear that all our products are cruelty-free, vegan, and free of parabens. 
Every time you shave, use these products to guarantee a smooth, ingrown-free shave every single time.
You can also combine squalene with other skincare ingredients like jojoba oil, tea tree oil, aloe vera, and olive oil for added hydration and soothing effects. Most important of all: be patient and stay consistent! You won't see the benefits unless you give it time to kick in. 
Share
---