How to Make Your Tan Last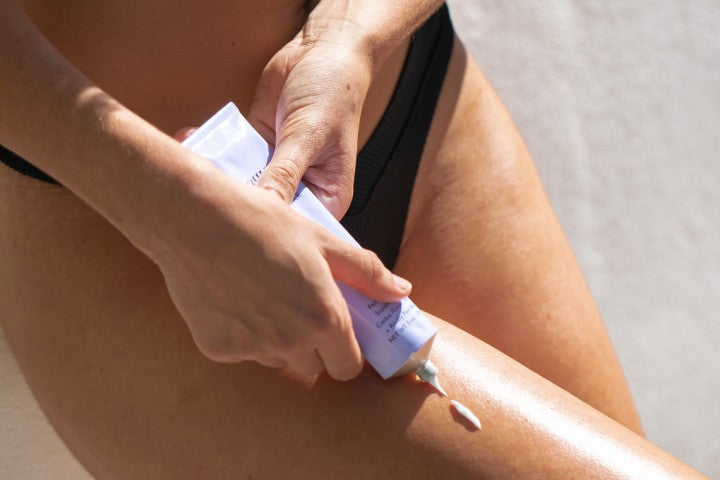 We've all experienced it. You have the perfect tan and then it starts to fade and you're left with a blotchy, uneven complexion. Well, we are here to help! Here are our tips on how to make your tan last longer so you can finally enjoy the sun without worrying about your fading glow.
We understand how difficult this can be when trying to balance work schedules or just getting around town during the summer months. That is why we have created a post that will help you achieve an all year-round perfect glow! All our best tips, tricks, and advice are in one place for you - no running around needed! We hope these tips will be helpful for any questions you have about how to make your tan last as long as possible.
Exfoliation
Exfoliating is important if you want your tan to last. Dead skin cells sitting on the surface of your skin could be ruining your glow. By sloughing these away with a gentle body exfoliator like Truly's Matcha Scrub, you can show of your bronzed tan underneath.
And you don't need to worry about scrubbing away your tan because the melanin in your skin cells isn't affected by exfoliating.
If you'd prefer a gentler alternative, try Truly's Face Towel for exfoliation.
Don't go over the top, though. Once or twice a week is enough to maintain glowing, golden skin.
Extra Moisturization
The secret to making your tan last longer, whether real or faux, is moisturizing. A moisturizer like Truly's Body Star Perfecting Cream will help keep your skin hydrated and soft. This is especially important if you have dry skin, but it's also a good practice to follow all year round.
"Always keep you skin extra moisturised before, during and after tanning" says Camila Pierotti, Founding Partner and Lead of Product Innovation at Sol de Janeiro. "because the sun dries out your skin."
For best results, apply plenty of moisturizer after every shower.
Hydration from the Inside, too
Drink plenty of water to boost your tan's lifeline. A healthy, well-hydrated body will produce a better-looking tan and it can help you maintain your skin's elasticity. Water is also the best way to stay hydrated all day long when it's hot outside. So drink up!
Avoiding Hot Showers
To extend the life of your tan, keep your shower temperature down. Stay away from hot water for a while after applying tanning lotion because it will wash away what was just applied, this includes swimming in a pool.
A good rule of thumb is taking a few days off from the heat after you've applied tanner, but continue with light moisturizing and use sunscreen every day until it fades away completely.
There are some people who swear by this trick to prolong their tan, but it's not a sure-fire way to make it last. The heat can sometimes cause your skin to dry out more or you may be sensitive and have an adverse reaction from the hot water that would ruin your faux glow for good.
Another thing to keep in mind is how long you are going into the sun. If you've been out all day, it can take up to a week for your tanner to develop again before the first signs of reappearance will show up and last longer than just 24 hours.
Protecting Your Skin with SPF
Wear SPF 30 or higher when you go outdoors to boost the longevity of your tan once you're home.
"I recommend applying SPF all over your body before putting on your bikini or clothes" says Pierotti, "that way if anything moves around, your skin will be protected and you avoid burning and ruining a tan!"
Remember to always wear protective clothing, like a hat or sunglasses when you are in the sun. This not only protects your skin from UV damage but it also prevents any blotches on your face that can happen if you've missed some spots while applying bronzer.
If Your Tan Fades Too Soon…
It's so frustrating when you dedicate time into achieving that perfect bronze only for it to fade away before your next beach trip. If this is happening to you, the problem may be that you are using a product with too much DHA in it for your skin type and/or applying it too often.
It helps to do some research on what products contain which ingredients so that they will work better for your skin type as well as which ones might be too harsh for your skin.
If Your Tan Is Streaking
Streaks happen when you don't apply enough lotion or if there is still some dryness on the surface of the skin.
If Your Tan Is Too Dark
Products with a higher concentration of DHA can result in the tan being too dark for your natural skin tone. The solution is to mix your product with some body lotion or petroleum jelly so that you don't over-expose yourself and then apply again, but this time with less product on your skin.
If Your Tan Is Peeling
Peeling is a natural process that happens when your body sheds its old, dead cells to make way for new ones. This means that the tan you have been working on will eventually start peeling off and fade away so it's best to find products with moisturizing ingredients before applying.
How to Extend Your Tan
When you do finally get your tan, follow these tips for how to extend it. One of the best ways is by simply avoiding too much sun or spending less time in direct sunlight which will help you maintain that fresh glow effect. You can also wear a moisturizer every day at night so that when you wake up and shower in the morning, your skin is protected from drying out.
Share
---