How to Prep Your Skin For Fake Tan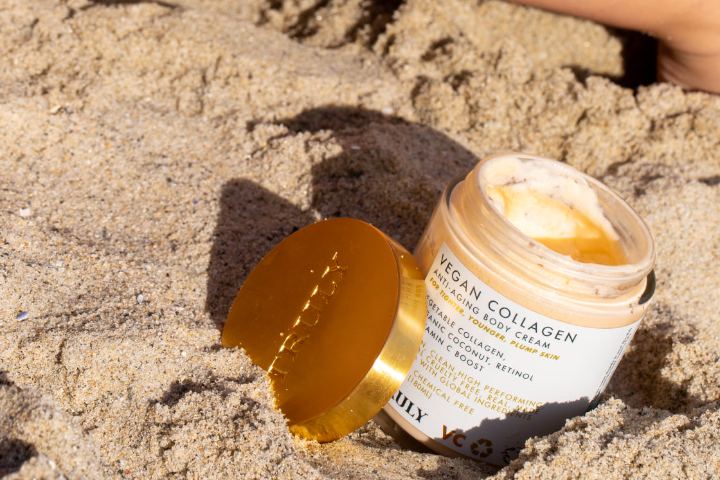 Looking to bronze up this summer?
Thanks to the huge variety of lotion-based tanning products you can buy these days, you no longer need to expose your skin to damaging UV rays in order to get a golden glow. 
Self-tanning products deliver a gradual tan that can look just as even as a sun tan - without the nasty side effects like photoaging, sunburn, and sun damage. 
So where do you get started with the self-tan process? Is there a right and a wrong way to apply it? And of course, what's the best type of fake tan to choose?
Below, we answer your most pressing questions about fake tanning.
LOTION-BASED TANNING VS. OTHER TANNING METHODS
While you can go to the salon for a spray tan or apply self-tanner mousse from the comfort of your home, we personally like lotion-based tans the best. They're easiest to apply and the most convenient. They work a lot like body lotions. You apply them daily after your shower, only with each application you see a gradual tan appearing.
The great thing about lotion tanners is they don't cause as much build up as other tanning products. They also simultaneously tint and moisturize your skin.
Nevertheless, while lotion-based tanning might not deliver results as instantly or dramatically as other varieties, you'll still need to prepare your skin before applying it to get an even, streak-free faux glow.
TANNING PREP TIPS
Buff Your Skin
For seamless tan application, always start with an exfoliation session. Doing this will slough away dead skin cells, creating a smooth and even base on which to apply your tanning cream.
"I urge all tanning pros at home to exfoliate gently the morning or evening before tanning application - you'll really notice a difference in the strength of the tan," advises leading tanning expert, James Harknett.
Opt for oil-free exfoliators as these don't leave a film on the skin - not ideal for tanning. Besides sugar scrubs, you can also buff your skin using an exfoliating mitt, loofah, or wash cloth. 
Dermatologists recommend exfoliating once a week using a body scrub like Truly's Moon Rocks Scrub to keep your skin smooth and soft, without causing irritation. If you have sensitive skin, look for a super-gentle exfoliant that won't irritate your skin. 
Using circular motions, rub the body scrub onto your skin, avoiding rubbing too hard. You'll notice your skin instantly feels smoother. Now that you've got the perfect base, your fake tanning lotion should sink in nicely.
Shave
"Any hair removal should be carried out 24 hours prior to tanning," says celebrity tanning expert and founder of Isle of Paradise Jules Von Hep. "This is done to ensure the skin has calmed and any cuts have healed. I simply cannot bear it when a client tells me they are off to get waxed immediately after a spray tan – it defeats the whole point as the wax will whip off the tan in no time! No more, ladies PLEASE!"
For the perfect shave, take advantage of Truly's 3-Step Silky Smooth Shave Set. It features a body scrub, shaving butter, and body butter for ultra-smooth, hydrated, glowing skin. Did you know shaving is also a form of exfoliation? So your skin will be perfectly prepped for your tanning lotion. 
Moisturize
It's best to apply moisturizer the day before you apply your self-tan. This will hydrate your skin and prevent dry skin from ruining your glow. Don't moisturise your body or wear deodorant on the day of your tan application as this will cause patchiness.
On that note, there are a few areas that need a little moisturising before tanning. Dab a lightweight moisturiser like Truly's Vegan Collagen Body Cream onto the drier areas of your body, like your elbows and ankles. These need a little more hydration to prevent cracking and streaking. You can also apply a little hand cream to your wrists to prevent muddy marks from appearing there. 
Invest in a Mitt
Feel free to use your hands to apply self-tanning lotion, but according to the experts a tanning mitt is your best option for even application. 
Using an applicator mitt, pump your tanning product onto the mitt. Then apply it to the skin using sweeping motions to evenly distribute the product.
"Start at the ankles and work your way up, I'm a fan of one coat in the winter and two in the summer – but tanning is all about you and your personal preference!" says Von Hep. "When it comes to your back, flip the mitt back to front, you'll find it easier to apply or use a self-tan spray with 360° technology meaning it will spray at whatever angle you put it at."
TANNING TIPS TO BEAR IN MIND
Avoid waxing directly after tanning - your tan will end up looking patchy as the wax will remove some of the pigment. 
Showering comes before fake tan, not after - if you're tanning at home, shower before applying your St. Tropez tanning lotion. Showering afterwards will cause the product to slide off. Our top tip? Blast your skin with cold water to close and minimize the appearance of your pores before application. 
Take your time - whatever you do, don't rush the tanning process. For an even application, take your time going over every inch of your body, making sure everywhere is covered. 
Contour with bronzer - you can enhance the appearance of your tan by contouring the skin with bronzer and highlighter. 
Maintain your fake tan with moisturizing products - to keep your tan looking natural and glowing, apply hydration skincare products on a daily basis. This will look in moisture and stop your skin from peeling. 
Want to get super-tanned and glowing this summer without putting your skin through the havoc-wreaking effects of the sun? Invest in a good self-tanning lotion to get a natural, beautiful tan so you don't have to worry about premature aging or sun damage. 
Share
---