How to Shave Body Hair: A Full Body Shave Routine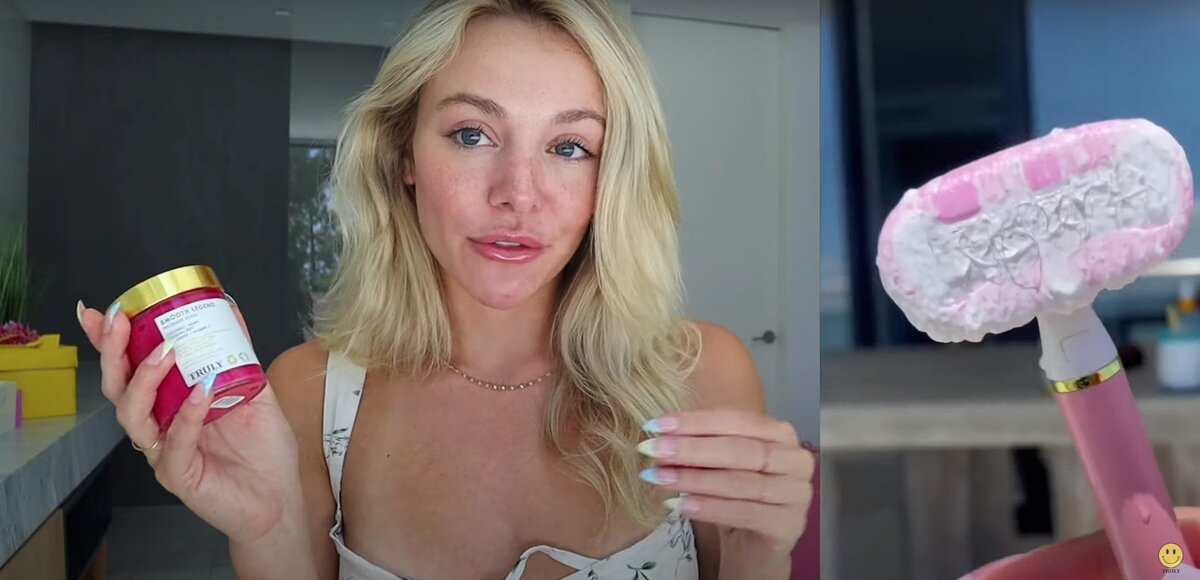 Wondering how to shave body hair without ending up dry, red, bumpy, and irritated? We've got you, babe! 
We've developed a full body shaving routine for women that'll leave you silky, smooth, and glowing all over. While shaving your body hair may seem tedious at times, you'll love it (and even look forward to it) once you've got your arsenal of sumptuous shaving products. They really make the process way more fun!
Here's how to shave body hair and the best products for the job. 
Step 1: Choose Your Shave Set
The best shave starts with the best products. If you'd like to know how to shave your body hair without getting razor burn, bumps, and ingrowns, try one of these bestselling women's shaving sets.
Glazed Donut Shave Set
Why you need it: A 5-step shave routine to get you supermodel-smooth and glowing. From the fluffy whipped shave butter to the soothing, melts-into-skin after shave cream, everything in this set is absolute luxury and indulgence. It's also perfect for anyone with dry or sensitive skin. When it comes to how to shave body hair this kit makes it easy!
What's inside: 
24K Gold Black Soap Luxury Butter Impurity Cleanser
Soft Serve Whipped Shave Butter
Glazed Donut After Shave Oil
Glazed Donut After Shave Glow Cream
Life Shaver Starter Razor
Gold Ice Cream Scoop
Key ingredients: Peptides, Hyaluronic Acid, Niacinamide, Vitamin E
Scents: Sweet vanilla glaze + strawberry sundae
The Smooth Legend -- Complete Collection
Why you need it: Take your shave to a whole new level with this XXL shaving set. It features a lineup of Truly's bestselling formulas (8 in total!) + a razor and vegan leather trunk. Ingrowns, razor burn, and redness just don't happen here! It's the perfect way for how to shave body hair and end up like a satiny dream.
What's inside: 
Life Shaver Starter Razor
Smooth Legend Pre Shave Scrub
Berry Cheeky Butt Clearing Polish
Happy Hairless Shave Butter
Cooka Oil
Cooka Concentrate
Glazed Donut After Shave Oil
Unicorn Fruit Body Butter
Super Heart Patches
FREE Amalfi Luxury Travel Trunk
Key ingredients: Tea Tree, Lavender, Shea Butter, Allantoin, Vitamin E
Scents: Juicy passion fruit and vanilla + therapeutic tea tree
Ultimate Coco Cloud Shave Set
Why you need it: Take your shave to tropical paradise with this creamy, dreamy shave routine. Smoothing, healing, and oh so hydrating, Ultimate Coco Cloud Shave Set gives you the kind of shave you can only dream about. Think: velvety smooth, gleaming skin minus nicks and bumps. Aka, the perfect routine for how to shave body hair. 
What's inside: 
Coco Cloud Whipped Luxury Shave Butter 
Coco Cloud After Shave Serum
Coco Cloud After Shave Moisturizer
Truly Blue Razor
Truly Blue Cloud Bag
Key ingredients: Coconut Milk, Argan Oil, Shea Butter, Vanilla, White Tea
Scents: Creamy coconut and warm vanilla
Step 2: Start in the Shower
The next step for how to shave body hair starts in your shower or tub. Showering before shaving preps skin for a perfect shave as the warm water softens the skin and hair follicles.
A warm shower softens the skin and hair while washing away dirt and impurities for a smoother, closer shave. It might be tempting to dry shave when you're stuck for time but don't. Dry shaving = nicks, cuts, razor bumps, and irritation.
Step 3: Buff Away Razor-Clogging Buildup 
To get a smooth, stubble-free shave, exfoliation is essential. This step is especially important if you're prone to razor bumps and burn, as exfoliation helps remove dead skin cells that can accumulate and dull your razor and ultimately cause irritation.
Using a scrub or washcloth, gently buff your entire body before you shave your body hair to ensure an effortless razor glide and silky smooth result. It'll also make your skin extra glowy once you're done!
Step 4: Lather Up With Shaving Cream (or Even Better -- Butter!)
The cardinal rule of how to shave body hair: never skip shaving cream. You need it to lubricate the skin and create a barrier between your skin and razor. Plus, shaving cream helps to soften the skin and hair, making it so much easier for your razor to glide across and remove hair.
Shave butter is becoming the fave for shaves as it's even more hydrating and softening than your average cream. And it feels so luxurious! Create a lather using your shave butter and a little water, massage into desired areas, and you're ready to go!
Step 5: Shave with the Grain
When it comes to how to shave body hair without razor bumps and burns, you need to ace your shaving technique.
Starting with a clean, dry razor, shave in the direction of the hair growth to prevent redness, irritation, and ingrowns. How you shave can significantly affect how the end result looks and whether or not you experience irritation in that area.
Besides shaving in the right direction, make sure you only go over each area one time. Gliding over the same area more than once can maximize your risk of painful bumps and ingrown hairs.
Another important thing to remember: rinse your razor between shaves. If your razor is clogged with hair or shaving cream buildup, it won't work as effectively.
Step 6: Rinse and Pat Dry
Once you're done shaving, rinse away your shaving butter with warm water, step out of the shower, and pat the area dry with a clean towel.
Step 7: Apply an After-Shave Serum
This is the step most people miss in their how to shave body hair routine. Now that you're all freshly shaved, your skin is extra delicate which is why it's important to apply a cooling after shave product.
Finish your body hair shaving routine with a soothing after shave serum. Look for ingredients like coconut milk, vitamin E, lavender, tea tree, and niacinamide which help to soothe, heal, and calm post-shave skin. It'll also prevent ingrown formation.
Step 8: Moisturize
Finally, finish your routine with a generous layer of moisturizer to retain skin's moisture and prevent dryness. You don't want anything too thick or rich.
Opt for a light yet deeply hydrating formula enriched with emollients and humectants like shea butter, coconut oil, and hyaluronic acid. These will lock in moisture while strengthening the skin barrier for a sumptuously smooth and soft finish.
What is the Proper Way to Shave Your Body Hair?
Despite what you may have heard, there is a right way to shave your body hair. When it comes to how to shave body hair, you should always use a shaving cream, shave in the direction of hair growth, and avoid going over the same area twice. You'll also need to keep your razor clean in order for it to work its best and prevent dulling the blades.
Do You Shave Your Body Up or Down?
Always shave with the grain (in the direction of hair growth) to prevent razor burn and ingrown hairs. While shaving against the grain can give you a closer shave, it can also lead to various skin problems such as redness, irritation, and razor bumps.

How to Shave Body Hair Without Ingrown Hairs: Tips
 For the smoothest shave without cuts, burns, and ingrowns, follow these tips.
Choose quality shave products
Exfoliate before shaving
Always apply shave cream or butter
Invest in a quality razor
Shave in the direction of hair growth
Rinse your razor between glides
Follow up with a soothing after shave serum
Moisturize after shaving 
Now you know how to shave body hair like a pro, and the best products to do it with, you can look forward to a velvety smooth, ingrown-free shave every single time.
Watch our how to shave body hair tutorial:
Share
---