Truly Beauty Unicorn Bath Bar: 1 Product, 5 Uses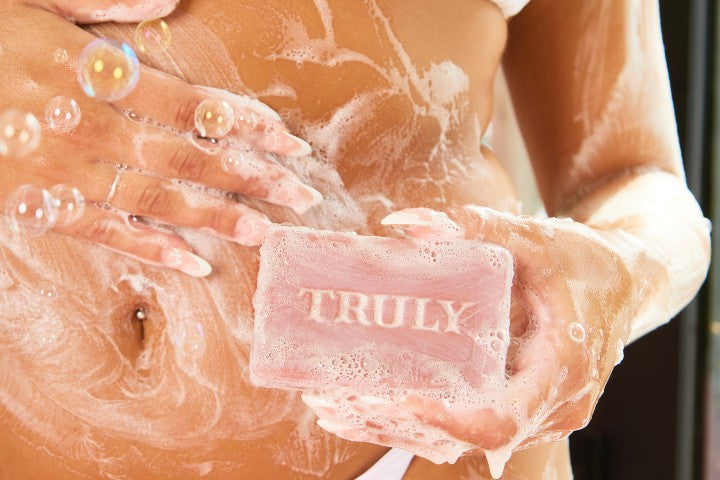 Have you tried our NEW Unicorn Bath Bar yet? It's our first ever soap bar...and it's just longing for a place in your beauty routine. Inspired by our cult-favorite, TikTok-famous Unicorn Fruit Whipped Body Butter, this soap bar is the newest addition to our Unicorn Fruit fam.
Like all our skincare products, it's 100% vegan, cruelty-free, and made with clean, high performing active ingredients to deliver visible results — FAST.
But it's no regular bath bar. Here are five uses of our new Truly Beauty Unicorn Bath Bar...
#1: Washes Away Impurities
Lather up with this luxury cotton candy scented soap bar, and smell like a snack all day long. Unicorn Bath Bar is a moisturizing and exfoliating bar soap that's enriched with acai berry, rosewater, and vegan collagen to hydrate, brighten, and soothe while ridding skin of dirt, oil, and impurities. Throughout the day, your skin accumulates a buildup of grime, dead skin cells, and sebum that needs to be cleansed away at the end of the day to keep pores clear and odors away.
Even the most sensitive skin can enjoy showering with this ultra-gentle soap, which can be used on the face and body. You can also pair it with our other UF products (Unicorn Fruit Whipped Body Polish, Unicorn Fruit Eau De Parfum, etc.) for a long-lasting pink sugar scent.
It's honestly not a patch on your daily body wash. This does-it-all soap bar buffs away dirt and dead skin while replenishing lost moisture, so you can step out the shower feeling irresistibly smooth and fresh instead of dry and tight.
#2: Banishes Body Odors
Contrary to belief, sweat doesn't smell. It's when sweat mixes with bacteria that unpleasant odors occur. You can lather away bacteria and bad odors with this nourishing soap bar. Thanks to its exfoliating properties, it can buff away the buildup of dirt and dead skin for skin that feels and smells instantly fresher. Use it together with our NEW Unicorn Fruit Deodorant to smell great all day. It's made with mango butter, papaya enzymes, coconut oil, and symwhite 377 which work together to remove odors and buff away discoloration without irritating skin or staining clothes.
To keep your pits and other smelly areas smelling sweet, lather up with this soap bar in your daily shower. It's one of our newest beauty products and one that's guaranteed to put a smile on your face — and energize your day.
#3: Brightens Skin
Thanks to its exfoliating powers, Truly's Unicorn Soap Bar can instantly brighten and illuminate skin on your face and body. Exfoliation is one of the best ways to give your skin a speedy glow up. That's because it buffs away old, dead cells on the skin's surface, revealing fresh, glowing skin underneath. To maintain head-to-toe radiance, we recommend using this bath bar in your daily bathing routine. It's suitable for all skin types, from dry skin to sensitive skin. And it's gentle enough for daily use without freaking out your skin.
To get the most out of this bath bar, hold it under warm water to create a lather and massage it into your skin. Let it sit on the skin for a minute before rinsing off to let those active ingredients activate and work miracles on your skin.
#4: Diminishes Discoloration
Discoloration is a common skin concern that occurs for a number of reasons. Everything from hormonal changes to poor shaving techniques can cause dark spots and discoloration. If you're experiencing it first hand, reach for this resurfacing soap bar. Packed with antioxidant properties, rosewater and acai work in tandem to regenerate skin tissues and promote the formation of more evenly pigmented cells. They also fight free radicals, making this soap bar an excellent anti-aging treatment for keeping skin smooth, radiant, and discoloration-free.
Pair it with our Unicorn Fruit Whipped Body Butter to boost its effects. This buttery lotion is enriched with shea butter, matcha, aloe, vitamin E, and cocoa butter, all loaded with anti-inflammatory and hydrating properties to deeply nourish skin, diminish dryness, and promote an even skin tone.
#5: Wards off Blemishes
Keeping pores clear is key to keeping breakouts at bay. If you've got oily skin or acne-prone skin already, it's important to keep skin as clean as possible to stop your pores from becoming clogged. Unicorn Bath Bar is exactly what you need in your bathing routine to keep skin clear.
Its key ingredient — rosewater — maintains the skin's pH balance, controls excess oil production, and eliminates inflammation. By keeping oil levels balanced, it prevents the skin from producing too much oil, which results in pores becoming clogged and blemishes surfacing.
Use this soap bar in your daily shower routine to decongest pores, prevent the buildup of dead skin and oil, and keep skin blemish-free.
HAVE YOU TRIED OUR OTHER UNICORN FRUIT PRODUCTS?
In addition to those mentioned above, here are some other Unicorn Fruit products to try for a complete routine: Unicorn Fruit Lip Plumping Balm, Unicorn Hair Mask, Unicorn CBD Body Butter, and Unicorn Polish. They all contain nourishing ingredients like organic coconut oil, glycerin, peppermint, and shea butter to seal in lasting moisture for smooth skin, plump lips, and shiny, strong hair.
SUBSCRIBE TO OUR UNICORN FRUIT BATH BAR
You can make a one-time purchase or you can save yourself the time and money by subscribing to our Unicorn Fruit Bath Bar. We'll deliver it straight to your door each month, two months, or three months — depending on your preferences. Subscribe now, and you'll save 10% on every order.
It's a no strings attached policy. You can pause or cancel anytime if you're unsatisfied with the product or plan on going away for a while.
The Truly Beauty Unicorn Bath Bar is our first ever soap bar that was made with a slew of skincare perks. Grab yours now, and start upgrading your shower days! Psstt...keep your eyes peeled for more exfoliating soap bars — set to arrive on Truly shelves soon!
Share
---