What Skincare Products To Use On Your Pubes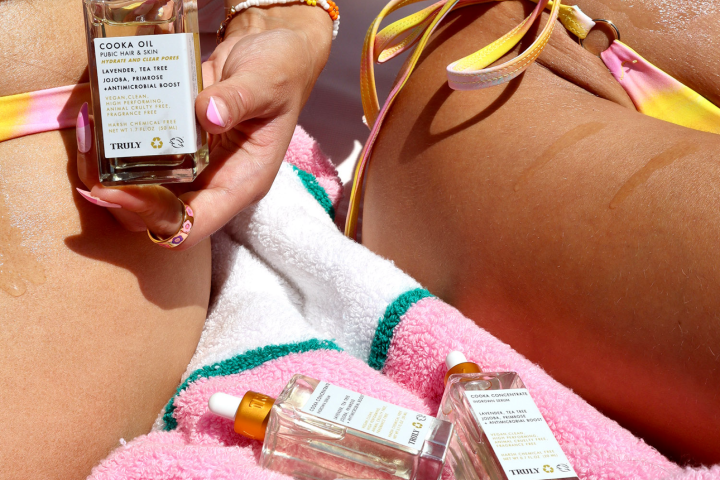 Whatever you do or don't decide to do with your pubic hair is totally your choice. However, there is one thing we're 100% of: your "sacred space" deserves a little extra attention.
Since your bikini zone is so delicate and so sensitive, it's easy to succumb to issues like ingrown hairs, razor burn, dryness, and general irritation. 
Investing in a few good skincare products can drastically improve the texture and appearance of your pubic area -- making things waaaay more manageable.
Scroll down to hear about the most pube-friendly products out there.
Why Your Body Hair Needs Skincare Products 
Whether you shave off or keep your body hair, your pubic area still demands TLC. Using hydrating and soothing body care products can combat everything from shaving irritation to ingrowns and dry skin. 
To keep your bikini line and pubes perfectly soft, smooth, and healthy, you're going to need a handful of products in your arsenal: a gentle cleanser, invigorating exfoliator, a hydrating shave cream/butter, and of course: a soothing serum. And if you are planning to shave your sacred area, be sure to use a high-quality razor. No cheaping out there unless you want a B-zone full of bumps, nicks, and ingrowns. Ouch!
Using these products in your daily skincare routine can make managing *down there* so much easier -- and smoother!
The Best Products to Use On Your Pubes
Wondering what products to use on your pubes? We've got you! Here, we've rounded up the best products to keep your bikini area healthy, happy, and chill.
Moon Jelly Adaptogenic Body Cleanser
The first step in any beauty routine should be cleansing. Cleansing removes the buildup of dirt, dead skin cells, and oil so you can start with a clean, fresh base. If your chosen hair removal method is shaving, the last thing you want is your dead skin and grime clogging up your razor. That's just a recipe for razor bumps and burns.
Use our Moon Jelly Body Wash to cleanse away dirt, oil, and impurities. It's made with a skin-soothing blend of lavender, ashwagandha, and chamomile to cleanse the skin while helping reduce the impact of environmental stressors such as UV rays and pollution.
Smooth Legend Pre-Shave Scrub
Truly's Smooth Legend Pre-Shave Scrub can be used on or in between hair removal days to buff away dead skin and help protect against nicks and cuts. Whether you shave or embrace your pubes, exfoliation should not be skipped. It is an essential part of skincare needed to keep skin clear and smooth.
This nourishing formula exfoliates away dead skin, loosens hair follicles, and eliminates oils and dirt on the skin's surface to prevent ingrown hairs.
Infused with hydrating coconut oil, soothing lavender, and youth-restoring grape seed extract, this shave scrub ensures a super close razor glide and a silky post-shave feel -- every time. 
Happy Hairless Shave Butter
Shave gels and creams are imperative when shaving any part of your body, but especially sensitive areas like your bikini line. Shave butters are actually the best since they're way more moisturizing than conventional creams and gels.
Use Happy Hairless Shave Butter during your shave to provide a protective layer of glide for an effortless shave without any irritation.
Vitamin E, passion fruit, and coconut oil lend their healing, hydrating, and soothing powers for a seamless finish. Plus, it works for all skin types -- even sensitive skin!
Life Shaver Starter Razor
Literally the only razor you need for a perfect shave. 
Our Life Shaver Starter Razor is made with double blades and a flex-grip handle for an easy glide and ultra-close shave every time. Whether you're a shaving newbie or not, everyone can benefit from using this smooth-inducing starter razor. It guarantees that feeling of a fresh shave on silky sheets, everytime you use it. What's not to love?!!?
Anyone prone to nicks and cuts will LOVE this versatile tool.
Cooka Bundle
AKA, the bikini line kit...this bundle features our Cooka Oil and Cooka Concentrate, both designed to soften coarse pubic hair, alleviate ingrowns and leave the skin smooth and supple. They're formulated with gentle, natural antimicrobials such as lavender, tea tree oil, jojoba oil, and primrose to help diminish post-shave dryness, and promote healthy hair growth.
This fast absorbing duo can be used directly on the pubes to soften and hydrate. Or, it can be used as a post-shave topical treatment to soothe irritation and prevent ingrowns.
Best of all, it can used anywhere on the body where hair meets skin -- your legs, underarms, and even your face!
Glazed Donut Shave Oil
Another fab product to add to your pube routine -- our Glazed Donut After Shave Oil. This cooling, flash-absorbing formula replenishes lost moisture without leaving you greasy. It also combats ingrowns and heals active bumps, burns, and inflammation.
Coconut's anti-inflammatory properties work in tandem with vitamin E's hydrating benefits - translating to smooth, supple, irritation-free skin. 
Unicorn Fruit Whipped Body Butter
Seal in all your skincare products with our soothing and highly moisturizing Unicorn Fruit Body Butter. It's like body lotion -- only thicker, creamier, and harder working!
Made with a shea butter base and infused with nourishing natural ingredients like aloe vera, acai, vegan collagen, and matcha, this deeply conditioning multi-colored body moisturizer creates a protective, hydrating barrier for super smooth and healthy skin.
Use it post-shave or just as a general daily body butter to keep your pubes -- and the rest of your hot bod -- primped to perfection!
Your pubes deserve just as much attention as the hair on the rest of your body. Equally, your bikini area needs a little pampering to keep things smooth -- just like the skin on your face and the rest of your body. 
Speak to a dermatologist of gynecologist if you're experiencing unpleasant symptoms in your pubic area, such as chronically dry skin or irritation. In the meantime, steer clear of products containing parabens, essential oils, and dyes, which can be irritating to the skin. 
Share
---