A Complete Guide to CBD Skincare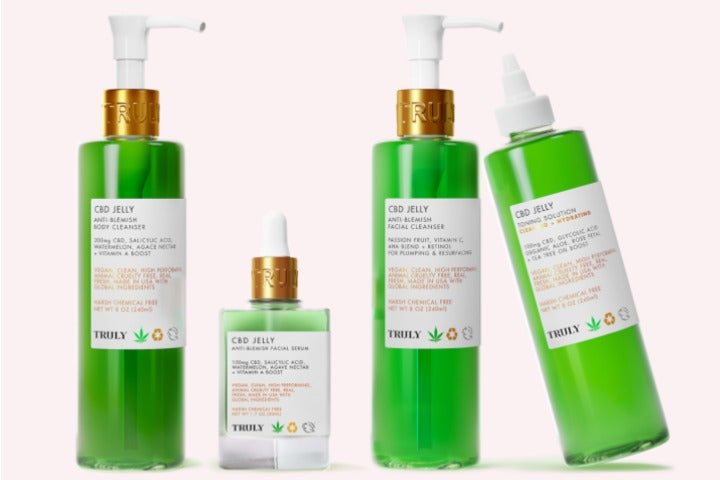 CBD is to the skincare world what TikTok is to the social media world. It's new, but it's been around long enough for us to know that it's a big deal – and that it's majorly exciting. Most people have either already used CBD or are curious about giving it a try themselves. There's no doubt about it: CBD – and the craze surrounding it – is definitely here to stay.
From sunscreen to serums, lip balms to cleansers, there is a wide selection of CBD-infused skincare products that you'll find in beauty supply stores all over the country. 
The global CBD cosmetics market, according to a recent Market Watch report, is said to be valued at over $580 million. Grand View predicts it will hit $1.7 billion by 2025.
So if you're keen on trying CBD for yourself, but you're unsure where to start and if it will help your skincare concerns, read on. We're going to explain everything you should know about CBD in skincare.
WHAT EXACTLY IS CBD? 
Cannabidiol, also known as CBD, is a naturally-occurring chemical compound in the hemp and marijuana plants. CBD is one of the two active ingredients of cannabis – the other one is called tetrahydrocannabinol (THC), which is an active psychotropic. 
According to board-certified dermatologist Dendy Engelman, MD, CBD interacts with our cannabinoid receptors and in doing so, helps the skin.
"We have receptors in every layer of our skin which trigger to our body when there is pain, an itch, etc.," she explains. "Topical CBD is designed to help those with pruritic skin conditions like eczema or painful conditions like post-herpetic neuralgia when our body's signals are going haywire. For example, it is not necessarily targeting eczema, but the hormones that are causing the eczema flare-up."
CBD oil is the ingredient typically used in skincare products. You can find CBD creams, masks, serums, and chapsticks. It's an effective ingredient that can work wonders for your skin. Now let's take a look at the actual benefits of CBD for skin.
BENEFITS OF CBD FOR SKIN
Anti-inflammatory
For starters, studies show that CBD is a powerful anti-inflammatory. 
"Cannabidiol offers some serious antioxidant and anti-inflammatory benefits which can be beneficial in treating skin concerns like inflammation, dryness and free radical damage," says NYC-based aesthetician, Ildi Pekar. Additionally, CBD can be effective in treating eczema and psoriasis – two common inflammatory skin conditions. It can also ease rosacea and itching. 
Breakouts
Between reducing excess sebum, inflammation, and swelling, CBD can treat breakouts as well as acne. It can also make those painful pimples look a lot less red and painful. In fact, CBD is becoming quite the popular over-the-counter treatment for acne. Numerous studies show how CBD reduced lipid production from the sebaceous glands, resulting in reduced oil production. If you have severe acne, please consult with your dermatologist prior to starting CBD treatment. Learn more about the effects of CBD on acne.
Scarring
If all that pimple picking during your adolescence has left you with ugly acne scars, it might be worth trying CBD oil to help fade them. According to a study, CBD ointment drastically improved the skin of scar tissue patients. In other words, it should work just as well on acne scars.
Anti-aging
Packed with antioxidant properties, CBD oil is known for lessening the visible signs of aging such as fine lines, wrinkles, and sagging. CBD works by fighting free-radical damage and lessening the appearance of aging. Using CBD creams and serums regularly can result in fewer wrinkles and an improved skin tone. They can also prevent premature aging from occurring full stop. 
Hydration
On top of all its other skincare benefits, CBD is also a powerful moisturizer. So if you suffer with dry skin on a regular basis, investing in a high-quality CBD lotion could make all the difference to the quality of your skin. Its hydrating properties can help combat dryness and dehydration after just one use. However, for best results, we recommend making it part of your daily skincare routine. 
SIDE EFFECTS OF TOPICAL CBD 
Fortunately, CBD is a relatively safe skincare product. It's ideal for sensitive skin types, thanks to its potent anti-inflammatory effects. Still, it's important to pay attention to how your skin reacts to CBD. If you experience a bad reaction, you should immediately stop using it to prevent further irritation. Overall, it is considered to be a safe and natural product with minimal side effects that's suitable for all skin types.
HOW TO USE CBD
You can use CBD products just as you would use your other skincare products, layering them from the thinnest to the thickest. So let's say you've got a CBD serum and moisturizer. You'd apply the serum first, followed by the moisturizer. 
Experts warn against using CBD skin products that contain alcohol, as this can weaken the beneficial effects of CBD and worsen inflammatory skin conditions. 
SHOULD YOU TRY CBD SKINCARE PRODUCTS?
Like what you hear about CBD skincare? Then you'll want to make sure you buy the best CBD skincare products. Clearly, there are a variety of benefits of CBD so it's definitely worth giving it a try to see for yourself.
When you buy CBD oil or CBD-infused skincare products, always look for full-spectrum CBD or CBD isolate. The former contains all the compounds found in hemp and the latter is the purest version of CBD. Thus, they are both the best for facial skin. Packed with antioxidants and without any pore-clogging added ingredients, they'll provide you with the skincare benefits unnatural products can't. 
You should also look for products that mention either "hemp extract," "cannabidiol," or "full-spectrum CBD" on the label. And to be extra safe, look for a product with a high amount of CBD. For example, if you want a product to be effective for treating your acne, you'll need a product that has a higher percentage of CBD. Otherwise it just won't yield the results you seek.
All in all, we highly recommend making CBD a part of your daily skincare regimen. Regardless of your skin concern, you'll definitely see a return on your investment.
Share
---