Fight Acne with Tea Tree Oil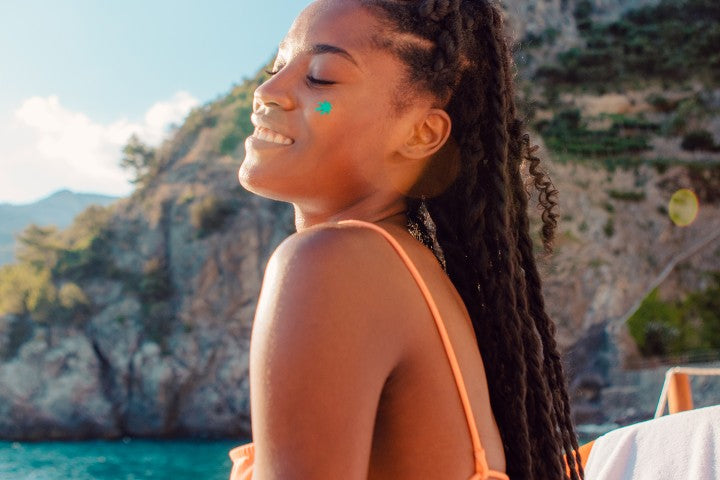 With its marvellous anti-inflammatory properties, tea tree oil is an effective acne remedy.
Just a few drops of this essential oil are enough to work magic on your skin. You can apply it in its organic form or blended with skin-loving superfoods -- either way, you're going to benefit from tea tree oil. 
Health care professionals and researchers also claim the benefits of tea tree oil go beyond skincare. It's said to be a natural remedy for issues like dandruff, Athlete's Foot (tinea pedis), nail fungus, and other fungal infections. 
In this article, we intend to focus on tea tree oil in the treatment of acne, how it works, and which skincare products you'll find it in! 
WHY USE TEA TREE OIL TO TREAT ACNE?
Derived from a plant native to Australia known as Melaleuca alternifolia, tea tree oil has been used for centuries as a healing aid for cuts, wounds, and skin conditions.  
There are nearly 100 components in the oil, one of which is known as Terpinen-4-ol (α-terpineol), a compound with potent antimicrobial activity and anti-inflammatory effects. That's what makes it a modern favorite for treating acne.
Here are a few ways tea tree oil banishes breakouts.
It Kills Acne-Causing Bacteria
Acne is caused mostly due to the presence of p.acnes bacteria on the skin. Thanks to the Australian plant oil's broad spectrum of antibacterial, antiseptic, and antimicrobial activity, experts say it can actively destroy acne-causing bacteria, preventing breakouts.
It Treats Most Types of Acne
The great thing about applying tea tree oil topically is that it can work on both comedonal acne (whiteheads, blackheads, etc.) and inflammatory acne (red, painful pimples).
"Tea tree oil improves both comedonal and mild to moderate inflammatory acne, reducing the number of acne lesions as well as the severity of these lesions," says Chicago-based celebrity dermatologist Jordan Carqueville, MD. 
One study found tea tree to be just as effective as benzoyl peroxide in the treatment of acne. Tea tree oil took a little longer to work. However, it did win out when it came to having less side effects associated with it -- like skin irritation. 
"Tea tree oil is moisturizing, which differentiates it from topical benzoyl peroxide and retinoids, which are usually drying. In this comparative study, those patients using the tea tree oil had significantly fewer side effects of dryness and irritation," says Carqueville.
It Reduces Redness
Because tea tree essential oil is an anti-inflammatory, it can help reduce redness in skin. You can use a few drops of tea tree oil with peace of mind. However, dermatologist Purvisha Patel warns that tea tree oil works best as a carrier oil rather than being applied on its own.
"It's best when mixed in or diluted in other oils and skincare formulations to prevent irritation of the skin," Patel explains.
A DIY Solution
For all-natural daily cleanser, try making your own DIY tea tree cleaner.
Combine 15 drops of tea tree oil, 2 teaspoons of peppermintoil, 3/4 cup of water in a spray bottle.
Shake well.
Spray directly onto your skin as a refreshing summer mist.
You can also use it as a natural deodorant to kill odors.
WHAT ELSE IT CAN DO
Tea tree oil can treat a variety of issues thanks to its antifungal, antibacterial, antimicrobial, and anti-inflammatory properties.
Experts say it can reduce dandruff, ease contact dermatitis, heal wounds and scrapes, prevent and treat insect bites, toenail fungus, and onychomycosis, and drive out itchiness.
"My patients love to use it as a scalp antiseptic to decrease flaking due to psoriasis on their scalp and in their ears," says Dr. Jeanine Downie, MD.
If you're getting this, try using our Super Fruit Repair and Restore tea tree oil Shampoo and Conditioner, made with tea tree oil, coconut oil, and argan oil to nourish, hydrate, and repair your scalp.
Many people also make use of tea tree oil in the world of aromatherapy to calm and unwind the mind.
BEST TEA TREE OIL SKINCARE PRODUCTS FOR ACNE
"Tea tree oil can be found in multiple formulations, including toner, moisturizer, washes, and spot treatment, though it should be used twice daily for six to 12 weeks to start seeing a benefit," says cosmetic dermatologist Y. Claire Chang, MD, of Union Square Laser Dermatology in New York City.
Pick up one of those personal care products to start treating your acne.
Truly's CBD Jelly Toning Solution
This daily anti-blemish toner gently exfoliates and cleanses the skin to improve overall clarity and texture while preventing future breakouts. 
It is made with glycolic acid to remove dirt, dead skin, and 100mg of hemp to help calm inflammation and balance oil production. It also contains tea tree oil to bring down redness and soothe irritated skin.
Think of this as your daily cleanser for clarifying your complexion.
Truly's Blueberry Kush CBD Face Oil
Dermatologists don't recommend applying thick lotions onto acne-prone skin. Instead, they advise making use of lightweight serums and oils enriched with nourishing ingredients that hydrate the skin without clogging your pores.
This illuminating face oil blends blueberries with CBD, salicylic acid, lactic acid, and tea tree oil to hydrate, plump, protect, and soothe your skin. It's perfect for sensitive skin, and should be applied twice daily (morning and night) for best results.
Truly's Super Hemp Patches
The next time you get a zit, resist the urge to pop it and pop on one of these acne patches instead.
Infused with hemp, glycolic acid, and tea tree, these pimple patches help banish your blemish, balance out dryness, and reduce inflammation and redness. 
Without a doubt, tea tree oil is one of the most effective yet overlooked skincare ingredients out there that's proven to treat acne. If you've tried tea tree oil in your daily skincare routine and you're not noticing visible results 4-5 weeks in, visit your healthcare provider for professional advice. They may prescribe you with topical or oral acne medication.
Share
---