How To Score Truly For Less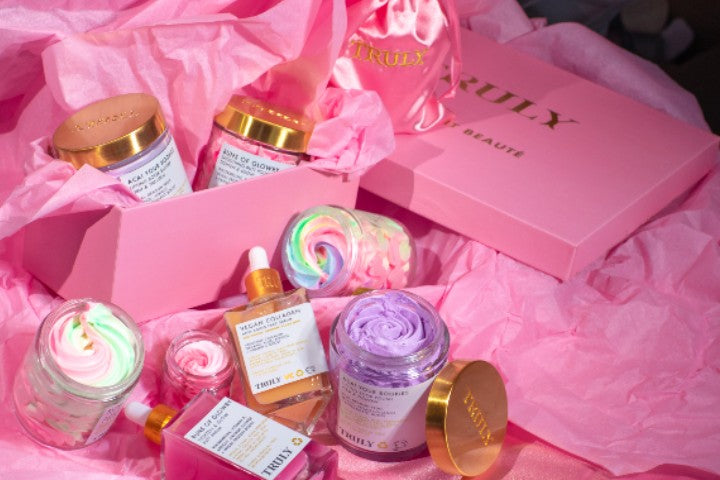 Did you know you can save hundreds of dollars on Truly products just by hanging out in the right places?! Heck, you can even win FREE stuff just by being at the right place, at the right time. And it doesn't hurt to be a little Truly-wise (nod to #TriviaTuesday with Anna!).
Wanna know where all the cool peeps go? Scroll down to discover all the places you can find Truly Beauty promo codes, discounts, and freebies.
Instagram
What You'll Find there: Giveaways, Prizes + Promo Codes
Truly's official Instagram page is one of the best places for swiping free stuff.
For starters, there's the #WheelOfTruly, a weekly gameshow where you can have a chance to spin to win exclusive, top-notch Truly prizes! Then there's #TriviaTuesday, where you can test your Truly knowledge LIVE for FREE skincare prizes.
Be sure to watch every video and livestream, as you'll occasionally find a Truly Beauty coupon code dropped into the description. Usually it's codes for individual items like serums, moisturizers, and hair care products like hair masks and conditioners.
Twitter
What You'll Find there: Free Gifts, Beauty Offers + Promo Codes
Make a daily visit to Truly's Twitter page to snatch up only the coolest beauty products — for FREE! Truly regularly posts giveaways, so you can try our bestselling bundles without having to pay a dime.
Don't scroll down too fast though or you'll miss the Truly Beauty discount code featured in their bio. It's a 10% off voucher you can use sitewide.
In addition to freebies and promotional codes, this is the platform to stay updated on the latest Truly Beauty offers. Every day, you'll discover special offers like freebies with orders over a certain amount. Plus, you'll be the first to know what's just dropped on Truly shelves!
Facebook
What You'll Find there: Coupon Codes + Beauty Offers
While Truly's Facebook page posts reminders of giveaway events like #WheelOfTruly, you'll mainly find the best coupon codes and latest offers on this platform. Sometimes those codes are for specific items, while other times they're for store-wide discounts. Just remember, they're usually only available for a limited time only. Swipe all your fave Truly goodies before the code expires!
Another way to save more on your next purchase: check out the Facebook shop where you'll find all the latest price slices on our bestsellers.
And another little secret we thought you might want to know: sometimes, discount codes pop up in the comments! So keep your eyes PEEELED!
TikTok
What You'll Find there: Discount Code
Compared to other Truly social media platforms, TikTok doesn't have much to offer in regards to giveaways and freebies. It does, however, offer followers a 10% off code in its bio. And you can use that code on products throughout the entire site.
While you might not be able to find freebies on Truly's TikTok page, you can stay updated on the latest beauty tutorials and products to help you decide what to use your new coupon code on!
Your Truly Shopping Cart
What You'll Find there: Freebies
You can even save money just by enjoying a shopping spree on the Truly Beauty website. While specifications vary day by day, you can always guarantee a freebie when you spend over a certain amount.
A pop up will appear once you've hit $200, or whatever amount it is at the time, and inform you that you're eligible for a freebie. Our latest offer is a free Truly gift card with orders over $200.
TrulyBeauty.com
What You'll Find there: Promo Codes + Subscriber Discounts
You'll definitely find lots of fun deals on the official Truly website itself! At the top of the page, there's a GET CODE banner where you can enjoy big savings on your fave Truly products. Sometimes, it's a notification of a FREEBIE with orders over certain amounts. And occasionally, it's a discount on your entire purchase!
Another way to save as a Truly shopper is by becoming a subscriber. You can choose from individuals and bundles like our bestselling Smooth Legend Pre-Shave Scrub or our NEW SpongeBob Bundle. Simply select your chosen product and desired frequency, and we'll ship it straight to your door every month, two months, or three months — depending on what you chose.
As a subscriber, you will save 10% off your first order — and every order after that! Now those are some BIG savings! Plus, you can pause or cancel anytime.
OTHER WAYS TO SAVE ON YOUR NEXT TRULY PURCHASE
Since we're in a particularly generous mood, we thought we'd let you into a few more insider secrets on how to save more on your Truly purchases! You're welcome, babe!
Check in For Our Black Friday Sale
We LOVE Black Friday. As a token of our appreciation to loyal Truly babes, we use this day to deliver our BEST discounts on sitewide products. And it doesn't stop at Black Friday. You can also enjoy huge savings on Cyber Monday, Pink Wednesday and all the rest!
Buy Our Bundles
You can instantly save money on your Truly order by choosing bundles instead of individuals. You can save anywhere from $3 to $210 simply by bundle buying. And as mentioned before, you'll save an additional 10% on every order when you subscribe to that bundle. The savings are CRAZY!!
Save on Other Retailers
Truly products are available on Amazon, Ulta, Sephora EU, and Target. Fortunately, you should easily be able to find Amazon and Ulta coupon codes that you can use on Truly products to save BIG!
Truly is a beauty brand devoted to making our customers happy. That's why we giveaway discounts and freebies every single day. To get the biggest and best Truly deals, be sure to stalk our site and social media pages!
Share
---