The Best Vegan Skincare Products 2022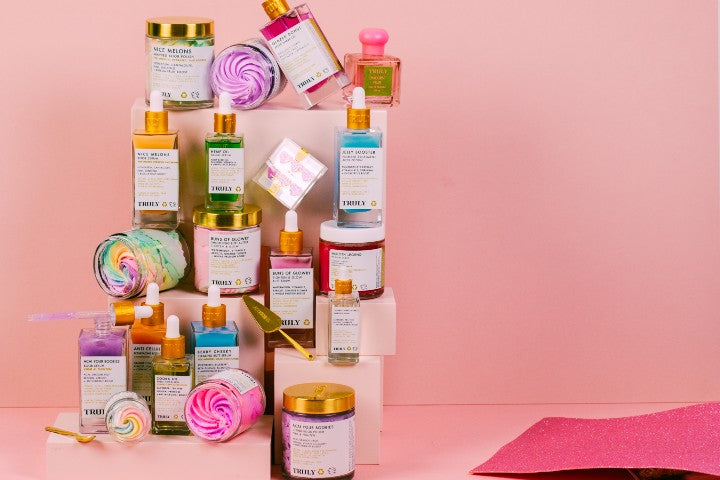 Ready to go vegan with your skincare routine?
When looking for vegan skincare brands, always look out for the Vegan Society logo (UK) and the PETA-Approved Vegan certification (US) to check they're the real deal. You also want to make sure a product doesn't contain animal byproducts like beeswax and squalane. To check whether a product is cruelty-free, look out for the Leaping Bunny logo — proof that a product hasn't undergone animal testing.
As a vegan and cruelty-free beauty brand, Truly has plenty of skincare products on offer to give you your best skin — without compromising on your values.
Here are some of the best vegan skincare products you'll find on Truly shelves in 2022.
Purple Rain Facial Serum
Fully vegan and cruelty-free, Purple Rain Serum is powered by a blend of retinol, glycolic acid, and antioxidants to smooth the look of fine lines and wrinkles to give you a healthy, glowing complexion — and zero greasy residue! In addition to fighting signs of aging, this serum deeply hydrates and nourishes skin while fading dark spots and discoloration. Follow up with sunscreen.
Hemp Jelly Facial Serum
Perfect for oily and acne-prone skin types, CBD Jelly Facial Serum is brimming with salicylic acid, vitamin A, and CBD to unclog pores, fight acne-causing bacteria, and leave skin visibly clearer. Thanks to CBD, it can also soothe acne-associated inflammation. Plus, it contains a juicy burst of watermelon to give skin a healthy dose of hydration — preventing salicylic from drying your skin out! Follow up with SPF.
Blueberry Kush Hemp Face Oil
Spend a lot of time in front of your laptop? Save your skin from skin-harming blue light with Blueberry Kush CBD Facial Oil. This daily serum is made up of hemp, vegan collagen, and 1,000 blueberries per bottle rich in vitamin A, vitamin E, and vitamin D to nourish, hydrate, plump, and protect skin from photoaging. It offers moisturizing, anti-aging, and calming benefits. Thanks to its AHA and BHA boost, it also offers gentle exfoliation to smooth and brighten skin tone. Plus, it smells like blueberries!
Super Matcha Facial Cleanser
A daily face wash for all skin types. Super Matcha Facial Cleanser is a soothing, hydrating formula of aloe, vitamin C, green tea, and rose. It gently cleanses skin while soothing irritation, diminishing dryness, and clearing away blemishes. Any skin type — from dry skin to sensitive skin — can benefit from using this vegan beauty product in their daily skincare routine. Since it's made with all natural ingredients and highly nourishing botanicals, even those with skin conditions like eczema may find relief in this skin-soothing formulation.
24k Gold Black Soap Impurity Cleanser
Refresh and restore skin with this impurity-erasing 24k Gold Exfoliator. With the power of African black soap, 24k gold, and charcoal, this 2-in-1 cleanser can be used on the face and body to remove impurities, decongest pores, and deliver your clearest, smoothest skin.
Flower Child Hemp Face Cream
After a lightweight moisturiser? Try this youth-restoring formula that deeply hydrates with hyaluronic acid, jojoba oil, coconut oil, and CBD. Flower Child is a high-quality daily face cream designed to restore skin's elasticity and retain moisture, giving skin a taut and springy feel — without the greasy feel! It's one of our fave vegan products for keeping skin smooth, soft, and youthful. Use it in your daily skincare routine to keep your skin looking sensational!
Eye Candy Anti-Puff Eye Cream
For brighter under eyes, try this reviving eye cream loaded with hyaluronic acid and sea kelp. These powerhouse ingredients work in tandem to hydrate, reduce inflammation, and brighten skin. It's the perfect formula for faking your eight hours of sleep — even when you only clocked five!
Super Hemp Pimple Patches
A quick fix for your zits...Super Hemp Acne Patches are your go-to spot treatment for fixing those last minute breakouts. Flecked with glycolic acid, hemp, and tea tree oil to banish bacteria, buff away dead skin, and reduce redness and inflammation. Pop one of these on the moment a breakout appears for speedy overnight healing. Plus, it stops you from picking!
Starface Jelly Sleep Face Mask
One of our fave vegan and cruelty-free skincare products for working miracles on your skin — while you snooze! Starface Jelly Sleep Mask is a two-in-one, overnight mask powered with alpha hydroxy acids and retinol to enhance your glow, erase fine lines lines, and diminish discoloration. Fall asleep in this rejuvenating face mask, and wake up with your best skin. Perfect for oily skin, acne-prone skin, and mature skin types.
Hemp Jelly Toner
Superfood for your skin! CBD Jelly Toner is an exfoliating formula of glycolic acid, aloe, tea tree, and CBD. All four ingredients work together to remove dirt and dead skin while boosting cell renewal, calming inflammation and balance oil production for an overall clear and smooth complexion. It's a quick, convenient, and mess-free formula for removing your vegan makeup!
Mary Jane Glow Face Mask
A member of our bestselling Mary Jane skincare line, Mary Jane Glow Mask is a skin brightening formula made with resurfacing retinol and glycolic acid, tightening caffeine, and inflammation-reducing CBD. This carefully crafted formula delivers firming and brightening effects while replenishing essential hydration.
Dew You Love Me Jelly Face Mask
A gorgeous glittery face mask that's fun to use — and fabulous for your skin. Made with a lineup of youth-restoring ingredients like retinol, vitamin C, and ceramides, this formula is your playful routine to youthful, radiant skin.
Truly is a clean, vegan, cruelty-free, and eco-friendly skincare brand dedicated to providing high-quality, high-performing skincare products. We also try to keep our formulas nutrient-rich and paraben-free. For the sake of your skin!
You can shop Truly on our official store, Amazon, Ulta, and Sephora EU.
Share
---