Hair Plopping: The 60-Second Technique for Tamed Tresses, Post-Wash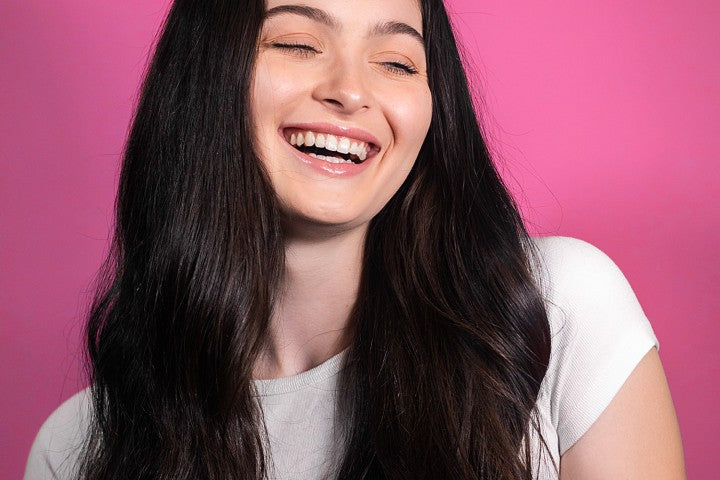 Never heard of hair plopping before? If you have curly hair and you've never tried plopping, you've been missing out on a myriad of good (scratch that: great!) hair days. 
FYI: plopping is a technique that involves wrapping your hair in a t-shirt or pillowcase to enhance your wet curls, minimize frizz, and speed up the overall drying process. It's 100% hairstylist-approved!
Here's everything you should know about plopping and how to do it at home. 
WHAT IS HAIR PLOPPING?
The hair plopping method involves gathering all your hair at the top of your head and wrapping it up using a cotton t-shirt, pillowcase, or microfiber towel to dry your wet curls while keeping your curl pattern intact. 
In addition to cutting down on drying time, plopping requires no heat, making it an excellent solution for people with dry, brittle, or damaged hair. Or basically just anyone wanting to maintain healthy, frizz-free tresses.
Unlike the traditional towel twisting method, which stretches out your strands and causes frizziness, plopping keeps your wet curls compact and scrunched. It helps your roots stay volumized, your curls stay defined, and your hair cuticle remain smooth. That's because it relies on a smoother fabric. 
As for where the name comes from, it's actually a bit of onomatopoeia. Notice how your wet hair "plops" against your head when you drop it down? That's where the name comes from.
HOW TO PLOP YOUR HAIR
The neat thing about plopping: it's super easy! 
Aside from prepping it, you'll only need something to wrap your hair with. We recommend a T-shirt, microfiber towel, or a pillowcase -- all items you'll find around the house. Some say the easiest method is with a long-sleeve cotton T-shirt. However, it's all down to personal preference. Give all three a try to see which works best for you. 
Now for the tutorial itself, here's how to get defined curls and less frizz in just a few simple steps.
Prep Your Hair
You cannot plop dry hair. For best results, wash your hair using a hydrating shampoo and conditioner like Truly's Super Fruit Repair + Restore Shampoo & Conditioner. If your hair looks a little dry and dehydrated, follow up with a strengthening hair care mask like Truly's Coco Rose Milk Hair Mask.  
Then, apply your favorite curly hair products or styling products (i.e., leave-in conditioner, mousse, oil, etc.) to prepare your hair for plopping. Make sure you squeeze out any excess water from your hair so it's not dripping wet, as the process works best on damp hair. Now you're ready to go!
Position Your Wrapping Tool
Next, lay your microfiber towel, T-shirt, or pillowcase on a flat surface like your bathroom counter or a chair. If you're using a shirt, lay it upside down with the sleeves and neck hole closest to you. 
Flip Your Hair
Now, flip (or plop!) your wet hair over and onto the center of the T-shirt or towel, making sure your hair is gathered directly in the middle of it before proceeding to the next step.
Wrap Your Hair
Now it's time to wrap your tresses!
If you're using a T-shirt, grab the bottom of the shirt and lay it over your head so it's completely covering your hair. While holding the edges of the shirt, begin twisting the sleeves around your hair and twist them together on top of your head to secure everything together. 
If you're using a pillowcase or microfiber towel, follow the same steps above, but instead of wrapping the sleeves around your hair, twist the sides of the pillowcase or towel before tying them together on your head. 
The best pillowcase to enhance your natural curls is one made of silk or satin, as these materials create the least friction. You'll love Truly's Satin Pink Pillowcase featured in our Satin Sleep Set. 
Leave Your Hair to Dry
Finally, flip your head back over, and allow your curls to dry in their natural formation. How long you plop depends on your hair type, length, and lifestyle. It's a good idea to experiment, and see what gives the best results. 
Some people only plop for 5-10 minutes, while others plop for 20-30 minutes. Some even plop their hair overnight while they sleep. It's a quick fix for waking up with a ready-for-work hairstyle sans blow drying, diffusing, or scrunching.
Hello, Gorgeous Curls!
Once you're done plopping, unwrap your old t-shirt, towel, or pillowcase to reveal your bouncy, defined, frizz-free curls. Your hair routine is now complete.
DOES HAIR PLOPPING WORK ON ALL HAIR TYPES?
Yes, it does. However, those with curly or wavy hair will benefit the most from plopping. If you have tighter curls and coils, your hair will also dry effectively, but it may lead to loss of definition and tangles. Experts recommend tight coily hair types to braid or twist their hair before wrapping it up.
It's definitely an excellent curly girl method for achieving bouncy, heat-free curls without having to rely on your hair dryer or diffuser.
IS HAIR PLOPPING HEALTHY?
Absolutely! For starters, it requires zero heat. As you all know, heat is detrimental to hair, especially with daily use. Plopping is a much healthier way to dry and style your strands without reaching for your hot tools. It's also more beneficial than letting your hair air dry as this can strip your natural hair of moisture.
Plopping keeps your curl pattern in place, while lending volume, definition, and shine. It's the perfect technique for those with naturally curly strands. And the best part? It only takes 60 seconds to do! 
Whether you've got short hair or long hair, plopping is a quick route to glossy, defined, volumized strands.
Maybe you've seen it on TikTok, or maybe it's your first time hearing of it, but hair plopping is definitely a technique worth incorporating in your hair care routine. It's a quick, easy, and healthy way to simultaneously dry and style your strands without picking up a hair dryer or diffuser. 
Share
---