Is the Banana Buzz All Hype or Something to Go Bananas About?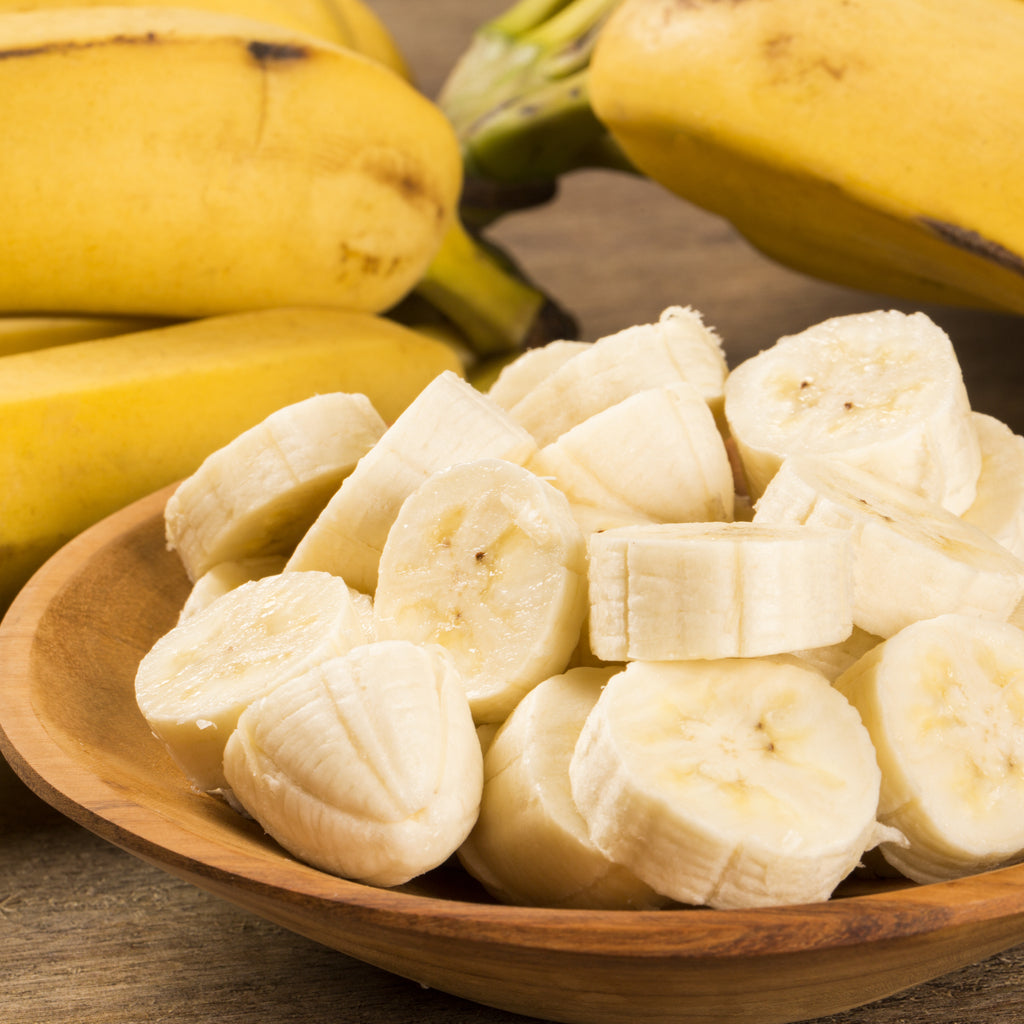 Walk down any beauty isle and you'll notice banana fruit extract products popping up everywhere. Clearly, the banana buzz is just beginning and it's not going anywhere.
Blueberry and avocado are still 2020's buzziest skin care ingredients, but banana might just beat them out very soon. Packed with potassium, vitamin C, and a ton of antioxidants, banana extract can brighten, soothe, clear, and de-puff the complexion.
With the help of skin care experts and research studies, we've managed to shed some light on the banana buzz. Keep scrolling to learn more about banana beauty products.
WHAT IS BANANA FRUIT EXTRACT?
With more and more people gravitating towards clean skin care, it's no wonder why banana powder fruit extract is becoming a thing. Besides being tasty to eat, bananas can also do a lot of good for the skin. Let's explore that further!
Banana extract (inci: musa sapientum or just musa) is made from pure bananas and in some cases, banana peels. It comes from the musa spp family. Loaded with vitamin a, vitamin e, and vitamin C, banana fruit extract is moisturizing, soothing, and healing. Plus, it's an effective hair care ingredient.
Studies show that the banana fruit has moisturizing and exfoliating properties, while banana peels are anti-microbial.
"Banana pulp extract is a gentle source of fruit alpha hydroxy acids to gently refine the skin," says green beauty expert, Suzanne LeRoux, green beauty expert . "You can also use banana fruit extract, which is hydrating, and the banana peel oil, which is moisturizing and a good source of vitamin E."
BANANA EXTRACT BEAUTY BENEFITS
It's a Drink for Dry Skin
Bananas contain vitamin A, C and D, which make them excellent moisturizers. It's one of the reasons you'll often find banana powder fruit extract in lotions, moisturizers, facial masks, and even lip balms. It's because it's deeply hydrating. Look for skin care products that contain banana extract to take advantage of its ultra hydrating properties.
It Treats Spots and Scars
This natural botanical extract is loaded with vitamin E - a super-vitamin for treating acne, scars, and dark spots. Look for a toner that contains banana extract and other skin superfood essential oils to reap its scar-treating benefits.
It Makes Wrinkles Less Visible
A 2018 review showed that banana extract is rich in phenolics, known for possessing strong antimicrobial and antioxidant properties. It also contains numerous bioactive compounds like carotenoids and polyphenols, which are excellent, well-known substances for treating aging skin. That's why banana extract is a popular anti-aging ingredient - one of the many beneficial properties of the fruit.
It Brightens
Glowing skin never goes out of style. And there's no better skin care ingredient for brightening than banana fruit extract. External use of banana extract gives your skin a nice natural glow which comes from the fruit's vitamin C and E content.
It Makes Hair Shine
Banana peel as an ingredient in hair care products can promote shine, softness, and overall hair health. That's because banana fruit extract is packed with antioxidants that heal and rejuvenate the mane. It also helps to neutralize free radicals to keep hair strong and healthy. You can read a number of customer reviews about banana related products for the hair and you'll notice how popular it is. In conditioner, hair masks, and more! Add it to your wishlist for luscious locks!
It Reduces Redness
You may remember the soaring popularity of banana powder - a product made popular by no other than Kim Kardashian. Well, banana extract also calms redness and promotes an even skin tone. Plus, you don't need to wear it as makeup. You just use it in your skin care products as part of your daily skin care routine.
HOW TO MAKE YOUR OWN DIY BANANA FACE MASK
There's nothing quite as amazing as natural face masks. Free of preservatives and bursting with the aroma of the actual fruit, there's so much to love about a DIY banana mask.
So if you want to apply banana extract directly to your skin, prepare it by blending the actual fruit into a pulp. Then you can apply the final product directly to your skin. Leave it on the skin for 30 minutes, before rinsing with cool water.
We recommend only making your banana mask when you intend to apply it straight away. Because it doesn't have a long shelf-life, you are better making it in smaller quantities. The recommended usage rate: 1-2 times per week.
You can also make your own hair mask in a very similar way. Alternatively, buy a ready-made vegan banana mask for the softest, smoothest strands of your life.
RECOMMENDED BANANA EXTRACT HAIR MASK
Unicorn Hair Repair Mask
What happens when you blend avocado, shea butter, and olive oil with banana fruit extract?
You get super smooth and silky strands!
Truly's Unicorn Hair Repair Mask is a vegan, cruelty-free, magical formula that leaves your hair smooth, healthy, and shiny. So if your hair is looking a bit meh, this mask will restore, rejuvenate, and hydrate your strands, leaving you with happy, healthy, bouncy tresses - you know, the Victoria's Secret model kind.
With the help of keratin amino acids, this mask is designed to tame frizz, repair damage, and promote hair growth. In other words, damaged locks will no longer be an issue once Unicorn Mask is part of your life.
While banana extract smooths and softens, keratin amino acids combat hair loss by supplying sulfur to the hair cells. By stimulating the scalp, these amino hairs promote hair growth and length retention. Avocado, shea butter, and olive oil are the moisture-binding agents that provide your hair with intensive hydration.
How to Use
Layer a generous amount of the mask on dry hair. Start at the ends and work all the way up to 2-3 inches from the root. Let it sit in your hair for at least 20 minutes or overnight in a shower cap, if possible, for a deep hydration treatment. Rinse well.
Get your Unicorn Hair Repair Mask for just $25.20 (on sale!)
Share
---