A Guide to Getting the French-Girl Glow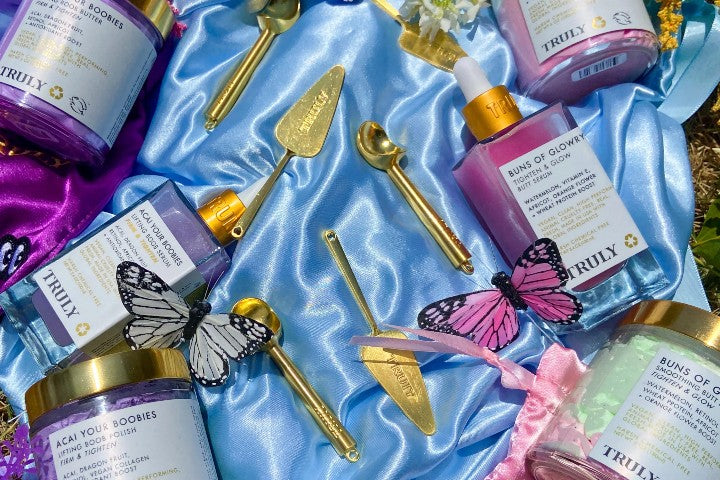 How do French women get their skin so impeccably clear and dewy? Seriously...they make glowing skin look effortless!
Skincare rituals vary from culture to culture, but clearly women in France are doing something right.
So what can we do to make our skincare products and habits a little more… Français?
To make your skincare routine a little chicer, here are some of the top French skincare tips you can try at home to get that French Girl glow.
Stick to Two Daily Skincare Products
French girl beauty focuses on streamlined skincare. Instead of overburdening their complexions with serums, lotions, and toners, they keep their daily routines down to two core products: cleanser or micellar water, and moisturizer. Of course, they'll also incorporate a gentle exfoliator and a weekly face mask, with SPF application during the summer months. But on a daily basis, French women keep things super simple!
"Less is more," says Sophie Strobel, a French skincare guru. "While we Americans love our multistep acne systems, cleansing routines, and masks, the French prefer the opposite. The less you overwhelm your skin, the better it will be."
Looking to shop a streamlined beauty routine? Try Truly's Ultimate Skincare Bundle, a 3-step skincare routine featuring a cleanser, face mask, and moisturizer designed to hydrate, soothe, clear, and smooth out fine lines and wrinkles.
End Your Showers with a Jolt of Cold Water
A simple yet effective beauty secret Parisian women swear by is taking cool showers and finishing with a burst of cold water to tone the skin and enhance circulation for a nice, healthy glow.
As much as we all love our long, steamy showers, they can actually be detrimental to skin. In addition to causing dryness and itching, hot water opens up the pores and causes blood vessels to dilate, resulting in red, blemish-prone skin.
Embrace Imperfection
From your red lip to your eyeliner, mascara, and eyeshadow, avoid retouching throughout the day if you want to radiate French girl vibes. In France, women love a lived in makeup look.
"In France, we love when our eye make-up isn't perfect. We don't want it to look too contrived, like we are trying too hard," explains make-up artist Violette. "So, if we wear a smokey eye, we won't wear false eyelashes, and we love applying eyeshadow with our fingers so it feels a little more worn."
Swipe on your favorite red lipstick, a dab of concealer, and a little eyeshadow and mascara — and you're good to go!
Keep Your Makeup Simple
Another French girl makeup tip: keep things simple. They focus first on skin, and second on makeup. A typical day to day makeup look should comprise of only a little concealer, lip balm, and mascara. If you're going out for a special occasion, pretend you're in Paris and rock a red lip. Otherwise, French women generally like to keep their makeup minimal, focusing on glowing, healthy skin.
Heavy eyeshadow, contouring, and thick matte foundations aren't that popular in French beauty culture.
Enjoy Regular Facials
French women are serious about skincare. In fact, they begin visiting a dermatologist and getting facials from an early age simply as an anti-aging preventative. All skin types can benefit from regular facials and dermatology consultations. Besides keeping your skin clear and healthy, a dermatologist can help address skin concerns such as breakouts, fine lines, discoloration, and dry skin.
A typical French facial focuses on cleansing and hydrating. However, if you've got skin concerns that need addressing, you can also try facials that focus on clarifying or smoothing out creases.
Your dermatologist can also help you select the right beauty products to provide your skin with adequate care and nourishment.
Extend Skincare Down to the Rest of Your Body
A fabulous beauty tip you can take from French women is showing your skin some TLC — and by skin, we mean everything from your face all the way down to your feet.
French women recognize that skincare goes beyond the face. That's why they cleanse, condition, and exfoliate the skin on their neck, chest, and beyond.
Lucky for you, Truly has plenty of body care products to choose from — including formulas made especially for your bum and boobs.
Try Truly's Ultimate Body Bundle to show your tatas and tush a little more love. It features two polishes, two serums, and two butters, each designed for your butt and boobs. Or try this all-over skin illuminating bundle, aka, Truly's Blueberry Kush CBD Bundle, which features a face oil, body lotion, body scrub, and body all to make you glow like a mademoiselle.
Add Vitamin C to Your Skincare Routine
Vitamin C serums can help reduce signs of aging and discoloration while improving skin tone for a youthful, radiant complexion. Worn under sunscreen, they can help maximize your protection against UV rays, preventing fine lines and dark spots.
In addition to incorporating into your skincare regimen, try adding it into your diet too. Vitamin C-rich foods include citrus, peppers, potatoes, and strawberries.
Always Remove Your Makeup
For that French girl glow, make sure you always thoroughly remove your makeup to prevent clogging your pores and dimming your natural glow. Instead of relying on makeup remover wipes which can be irritating to sensitive skin, wash your face thoroughly with a gentle cleanser to get all of it off.
Besides keeping your pores clear and skin glowing, removing your makeup enables other skincare products like your nightly face cream or serum to penetrate more effectively into the skin for improved benefits. It might sound like a simple step, but it makes all the difference!
Ready to get your French girl glow on? Follow all the above steps, and in a matter of days or weeks, you'll notice a visible improvement in your complexion.
Share
---